By Seth Eggert, Staff Writer
23XI Racing's Bubba Wallace scored a top-five finish at New Hampshire Motor Speedway in the most complete race weekend of his NASCAR Cup Series career.
Moving to the Front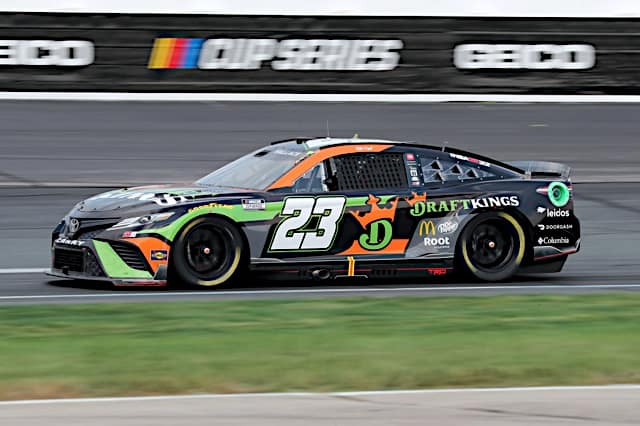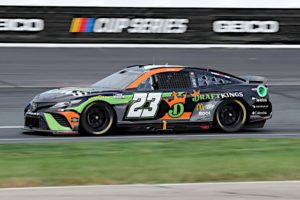 Under the final caution of the Ambetter 301, Wallace followed most of the field onto pit road. Crew chief Bootie Barker elected to put four new Goodyear tires on the No. 23 DraftKings Toyota Camry. On the restart with 92 laps to go, Wallace lined up 13th.
The Mobile, AL native wasted little time moving forward. Wallace worked his way by his team co-owner and competitor Denny Hamlin, followed by Brad Keselowski. The 28-year-old then took Ross Chastain, William Byron, Martin Truex Jr, and Kevin Harvick three-wide for position in back-to-back corners. With 50 laps to go, Wallace found himself running seventh.
Managing Tires to the Finish
Though his progress forward slowed as he managed his tires, Wallace worked his way by fellow Toyota Racing driver Kyle Busch. With 40 to go, Wallace moved back into the top-five for the first time since the end of Stage 1 by passing Cole Custer. He picked up another spot when his 23XI Racing teammate Kurt Busch pitted. Finally, Wallace took third from Joey Logano with 20 laps to go. All the while Harvick lurked behind the No. 23 Toyota Camry.
"It was definitely a tire management game," explained Wallace. "I kept telling myself to race the racetrack. Had one of the best behind me for a long time there with (Kevin) Harvick. He can mess with your mind a lot and I said, 'Get out of here,' I wasn't going to let him do that and we pulled away."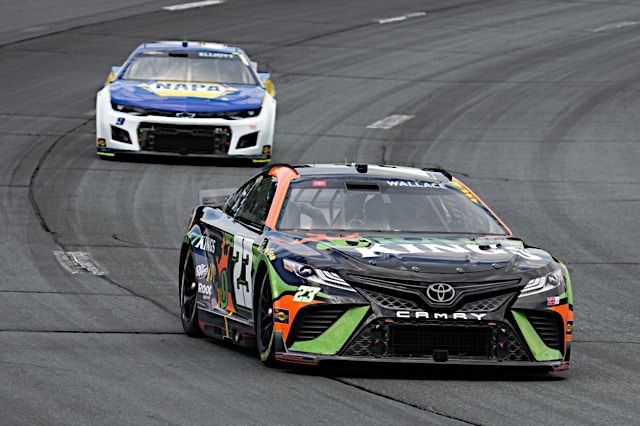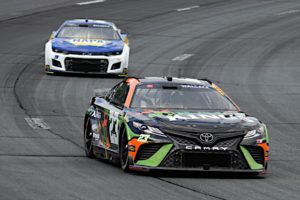 However, by this point he was over nine seconds behind race leaders Christopher Bell and Chase Elliott. Wallace fought to keep Harvick at bay over the final 20 laps. When the checkered flag waved, he was third.
"Just proud of our team, proud of myself," admitted Wallace. "Staying in it there. This last month has been pretty much hell for me. A good day for our DraftKings Toyota Camry TRD. Definitely needed this. Hats off to everybody back at the shop. Brought a decent car, I wasn't really happy with it, but it had speed. I told myself this morning that this could be a long day and to prepare for that, but here we are."
A Complete Race Weekend for Wallace
The race at New Hampshire Motor Speedway marked the most complete race weekend of the veteran driver's career to date. Last year's YellaWood 500 winner at Talladega Superspeedway race the 11th-fastest lap in practice. Wallace followed that up with a career best qualifying effort, fourth, netting him his best career starting spot since the 2021 Daytona 500. Though in that race, he was fourth-fastest in qualifying and started sixth after the Duel races.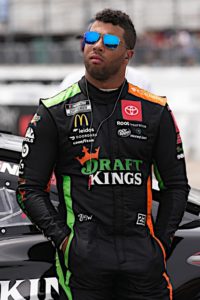 Wallace moved forward at the drop of the green flag in the Ambetter 301. He passed both his teammate Kurt Busch and Elliott to move into second. The Toyota Racing driver held off Kyle Larson to finish the Stage in second. He finished the second Stage in 10th.
After multiple weeks of mistakes on pit road by both Wallace's pit crew, and a couple by the driver himself, Joe Gibbs Racing swapped Bell and Wallace's pit crews before Atlanta Motor Speedway.
The only mistake throughout the race at New Hampshire Motor Speedway was on the first stop for the DraftKings Toyota. Wallace slid forward in his box and the crew was slow on the right front. Despite this, he only lost two spots on pit road. For the most part, 23XI Racing and Wallace held station on pit road with those on the same strategy throughout the rest of the race.
Statistics
The third-place finish is the first top-five finish for Wallace since the season opening Daytona 500. It's his eighth career top-five and 15th career top-10 finish. It also was the second top-five for sponsor DraftKings, in their second race. Wallace scored 23XI Racing's first top-five last year at Pocono Raceway with the company onboard.
The top-five finish moved Wallace up from 24th to 23rd in the championship points standings. He is 345-points behind leader Elliott. Wallace is 230-points behind the playoff cutline, currently held by fellow Toyota Racing driver Truex. With only two spots still left in the NASCAR Cup Series playoffs only a win can truly secure the 23XI Racing driver a chance to race for a title.
Featured Photo Credit: Photo by Tim Parks / Harold Hinson Photography.