By Jacob Seelman, Special to Kickin' the Tires
BRISTOL, Tenn. – In one of the most surprising NASCAR Cup Series upsets of the year, Chris Buescher made sure that the first round of the playoffs was all about drivers who aren't competing for the championship this postseason.
Following in the footsteps of Southern 500 winner Erik Jones and Kansas Speedway winner Bubba Wallace, Buescher became the third non-playoff driver in a row to visit victory lane with a thrilling late-race strategy play in Saturday night's Bass Pro Shops Night Race at Bristol Motor Speedway.
Buescher and crew chief Scott Graves elected for a two-tire pit stop during the final round of service with 61 laps to go, following a lap-436 caution flag after Christopher Bell slowed from the race lead with a cut right-rear tire.
The quick pit stop got Buescher out first, then the Prosper, Texas, native drove a masterful 57-lap stint to the checkered flag. He powered away from his nearest pursuers on the final restart of the night and then held Chase Elliott off through traffic in the closing stages.
Buescher ultimately collected the checkered flag by .458 seconds over Elliott for his second Cup Series win in his 250th premier level start.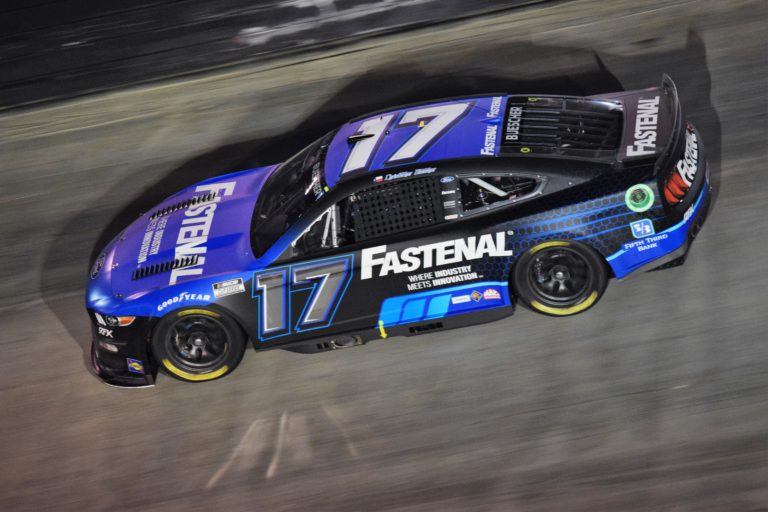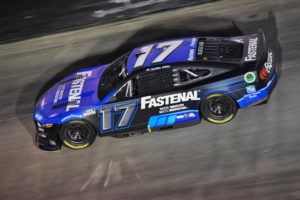 "This is so great. This team does such a great job," a near-speechless Buescher exclaimed after climbing from his No. 17 Fastenal Ford Mustang. "The first Cup win for Fastenal for a points-paying race, so that's awesome. … It's just so special here at Bristol. I love this racetrack. I love the fans. I love every time we come here. It's so special to me.
"I lost one that really broke my heart back in 2015 on the Xfinity (Series) side with Graves on top of the box, so this makes up for that," he added. "That's pretty awesome. I wasn't worried at the end. It was up to me at that point. I just had to hold on and make it work. I don't know what else to say right now. I'm out of breath. This place will wear you flat out, and I love that about it, but what a special night."
Buescher's eventual victory came on a wild night where 12 of the 16 playoff contenders encountered some sort of issue during the 500-lap battle at The Last Great Colosseum. The chaos shuffled the deck at the front of the field numerous times and shocked drivers and fans alike.
Tire issues doomed Austin Cindric and Ryan Blaney's hopes before lap 100. An engine failure took Kyle Busch out of the race on lap 270. The ensuing restart after Busch's woes sparked a multi-car accident that eliminated Alex Bowman and Austin Dillon, as well as scuttled any hopes Tyler Reddick had due to heavy front end damage. Bell's dominance, leading four times for 143 laps, ended with his cut tire late.
Through it all, however, Buescher remained consistently in contention, eventually leading more circuits – 169 – than anyone else did all night en route to the first win for his race team since it rebranded as RFK (Roush Fenway Keselowski) Racing during the winter months.
That made the night bittersweet for team co-owner Brad Keselowski, who paced 109 laps in his own right but fell back late after a tire went down on his No. 6 Ford Mustang on lap 414, finishing a lap down in 13th.
"I was thinking for a while there I was going to be in (the media center) wearing both hats as the (winning) owner and driver, but unfortunately we had that tire go down for an unknown reason with about 85 to go," Keselowski lamented. "That was quite a roller coaster of emotions, and then Chris and Scott Graves made a really bold call there to put two tires on.
"They had a great car, don't get me wrong, but the call to get the lead and knowing what they had was really clever. I'm proud of them."
Though Elliott had fresher left-side tires than Buescher did in the final laps, he wasn't able to make up enough ground as he worked through traffic to be able to challenge for the win.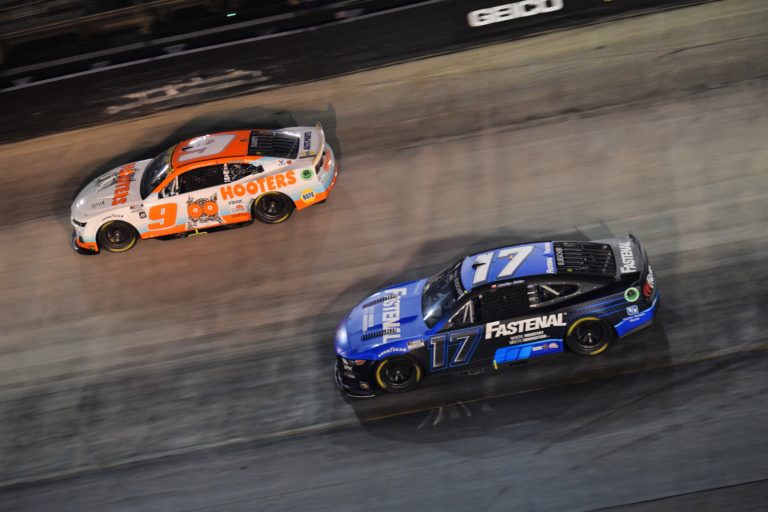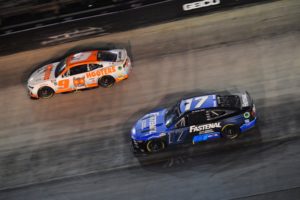 Elliott closed slightly in the final two laps, but was forced to settle for second in the No. 9 Hooters Chevrolet Camaro ZL1.
"I actually really liked my car. I thought our Hooters Chevrolet was driving really good, and honestly, I don't think I could realistically ask for anything more balance-wise," noted Elliott after the race. "I just needed to be able to do a better job getting in some different lanes. The top had gotten so dominant there at the end. The bottom was pretty good there early in the night and you could run down there for a long time, and then as the night went on … the top got better and better and better, and that momentum was hard to beat.
"Unfortunately for me, we never got to any lap traffic to make him move, but we were starting to (gain) there in those last three or four laps," Elliott added. "I felt like we were gaining, but I wasn't close enough to do anything with him. I appreciate the effort from my guys. We battled back. I'm glad to be moving on (in the playoffs) and looking forward to some more opportunities (to contend) in these coming weeks."
Elliott's Hendrick Motorsports teammate William Byron came home third, followed by Bell and Larson, who put on a thrilling duel for the top spot across nearly 150 laps in the middle portion of the race before ending up fourth and fifth, respectively.
Ross Chastain, A.J. Allmendinger, Cole Custer, Denny Hamlin and Kevin Harvick closed out the top 10.
Harvick, who was in a must-win scenario entering Bristol, appeared to be a threat to steal a win to advance in the playoffs before a miscue on pit road during the final round of stops saw him lose a left-rear wheel. He was shuffled back to 10th and never recovered from there.
The 2014 Cup Series champion joined two-time titlist Busch and Richard Childress Racing teammates Reddick and Dillon as drivers who were bounced from playoff contention at the end of Saturday night's elimination race.
Elliott will open the Round of 12 as the highest-seeded driver, 15 points ahead of Joey Logano, when the NASCAR Cup Series playoffs continue on Sept. 25 at Texas Motor Speedway – appropriately the home track for Saturday night's winner.
He knew it, as well, before leaving into the Bristol night.
"I love this place, but I'm glad to be heading home," Buescher noted with a smile.