TALLADEGA, Ala. – Though it didn't end in victory lane, Sunday's YellaWood 500 at Talladega Superspeedway was still a banner day for Bob Jenkins' Front Row Motorsports team.
Veteran Michael McDowell and rookie Todd Gilliland both ran among the lead pack all race long and were both in contention down the stretch, securing top-10 finishes at the 2.66-mile Alabama oval.
McDowell was third across the finish line, while Gilliland came home seventh after leading lap 77. It marked the best combined performance by the two Front Row Motorsports Fords this season.
The team previously scored dual top fives at the Indianapolis Motor Speedway road course, with Gilliland fourth and McDowell eighth in the Verizon 200 at the Brickyard.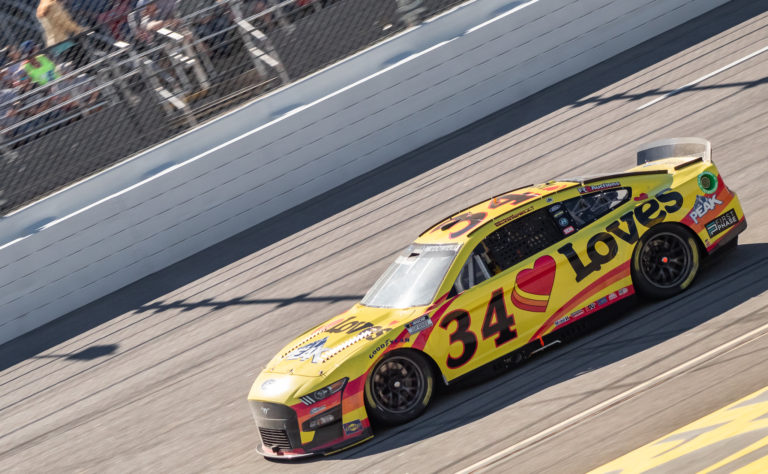 Appearing to have a race-winning car in the closing stages at Talladega, McDowell ended up committed to Ryan Blaney's back bumper on the final restart, trying to push Blaney to a win after the white flag.
The two had a head of steam coming into the tri-oval, but McDowell's shove wasn't enough to propel Blaney past Chase Elliott, who edged out the win and moved to the playoff Round of 8 as a result.
Though McDowell's position late didn't leave him with a true shot at the trophy, he still lamented coming within .094 seconds of his second career NASCAR Cup Series victory after the checkered flag.
"It's tough to be that close," said McDowell. "I felt like I probably should have backed off of the 12 [Blaney] a little bit sooner when the 11 [Denny Hamlin] got off of me, but I was trying to make sure a Ford was gonna get to Victory Lane and we kept that momentum up. I wish I could get a re-do, but I'm proud of everybody at Front Row Motorsports on this Love's Travel Stops Ford Mustang team.
"We had Peak Performance on the car this weekend, so it's a great day to get a top five finish, but when you're only a car length away from winning the race, obviously, it's disappointing," he added. "I'm proud of the season we've had and the run that we put together and everyone did a great job on pit road executing today and getting us track position when we needed it.
"It's good to be there at the end and have a shot at [winning]; I'm just disappointed."
While McDowell expressed disappointment at missing out on the Talladega win, Gilliland was elated with one of the most complete start-to-finish performances of his young Cup Series career.
It may not have been a career-best mark, but Gilliland couldn't keep the smile off his face Sunday night.
"It really felt comfortable," Gilliland said of his race car in the draft. "I feel like our superspeedway stuff is pretty good. It was still scary when we qualified 34th, but to have that kind of speed in the draft is a good thing."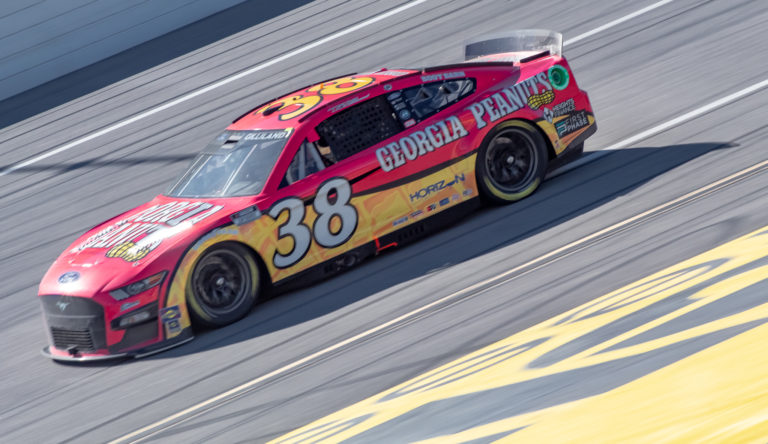 Gilliland also appreciated being able to work with his Ford Performance teammates through the day.
"It's really nice to have Ford teammates out there. I worked a lot with Kevin Harvick and a lot of different Fords," he tipped. "I was really happy to work with a great manufacturer [group] like that."
Despite such a strong result, Gilliland still hoped for more out of his No. 38 Georgia Peanuts Mustang in the final laps.
"Race car drivers are greedy; we always want to be better," the third-generation driver said. "I wish I could have gotten a couple more [spots] there, but it was still a really good day. We ran up front most of the day and my car handled really well, so overall, there are definitely a ton of positives to take out of this.
"It was great to have Georgia Peanuts on board today," he continued. "They're a smaller company out of Georgia and we're kind of close to home [for them] here in Talladega. I'm just really happy to come home with a top 10. This was a good day for us."
While the drivers themselves summed up the afternoon well, perhaps it was the team's social media admins who wrapped up Front Row's Talladega journey the best as the sun set Sunday night.
"We approve of that scoring pylon," they wrote on Twitter before signing off.
Overall, McDowell and Gilliland agreed with that sentiment.
We approve of that scoring pylon @Mc_Driver | @ToddGilliland_ pic.twitter.com/lQAMGHLfNf

— Front Row Motorsports (@Team_FRM) October 2, 2022
Front Row Motorsports and the rest of the NASCAR Cup Series will return to action on Oct. 9 with the Bank of America ROVAL 400 at the Charlotte Motor Speedway ROVAL.
Though Gilliland has never competed on Charlotte's ROVAL configuration, McDowell has raced there four times, with a best finish of 12th in the 2019 edition of the 400-kilometer event.