By Seth Eggert, Staff Writer
Adding to the resurgence that PettyGMS Motorsports has seen in 2022, seven-time NASCAR Cup Series champion Jimmie Johnson joins the team as an owner and a part-time driver, starting with the 2023 Daytona 500.
Johnson retired from full-time NASCAR competition at the completion of the 2020 season. Since then, he's competed in the NTT IndyCar Series part-time in 2021, full-time in 2022, as well as IMSA.
Meanwhile, at the same time, PettyGMS began a resurgence. Erik Jones brought the team six top-10 finishes in 2021, the most in a single season for the then-Richard Petty Motorsports since Aric Almirola in 2017.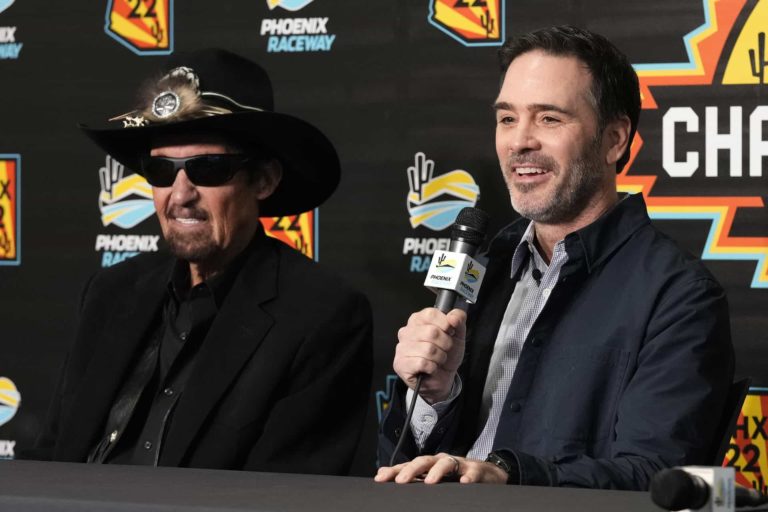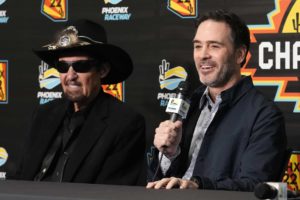 In 2022, Jones brought the team back to victory lane for the first time since 2014. His win in the Cook Out Southern 500 was the 200th victory for the No. 43. It was the first win for the No. 43 at Darlington Raceway since Richard Petty's in 1967.
"Maury and I talk all the time about you know what can we do to improve our situation and make our business bigger, to win more races?" Petty said. "He called me one day and he said he had been talking to Jimmie Johnson and I said,'you've got to be kidding.' Jimmie Johnson wants to be involved with this or we want to be involved with him and from that standpoint, I just sort of went off the edge and I said this has got to be one of the biggest things that's happened to the Petty crowd and GMS.
"From that standpoint, we joined GMS last year, got a pretty good start this year, but with Jimmie adding on with the popularity and the people he knows that we don't know, it had to be a heck of a deal. It's a big step, not just for one year, but I'm looking farther further down the road.
"I'm 85 years old, I'm not going to be here for another 15 or 20 years and then Jimmie can take over so that had to be a plus."
In addition to Jones' victory in 2022, PettyGMS has earned victories in other series under the GMS Racing banner. Grant Enfinger scored a win in the NASCAR Camping World Truck Series' return to Lucas Oil Raceway.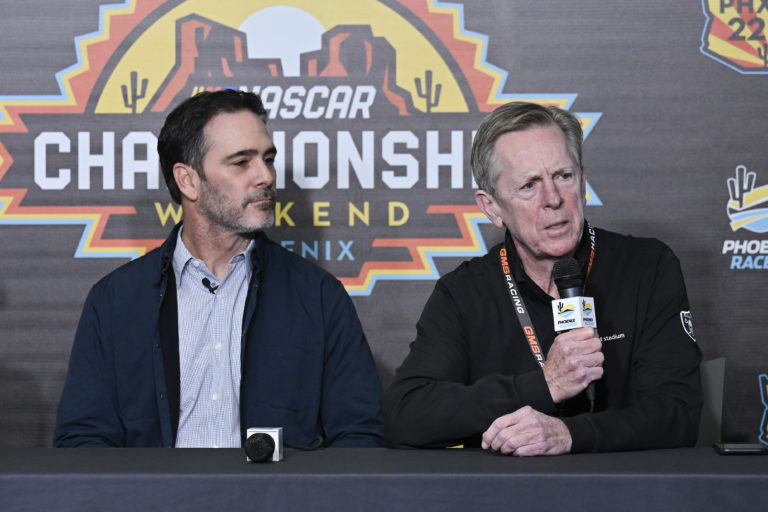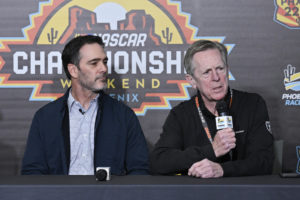 GMS Racing itself was started a little over one decade ago by Maury Gallagher. The organization earned its' first win with Enfinger in ARCA Menards Series competition in 2014. After Mike Beam joined the team in 2015, it shifted towards the front of the Truck Series field, winning the 2016 and 2020 championships.
"I'm just very excited today to announce that seven-time cup champion Jimmie Johnson is going to be joining PettyGMS as an owner and a competitor," Gallagher said. "I'm pinching myself sitting up here with this kind of talent and this kind of record, and I can honestly say that. While we didn't anticipate having this kind of talent up here, it was never not a goal we want to be at the top.
"When I chatted with Richard last year as we put our team together, his goal was to be up front, to be a winner. Mike and I joined forces back in 2015 and since that time, Mike's overseen 41 truck wins, two championships and many ARCA wins and championships as well. That's the culture of this program and we want to be at the highest level in racing motorsports.
"On a personal note, if you had told me when I started racing in 2010, I'd be sitting here today. Well, that would have been a bridge too far. I couldn't be more excited personally to be here to be involved with these two gentlemen."
While Johnson had an amazing experience competing in the NTT IndyCar Series, his best finish was fifth in the second half of a doubleheader at Iowa Speedway. He also lead two laps in the Indianapolis 500 before a crash.
In IMSA competition, Johnson scored two podium finishes in the 2021 Rolex 24 Hours of Daytona and 2022 Motul Petit Le Mans.
Following the completion of the 2022 IndyCar season, Johnson announced his retirement from full-time racing competition. However, he did express a desire to compete in bucket list races.
As part of his ownership agreement with PettyGMS, Johnson will enter a select number of races in a third unchartered car, starting with the Daytona 500. Under the charter system, Johnson does not have a past champion's provisional to fall back on and must race his way into 'The Great American Race.'
"Honestly, it feels incredible," Johnson said. "I must say, I did not see this in my future. This is an opportunity that's developed that makes sense in so many ways, so many reasons and an opportunity I'm honored to be a part of and very excited to be a part of.
"The last time I was really at a NASCAR race was here in 2020, other than the double at the Brickyard IndyCar race. When I left here, I really had no idea what was in store for me. I knew I wanted to try IndyCar. I had an amazing experience there and stepping away from full time IndyCar, I wanted to create a good eight to 10 race schedule. Just fun races and certainly coming back to NASCAR.
"As this conversation started, it's one that I really had to pay close attention to and it's just a life changing opportunity for me, one that I had to take. I'm very excited."
The remainder of Johnson's NASCAR schedule, car number, and sponsor will be announced at a later date.
The possibility of being eligible for the 2023 NASCAR All-Star Race at North Wilkesboro Speedway is also to be determined as NASCAR has not yet announced the eligibility requirements.