By Seth Eggert, Associate Editor
One week after he was suspended by NASCAR Cup Series officials, Chase Elliott scored a top-five finish in Sunday's Toyota / Save Mart 350.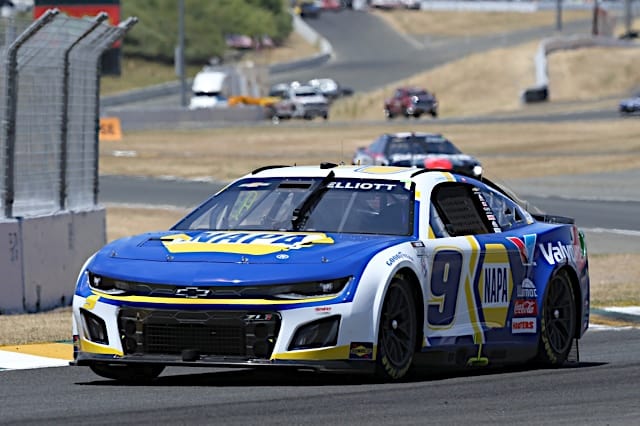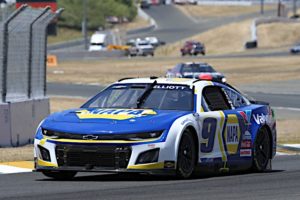 The fight for the Hendrick Motorsports driver got back on track at Sonoma Raceway. Elliott was sidelined at World Wide Technology Raceway at Gateway after NASCAR deemed he intentionally wrecked Denny Hamlin the week prior. That widened the gap for the driver of the No. 9 NAPA Auto Parts Chevrolet Camaro ZL1 to 98-points. Elliott already missed six races after breaking his leg while snowboarding in March.
Elliott stayed out when the caution waved with 19 laps to go. The Dawsonville, GA native assumed the lead as leader and eventual race winner Martin Truex Jr. pitted. On the ensuing restart, Elliott held off the Toyota Racing driver for a lap. Though his eight-lap tire disadvantage allowed Truex to slip by with ease. Fellow Chevy Racing driver Kyle Busch also snuck by Elliott.
Over the course of the final 14 laps, Elliott slipped behind both Joey Logano and Chris Buescher. Once Buescher had passed, the multi-time Most Popular Driver had a gap back to A.J. Allmendinger. That allowed Elliott to take the checkered flag in fifth.
"It's nice to get a top-five, no doubt, so (I'm) proud of that," Elliott said. "We were trying to do something a little different with strategy. We had pit about eight laps there before that caution. We just felt like our only play was to stay out. I was really hoping that more people would do that with us, so we'd have three or four rows. It still probably wouldn't have been enough, but I do think it would have been nicer to have a couple more rows and a buffer for those with tires.
"It was certainly a good fight for the No. 9 NAPA Chevy team. It was one of our better runs there in the last couple of races, so always good to finish strong. It wasn't an ideal situation, so to fight through it there and come home with a top-five is good. Looking forward to build on that and hopefully contend for a win before long."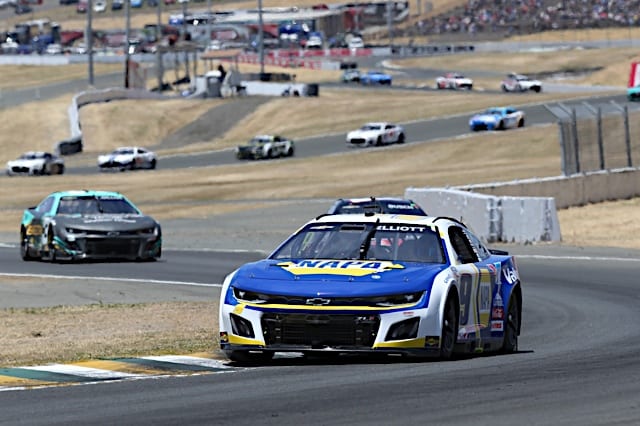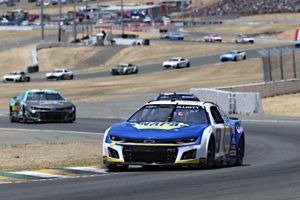 Though there are no planned cautions at the end of each stage on road courses this season, Elliott still pitted prior to the stage ends. He was inside the top-10 in Stage 1 and top-five in Stage 2 prior to pitting. The strategy to go for the race win and not Stage points prevented Elliott from earning additional points.
The fifth-place finish was Elliott's third top-five of the 2023 season. It was also the 89th top-five of his Cup Series career.
The top-five finish kept Elliott 27th in the points standings. He narrowed the gap to the cutline, currently held by teammate Alex Bowman, from 98-points to 84. With 10 races remaining before the start of the NASCAR Playoffs, Elliott could still point his way in, but only a win is a guaranteed berth in NASCAR's post season.
Next for the 2020 Cup Series champion is the Ally 400 at Nashville Superspeedway. Elliott has one win in two starts at the concrete track.
The Ally 400 is scheduled for Sunday, June 25 at 7:00 p.m. ET on NBC. The race will also be broadcast on the Performance Racing Network and SiriusXM NASCAR Radio, channel 90.