By Seth Eggert, Associate Editor
DARLINGTON, S.C. – When voting opened and the nominees were announced, one nominee for the National Motorsports Press Association (NMPA) Third Quarter Pocono Spirit Award, Ryan Ellis, was surprised by the recognition from those in the motorsports media.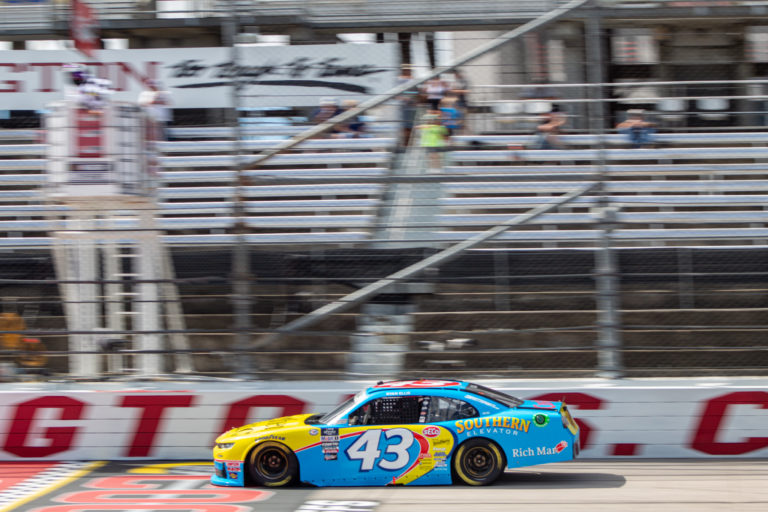 Ellis was nominated for his journeyman story from racing part-time, stepping back and taking jobs in public relations (PR) and marketing, to a humble return behind the wheel. Now the first driver of Japanese descent to compete in a Toyota in the NASCAR Cup Series will compete full-time in the Xfinity Series for Alpha Prime Racing in 2024.
The 33-year-old's story has not gone unnoticed by his peers in the media that often worked with him during his time in PR at Go Fas Racing. The fact that someone nominated Ellis was humbling to the journeyman driver turned full-time racer.
"Honestly, it's really cool just to be noticed, especially by the members of the media, because I feel like I was one for so long," Ellis explained. "I was doing the PR and marketing stuff and working alongside them, so to me it's cool just to be recognized for that in general as a racer, but also as somebody that feels like they're a co-worker."
Ellis was just one of 10 nominated for the Third Quarter NMPA Pocono Spirit Award, along with Jimmie Johnson, Shane van Gisbergen, Julie Giese, among others. Though that splits the vote further, it also shows the Ashburn, VA native that the award encompasses all of those that can be defined as a racer. To him, it validates the fact that others do recognize him as a racer than the PR and marketing he does in the perpetual grind that is racing.
"It's really cool (to be nominated at the same time as Jimmie Johnson, Shane van Gisbergen, and others)just because to me that award embodies who you feel like is a true racer, who embodies the idea of being a motorsports person and I feel like my entire life, outside of like family, (is) motorsport centric," Ellis said.
"I don't feel like a lot of people see that in me because I'm sitting behind a computer trying to work on the business and marketing side. I'm not necessarily like a lot of the guys that are working underneath the car and working on that side. So, it's really cool to be recognized for that, even though I feel like I'm not as blue collar in that sense, I'm blue color in a different way."
The nomination for the Third Quarter NMPA Pocono Spirit Award caught Ellis off-guard. He only learned about the award after being tagged by the NMPA's Twitter account in the announcement of the nominees. As a result, Ellis researched who has been nominated in the past and who has won the award both quarterly and annually over the years.
His research also brought him to learning more about who was in the NMPA Board and what the NMPA does. Ellis came to learn that the NMPA is made up of media members that he has great respect for and recognizes the passion that they have, like him. That passion, as Ellis pointed out, extends beyond just drivers and media to team owners, photographers, crew members and more.
"I wasn't aware of (the NMPA Pocono Spirit Award) before I was nominated," Ellis admitted. "I saw the Twitter mention (and was) like 'this is freaking awesome' and I read a lot into it, who had won in the past with the Ryan Vargas types and it's cool just to be in the same sentences as the people that have won in the past. I think Keselowski's won in the past.
"I looked at who's on the (NMPA Board). I'm like, 'man, those are all people I really, really respect in the sport.' Whether you're a driver, a PR person, a team owner, in the media, a photographer, everybody's grinding, and we all know, it's a passion. It's not necessarily for the pay, the amount of work that goes into it. It's a lot of people that I really respect."
Whether he is voted to receive the Third Quarter NMPA Pocono Spirit Award or not, Ellis is still appreciative and humbled by the nomination. He plans to add the nomination to his marketing and sponsorship proposals in the hopes of attracting more prospective partners for future races. All of that comes with the goal of remaining behind the wheel of a racecar.
"I texted Kelly Crandall (RACER, NMPA President) like this is one of the coolest things I've ever been nominated for, and I truly mean that," Ellis stated.
"It's something I'm going to put in our marketing and sponsorship proposals and going forward because it just feels like it's people voting on what embodies the spirit of a racer, and that's what I've always wanted to be, like the Tony Stewarts (of the world), the type of guy that just grinds and does everything we can to be behind the wheel. I know I just never felt like I'm that just because of sitting on a computer all day, but it's still all with the goal of being behind the wheel."
Ellis started the Sport Clips Haircuts VFW Help a Hero 200 at Darlington Raceway 36th and finished 29th in the No. 43 Southern Elevator Chevrolet SS in a John Andretti throwback. His next race is scheduled for the Kansas Lottery 300 at Kansas Speedway.
The Kansas Lottery 300 is scheduled for Saturday, September 9 at 3:00 p.m. ET on NBC. The race will also be broadcast on the Motor Racing Network and SiriusXM NASCAR Radio, channel 90.