By Jerry Jordan, Editor
DAYTONA BEACH, Fla. – With the drop of the green flag for the 2020 Daytona 500 just hours away, there has been a shift in the betting lines with who is favored by Las Vegas bookmakers and who is considered a longshot to win the great American race.
Here's a hint: Jimmie Johnson is a sleeper.
Sunday will mark Johnson's final time to start the biggest race of the year as a full-time driver and in the opening betting lines, he was a 33-to-1 longshot to take the checkered flag. That has now changed – because so many people are putting their cash on the line – and he has dropped to 20-to-1.
"Sounds like I need to put some money on Chase," Johnson said. "No, honestly, I think we should all be 33-to-1 odds. That (Daytona 500) is a hard race to win, so yeah, I think we should all be longshots."
Apparently, the Vegas bookmakers forgot Johnson has two Daytona 500 trophies, so it isn't like he doesn't know how to drive at Daytona. And while that line is intriguing the action on Chase Elliott originally opened up at 9-to-1, which made him the early favorite.
"I don't know why, I don't think I have even finished one," Elliott told Kickin' the Tires. "I can tell you who I wouldn't be betting on, would be me based on my past experiences or past races, so I need to work on finishing one first, I think, and not be tore up. It sounds like if I were in Vegas, I might put a little money on Jimmie (Johnson) or Alex (Bowman) or William (Byron) with those odds."
The distinction of being the odds-on favorite now belongs to Denny Hamlin (9-to-1), according to the latest betting lines. Elliott is at 12-to-1.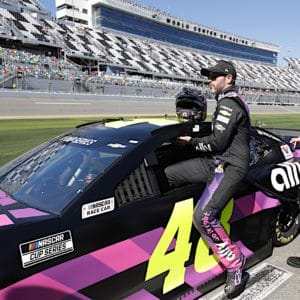 For clarification, NASCAR drivers are not allowed to bet on themselves or other drivers and each person asked made it clear these were hypothetical anecdotes, not an admission they were violating NASCAR guidelines.
"What I can tell you is that with the Daytona 500 and obviously other than the races here in Vegas, it draws quite a bit of attention," said Jimmy Vaccaro, a veteran bookmaker and head of the South Point Casino's Sportsbook. "What I mean by that attention is that you can tell by ticket count. It's not like people coming up on Super Bowl Sunday where they are betting $50,000 or $60,000 on the game but what you are getting is just an interest building with that.
"And you know, Brendan (Gaughan) helps with that, also, because they are rooting for the hometown son."
Vaccaro explained that sports betting, as a whole, is exploding as states open it up with new regulations with legalized betting. In explaining how the odds are established, Vaccaro said the established teams "get the benefit of the doubt" on odds. Then there are the smaller teams that tend to be bigger longshots but as Johnson pointed out, it is hard to win the Daytona 500, so setting the odds isn't as easy as it is in football but it is similar.
"The marquis teams are going to get the benefit of the doubt," Vaccaro said. "On the (Kansas City) Chiefs, we cheated half a point. With other teams, the (New England) Patriots, we move it (the line) a little quicker if people bet on them. It's the same thing with auto racing, I feel like after a while. You can probably name just four to six guys that they're going to be the favorite, or they've been the favorite for the past three to five years until an upstart comes in, changes things around and shoots them up.
"You know, we really haven't lost anything on the Daytona 500 for the past five years, meaning it's hard to pick the winner and there's a lot of money for other drivers. It's one of those events where, it's not that you can't lose, but what I found out personally was with Brendan being in it that there has never been like a huge $200,000 loss on Daytona Sunday. The odds aren't that hard. You just simply look at the last race and see who's in and what they are doing, read a little bit about it. It's not that hard … and like any other sport, if somebody bets $2,000 or $3,000 at 8-to-1, we just take the bet and then move it to 6-to-1. That's the way it is. It's just like another game."
He said betting on any sport is a lot easier and the odds aren't as hard to figure out because of "social media, everything up on the board, everything is in front of you. It's never like brand-new anymore."
Vaccaro said the allure of NASCAR, especially in Las Vegas will bring people to the casinos and other sportsbooks, as well, and they will have a big crowd at the South Point Casino. He explained that he has seen an increase in betting overall but not in the amount, rather in volume. According to Vaccaro, betting on the Daytona 500 and the races that occur in Las Vegas is three times higher than at other tracks throughout the year.
When asked about the interest in NASCAR betting, Vaccaro said it continues to grow and he would like to see a point where the sanctioning body puts kiosks at every track on the circuit or forms a casino partnership to handle the action.
"This legalized sports betting has turned everything around," he said. "Believe me, this is just Jimmie's idea, I have no inside, I know nothing on this. But, I think the next step for NASCAR, although it is a lengthy step, is putting a couple of kiosks in every city that is having a race that weekend and see what goes on.
"My friend, let me tell you, everything in the sports betting environment that takes gambling money is getting bigger and bigger and bigger. So, if were the NASCAR upstairs people I would sit down and down (and look at this). I know it is not an easy task and there are some cities that have one race a year but it'd be almost like a traveling kiosk show – you know, go in and plug into someone in that state or have somebody from here (Las Vegas) being the hub like the William Hill (America's largest sportsbook) places. Simply, I think it has to be done. I can only tell you what is happening and it is absolutely off the wall with what is going on with gambling on the sport bets. What if there were 20 kiosks right there on the track at Daytona? The lines (to bet) would be from here to Charlotte, N.C. there's no doubt in my mind. I am telling you, the interested in people being somewhere and bet, not super big money, but a $20 or $50 bill, it's part of the excitement anymore. I am telling you, there is an entertainment value in making a bet on something and then watching it and I know they would be successful."
Although fans have been making bets on sports for years in Las Vegas, the South Point Casino has traditionally not put Brendan Gaughan on the board. That changed this year, when his father Michael Gaughan, had the sportsbook list him. The early odds were 200-to-1. That means a $10 bet on that line would bring $2,000 if Gaughan won the race. He said he hoped to make some lucky fans big winners.
"I think we have taken me off the board now," Gaughan said, a few days after qualifying for the Daytona 500 on speed. "Being a born and bred Las Vegas driver and being that the South Point is such a prominent deal in the gambling industry and the fact they had me at 200-to-1 or plus 20,000 – whichever one they want to call it depending on how you do your odds, that puts way too much exposure (on the casino) and I think I can win this race. So, I said, 'let's get me off the board because I can win this race and I don't want my dad to root against me because I promise you, my dad would root against me."
No worries, though. Brendan Gaughan fans can still place a bet on the Las Vegas-native. Apparently, his father isn't afraid of a little "exposure" and Gaughan is back on the board. Vaccarro explained the casino did drop the odds though because Gaughan's car was fast and he has a history of good runs at superspeedway tracks.
"He's down to 20-to-1," Vaccaro said. "We put him back up on the board at 20-to-1. We just adjusted it a little bit."
CURRENT DRIVER ODDS ON WINNING THE DAYTONA 500:
Denny Hamlin #11: +900
Brad Keselowski #2: +950
Joey Logano #22: +1000
Kyle Busch #18: +1000
Chase Elliott #9: +1200
Kevin Harvick #4: +1200
Martin Truex Jr. #19: +1300
Ryan Blaney #12: +1600
Kurt Busch #1: +1800
Ricky Stenhouse, Jr. #47: +1800
William Byron #24: +1800
Jimmie Johnson #48: +1900
Aric Almirola #10: +2200
Clint Bowyer #14: +2200
Erik Jones #20: +2200
Matt DiBenedetto #21: +2200
Alex Bowman #88: +2500
Kyle Larson #42: +2600
Austin Dillon #3: +3300
Ryan Newman #6: +3500
Chris Buescher #17: +5500
Christopher Bell #95: +5500
Cole Custer #41: +5500
Darrell Wallace Jr. #43: +5500
Ross Chastain #77: +5500
Tyler Reddick #8: +5500
Ty Dillon #13: +6600
John H. Nemechek #38: +7700
Michael McDowell #34: +7700
Ryan Preece #37: +7700
Daniel Suarez #96: +9900
Reed Sorenson #27: +9900
David Ragan #36: +10000
JJ Yeley #54: +10000
Quinn Houf #00: +12500
Timmy Hill #66: +12500
BJ McLeod #52: +15000
Brennan Poole #15: +17500
Corey LaJoie #32: +17500
Joey Gase #51: +17500
Justin Haley #16: +17500