By Jerry Jordan, Editor
DAYTONA BEACH, Fla. – Blue, black and white – colors that make the No. 6 Roush-Fenway Ford Mustang pop against the gray asphalt of the iconic Daytona International Speedway and Ryan Newman is hoping he can put those colors and his new sponsor, Koch Industries, in victory lane.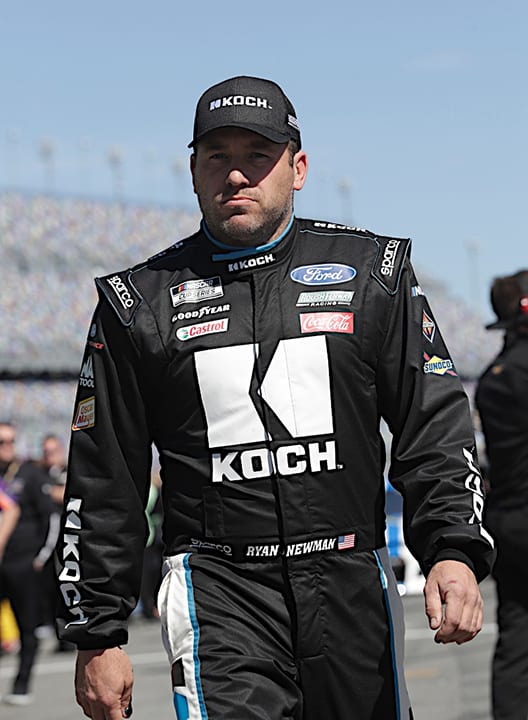 Although some of Koch's subsidiary companies have been sponsors in NASCAR in the past, 2020 is the first time the $110 billion Koch Industries has adorned the hood of a racecar. Marked as one of the largest privately-owned companies in the world, Koch Industries owns Georgia-Pacific, Invista, Flint Hills Resources, Molex and Guardian Industries and others.
"It's definitely fun to bring in a new partner, you know, some of their companies have been involved with NASCAR in the past but to have Koch Industries on our car is special," said Ryan Newman. "I mean, they are a great company with a lot of connections to fans on the consumer side, so I look forward to trying to represent them well."
The company made its debut last week in the Busch Clash when Newman brought it home to a third-place finish.
"Koch Industries is excited to partner with Roush Fenway and Ryan Newman in this year's Daytona 500," said Steve Lombardo, chief communications and marketing officer for Koch Industries. "As our businesses continue to manufacture the things that make life better — from fuel to electronics to automotive sensors and component parts — the partnership between Koch Industries and Roush Fenway for this race is a natural fit. Sunday at Daytona is the premier event of the season and we are proud to help represent one of racing's brightest stars."
Newman will roll off the grid in seventh and go for his second Harley J. Earl Trophy. His first came in 2008 on the 50th anniversary of the Daytona 500. A win would also be the third 500 victory for Roush-Fenway Racing.
"Our partnership with Koch Industries is a natural fit and we are pleased to have them on the No. 6 car for the Daytona 500," said team owner Jack Roush. "They manufacture products ranging from fuel to electronics to automotive sensors and component parts that are consumed daily by the NASCAR fan base.
"We're thrilled to be associated with such an extremely diverse organization and the second-largest private company in the United States – providing almost 70,000 American jobs. We feel they are a perfect match for Roush Fenway and within the NASCAR demographic and that there is great opportunity to grow the relationship."