By Jerry Jordan, Editor
LAS VEGAS – Rumors of doom and gloom have plagued the story of Kurt Busch's future ever since he was injured in a crash at Pocono Raceway in July and while he confirmed he is stepping away from full-time racing for the time being to focus on his health, he is not retiring and will race, again, on his own terms when he is back to 100 percent.
On Saturday, the 44-year-old former NASCAR Cup Series Champion announced he will not continue to seek clearance to race in any of the upcoming NASCAR Cup Series events, instead focusing on his health and working behind the scenes to help make 23XI Racing even better. His work with Bubba Wallace has paid dividends as the young driver's finishing positions have greatly improved since Busch was sidelined and began working with him from behind the pit wall instead of on the track.
"I'm still not 100% and I'm still not cleared to race," Busch said, during his announcement in the media deadline room at Las Vegas Motor Speedway. "As I continue to focus on my health towards being cleared, I'll be stepping away from full-time NASCAR Cup Series competition in 2023. My long-term health is priority number one and I don't feel like committing at this point, to compete for a championship next year is in my best interest or the best interest of the team.
"I am still competitive, passionate and I want to continue to perform at my core values and to give back to a community that has been my life since I left Las Vegas to pursue a professional racing career over 22 years ago. Next year, my contributions to racing may look a little different but I will continue to give my best to this sport."
It was obvious the announcement by Busch was an emotional one as his voice cracked on multiple occasions throughout the comments. The tone of the press conference was sober but did have moments of humor as Busch worked through what he had to say and faced his future in front of a large crowd of media members.
"There's not one moment or one circumstance that has led to this decision. It's a layer of things," Busch said. "And I mean to be frank and to smile a little bit I mean, I've wrecked a lot of shit in my life, old cars, new cars."
Busch continued, explaining that it likely wasn't just one thing that sidelined him. It was a culmination of many hits through the years, his age and the constant grind of racing week in and week out.
"So, over the years things add up and you know, different wrecks this year have made it tough in the grind to get back each week to 100 percent," Busch said. "That was starting to get tough this summer. And then with the accident at Pocono, it's just it's again part of. Everything that's kind of added up, it's not one circumstance more than the other.
"The new car, this NextGen car, we have to continue to make it safer. We have to learn from each of the circumstances, whether it's mine, whether it's (Ross) Chastain's, whether it's (Alex) Bowman's, whether it's Cody (Ware), where there's been a ton of hits that we're all learning from in finding the areas that we need to improve and so, this is more of a 'look out the windshield' type moment."
Busch's announcement also brought reactions from the industry, as representatives from NASCAR, Toyota and several drivers shared their thoughts on the decision he has made. Each of them lauded Busch's action and decision to focus on his health and made reference to his dedication and influence in motorsports.
"For more than two decades, we have been privileged to watch Kurt Busch compete," said Steve Phelps, NASCAR's president. "He has proven himself a champion on the racetrack, but perhaps just as importantly, he has grown to become a true ambassador for the sport. Kurt's drive to improve the future of motorsports has set him apart. We are thrilled that he'll remain in our sport as a leader and trusted resource. Kurt's unparalleled passion for racing gives us hope that we will see him in a race car again."
David Wilson, the president of Toyota Racing Development (TRD) USA, explained Busch has Toyota's full support and that his value to the organization and its teams is something they will benefit from going forward, regardless of whether Busch is racing for a championship or running in select races across a variety of racing series.
"Kurt's decision to step away from full-time NASCAR Cup Series competition next year is certainly not something anyone expected when we started the season together and celebrated in victory lane at Kansas Speedway earlier this year," Wilson said. "Unfortunate circumstances led Kurt to a difficult decision, but we know that he will continue to contribute to the entire program at Toyota, TRD and 23XI Racing. He brings a tremendous amount of knowledge and firsthand championship experience to his team and fellow Toyota competitors. We're here to support Kurt in this next chapter of his career and look forward to continuing to work alongside him."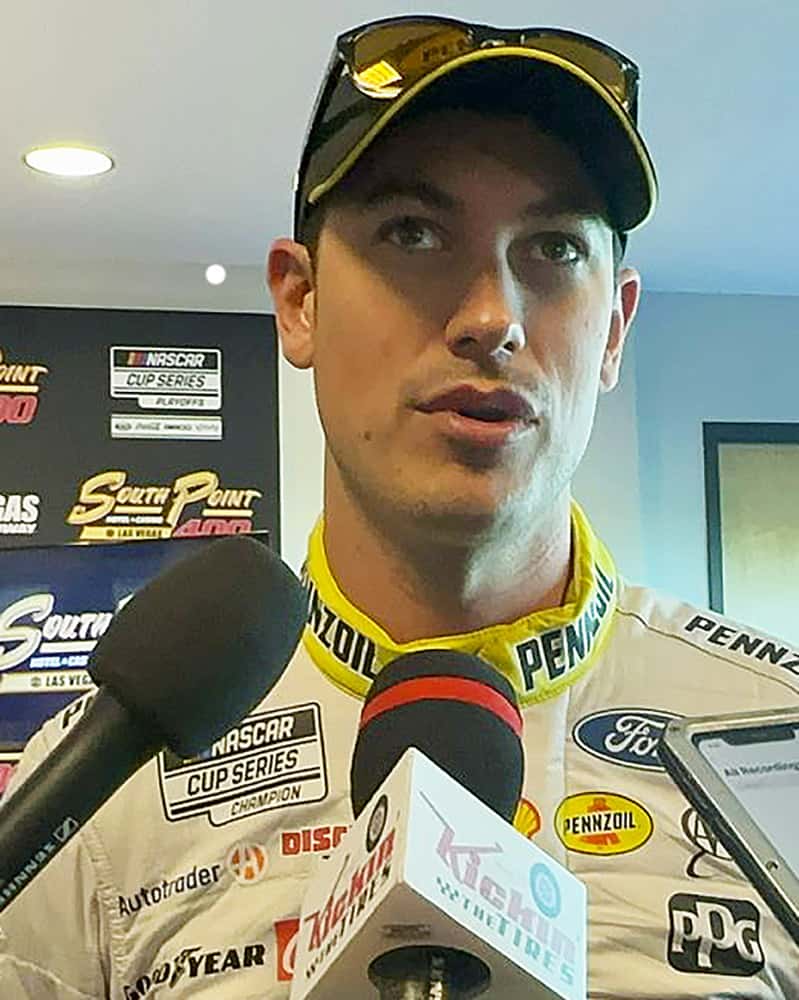 Former NASCAR Cup Series champion, Joey Logano, who is currently racing to secure a second title in the Cup Series playoffs, explained that Busch is a major influencer behind-the-scenes in NASCAR. Logano said he didn't know it until a couple of years ago but Busch has dedicated himself to making NASCAR better for fans and drivers.
"Kurt has had an incredible career, and what I will say about Kurt that probably not everybody knows, is that his impact in wanting to progress our sport over the last few years, for sure, but probably over his whole career, he was pulling a lot of strings back there and I believe he still will. It's a true statement of the champion that he is and he cares about the sport and he wants to leave it better than it was when he got here.
"That's a hall of famer and seeing him do that means a lot to me here and wanting to do the same things. So, obviously, he has had an incredible career with lots of wins, a championship along with that, I think those little things that a lot of people don't see are a true testament to who Kurt really is in his character and the impact he has made for all of us."
Busch also had a message for his fanbase, which has seen his career go through multiple controversies and successes through the years. In fact, there may be no other driver in the history of NASCAR, who has experienced more career ups and downs than Busch. However, he is now one of the most-loved drivers in the NASCAR garage and silently gives back through charitable endeavors, the support of America's servicemembers and educating young racers.
"Yeah, again, you know, having the accident on track and then not having a set timeline or a set path for recovery with a concussion, it turns into other things, as well, with emotions," Busch said. "The timelines seem to have shrunk up. As far as what's going to happen next year? Well, it's like, well, I should be better by now and I haven't been cleared. So, this is more of being unselfish and respecting what has to happen in this industry and that's to know how to make a team move forward and I believe in 23XI and everyone here. For me, I will get back to 100%, I promise. I have a great team of specialists. The Toyota Performance Center has been wonderful and I will keep pushing myself and my health to get back that priority first and then we can decide about racing afterward. The tremendous support with the fans, my team, sponsors, in this village, it's heartwarming. So, thank you, guys.
"I'm at peace where things are. I was close to the end of my contract and that full drive for a championship run. I was real close to that anyhow, so it just happened a little sooner … But I'm happy with where things are, and my family, with the race team, with Monster (Energy), with Toyota. There's gonna be plenty of things to do to keep that passion alive and to write the final chapter."