By Jerry Jordan, Editor
HAMPTON, Ga. – "I got the flag."
For five-year-old Duncan Howard, the day couldn't have ended any better this past Sunday as one of his two favorite drivers won the Cup Series race at Atlanta Motor Speedway and he got to take home the checkered flag.
The young race fan is not new to NASCAR. He is already a big fan and it's, kind of, in his blood. His mom, Angelica, who is on active duty in the military, and his dad are huge race fans in their own right, so he's been to several tracks. Plus, his grandfather knows Bruton Smith and used to work for Las Vegas Motor Speedway as a photographer. So, when one of your favorite drivers gives you the checkered flag from his win, it takes fandom to a whole new level.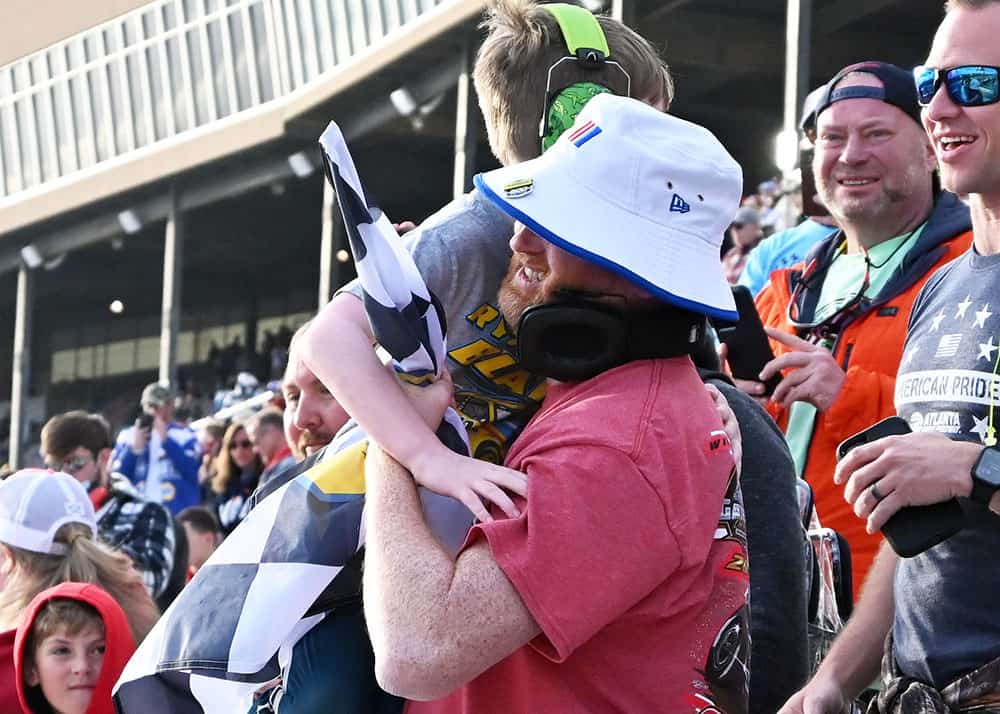 "We were already getting texts from people before he got back to his seat in the stands," said Chris Howard, Duncan's father, who the tike up when he returned with the coolest souvenir of the weekend. "He was calling everyone we know. His favorite drivers are (Martin) Truex (Jr.) and Blaney, so he was really excited. He has his racecars all over the house and puts on his own races.
"If they don't win, he cries about it."
According to Howard, when he saw that Blaney was catching Kyle Larson in the closing laps at Atlanta, he decided he would take Duncan down closer to the track in case he got the win. He said, he wanted him to see the burnout and victory celebration but they were completely stunned when Blaney walked up to the fence, scanned the stands and then pointed at Duncan in his No. 12 Ryan Blaney t-shirt and called him down to the fence.
Confused because he didn't know he was supposed to take the flag, Duncan asked the race official after being handed the flag, "Is this mine?"
His dad said Duncan knows what the flags mean and that they are important, so he wasn't sure what to do and that's when the race official told him he could take the flag with him back to his seat.
"He had a huge smile on his face," Howard said. "He has his own set of flags and runs through the house, yelling, 'put it out' and calling the out the race winner."
When asked by Kickin' the Tires about his experience at the racetrack, Duncan said, "That was the second souvenir that I've gotten. I got a helmet, too.
"No, I haven't told any friends I've gotten the flag yet. I'm not playing with the flag right now to keep it from ripping up."
Howard said, he bought Duncan a mini-helmet as his souvenir before the race but the flag definitely topped the list but despite NASCARCASM's pointing out that Duncan would "CRUSH show and tell" because of COVID-19, Duncan is still doing virtual school and hadn't seen his friends as of Wednesday following the race. However, what he did do was go to Dawsonville, Ga. to visit the Dawsonville Pool Room and racing museum the day after the race.
Kid gonna CRUSH show and tell at school tomorrow. CRUSSSSSSSSSSSH it. https://t.co/yVoI0FHJhv

— nascarcasm (@nascarcasm) March 21, 2021
"Yeah, there were some guys in there when we were having lunch and they were talking about the kid who got the flag from Blaney," Howard said. "He heard them and that was it, he was done eating and turned around and said, 'that was me.' He went and told everyone about it."
Howard said they saw a lot of comments and photos on social media from different people about Duncan getting the flag, including Clint Bowyer. And they already ordered Blaney's race-winning diecast. He said they are hoping to get it all autographed and put together in a display case so Duncan can appreciate it when he gets older.
— EDITOR'S NOTE: Special thanks to the folks at Atlanta Motor Speedway for helping us out.