By Sarah Handy, Staff Writer
StarCom Racing Rookie driver Quin Houff was able to avoid a caution filled Yellawood 500 at Talladega last Sunday to score his best NASCAR Cup Series finish. The driver recently spoke to Kickin' the Tires about Talladega, preparation for the Charlotte Motor Speedway Roval and much more.
Talladega
Starting the 200-lap event 33rd, Houff ran a consistent race all day long in his No. 00 Permatex Chevrolet. Houff went on to finish Stage 1 in 35th and Stage 2 in 17th. Kickin' The Tires asked Houff about his stage finishes and if his initial plan was to stay towards the back of the pack and avoid the craziness of Talladega.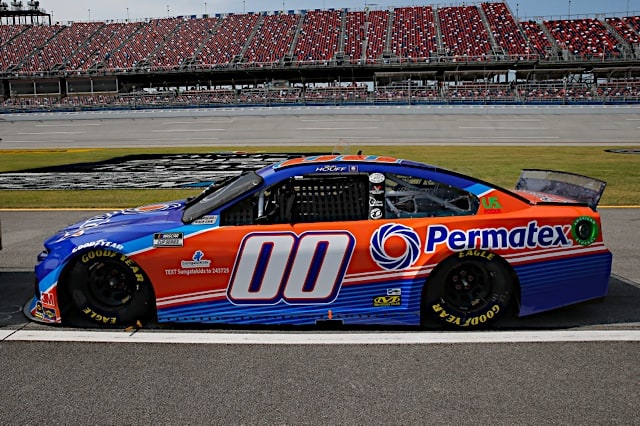 "You [always] think you have a plan at these Superspeedway races and it always seems to happen differently. My plan was to stay in the main draft back as much as I could. The beginning of the race we lost the draft, but after that we stayed up in the pack the rest of the race."
StarCom Racing being a single car team, Houff talked about the fact it can be difficult at superspeedways without having any teammates out there to help you.
"It is definitely difficult being a single car team at these superspeedway races. Without having any teammates out there you, you have to make the other cars help you," Houff said. "I felt we [could have] had a top 10 as well, but I had to duck out of the draft to avoid No. 2 car getting spun off turn 4 coming to the checkered. But again, that's Talladega for ya!"
However, towards the end of the race, Houff ran with the front pack and was able to bring home his No. 00 Chevy to a 13th place finish. A career best for the Virginia native who now has 48 NASCAR Cup Series starts on his racing resume.
"A 13th place finish was a huge shot in the arm for our StarCom team," expressed Houff. "It's just a testament to all the hard work each and every person on that team has put in throughout this season!"
The Roval
This Sunday afternoon, Houff will make his first start at Charlotte Motor Speedway's 2.32-mile 17 turn road course. The rookie driver has been preparing for the event as he would any track, he hasn't yet physical competed at by iRacing!
Yes, you heard that right. Houff told Kickin' The Tires he has been spending extra time on his SimSeats simulator. Additionally, the company will also serve as Houff's primary sponsor this weekend as well.
"I prepare for the upcoming Roval this week like any other track I have not been to. I do put extra time on my Sim Seats simulator though," Houff said. "It's the top of the line iRacing rig and is the closest I can get to real life. They are actually our sponsor this week and the car looks fantastic! I look forward to being another product of their #Sim2Reality."
Our @SimSeats ride is 🔥! #z00m https://t.co/kV8B0jOSBo

— Quin Houff (@P1_Houff) October 7, 2020
Lack of Practice and Qualifying
Due to the COVID-19 pandemic, the lack of practice and qualifying is surly to have had an impact on a driver, especially a rookie driver who is new to many of these tracks. Houff confirmed to Kickin' The Tires that the lack of both have definitely had a big impact this season.
"Not having practice or qualifying has definitely had a big impact on this season," Houff said. "Especially being a rookie that just needs [as many] laps as he can get, but also for our smaller team — not having all the technology capabilities some of the other teams may have to simulate or set the cars up before they ever get to the race track."
COVID has also made it difficult being around the StarCom Racing shop but Houff said he's still been able to keep in touch with his guys and the team does a great job on social media of showing what's going on.
"Obviously the whole COVID-19 thing has made being around the shop difficult. But we have been taking all precautions necessary," Houff said. "When I'm not able to be there I still keep in touch with the guys and what we have going on with our cars. I also think we do a good job showing our daily grind through social media!"
2021
Let's not forget that Quin Houff will return to the NASCAR Cup Series and StarCom Racing in 2021. This is sure to pay dividends knowing he and the team can refer back to data from this season. Houff is looking forward to returning to the team next season and becoming even better.
"It's [absolutely] something I look forward to," expressed Houff. "Coming back to StarCom next season will almost be like practicing a whole race season together, and getting to come back to see what we have learned as a group to become better year two."
A top 15 for our @Permatex @StarcomRacing team!!! Everyone's hard work shows and sometimes luck @TalladegaSuperS rules over all! #z00m #Blessed pic.twitter.com/z8Y0Twgv1Z

— Quin Houff (@P1_Houff) October 4, 2020
The Bank of America Roval 400 will take place on Sunday, October 11th at 2:30PM Eastern on NBC.
Photo Credit: Nigel Kinrade Photography / NKP Photo