OKLAHOMA CITY, Mar. 7, 2023 – Tom Love, who, along with his beloved wife and business partner, Judy, founded a family-owned and -operated network of more than 600 Love's Travel Stops & Country Stores, passed away at 85 in his hometown of Oklahoma City on Tuesday.
A respected community and business leader, Tom was admired for his genuine humility, good-natured disposition, generosity and helpfulness toward others.
"Tom Love was a man of conviction who never wavered from the principles of honesty and integrity in the 59 years he spent developing the company he started with his wife, Judy," said Shane Wharton, president of Love's. "These tenets still guide our company and will as we move forward. Tom always listened and was sincerely interested in knowing the stories of employees and customers. He wanted to hear their thoughts, ideas and hopes for them, their families and the company. He credited the company's success to the people who worked for us. He could relate to all employees but had a soft spot for those on the frontline at stores. In many respects, he was an ordinary person who built an extraordinary business alongside his wife Judy and his family, who he loved deeply."
Tom is survived by his wife of 62 years, Judy, his children Frank, Greg, Jenny and Laura, nine grandchildren and two great-grandchildren and two more on the way.
"We are deeply saddened by the passing of our beloved husband, father and grandfather," said the Love Family. "He loved people, and that was evident in how he guided our family, operated the business he started in 1964 and gave back to our community and organizations across the country that serve others. He was always committed to helping others succeed and opening the door for leaders, including his children and grandchildren, and we look forward to building upon his legacy. While the grief we feel is unmeasurable, we celebrate his life and will continue his legacy of living a life filled with integrity, honesty and faith."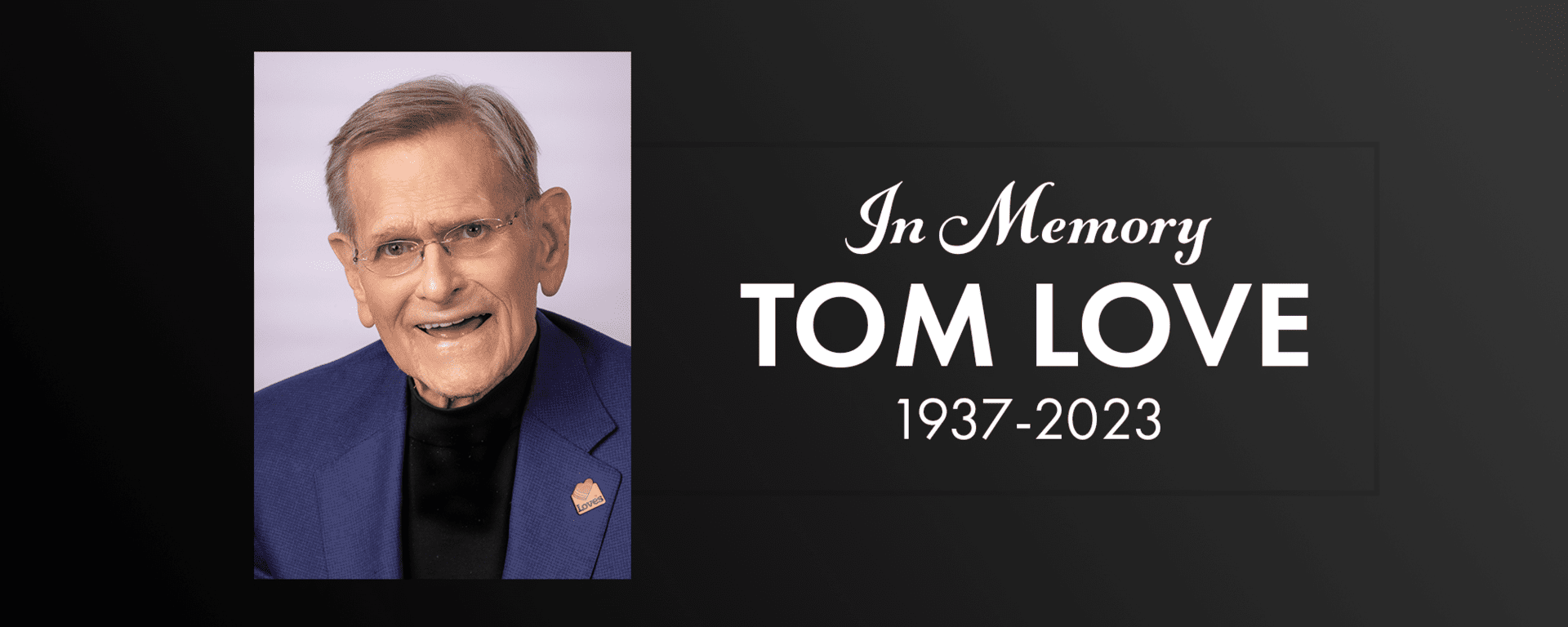 Born in 1937 in Oklahoma City, Tom attended St. Gregory's Preparatory School in Shawnee, Oklahoma, and St. John's University in Minnesota before enlisting in the United States Marine Corps in 1954. He married the love of his life, Judy, in 1960.
In 1964, Tom and Judy Love used $5,000 to lease an abandoned service station in Watonga, a small rural town northwest of Oklahoma City. From a modest beginning, the then-named Musket Corporation opened 40 stores in eight years in western Oklahoma.
Tom's keen and discerning sense for business and vision to grow the company resulted in Love's establishing a new concept – the country store – that combined existing business models for grocery and convenience stores with a self-service gas station. In 1972, Tom's country store in Guymon, Oklahoma, became the first store in the nation to combine self-service gasoline and grocery items.
The original country store featured self-service gasoline, grocery and dairy items and offered extended hours, seven days a week. This new store model would help Love's eventually emerge as one of the most successful private businesses in America.
Under Tom's leadership, Love's opened its first travel stop on Interstate 40 in Amarillo, Texas, in 1981, catering to professional truck drivers and the motoring public who sought convenience and efficiency when traveling across the country. Throughout the decades, Love's has expanded its services to include hot and fresh food items, truck care maintenance and warm showers.
The company has flourished under Tom and his family's leadership – opening its 600th location in October 2022. The Love's Family of Companies has grown to include businesses focused on truck maintenance, logistics, commodity supply and alternative energies.
In his 59 years of leading the company, Tom was adamant about serving others and putting people first. His vision for establishing a nationwide network of "Clean Places, Friendly Faces" is a company-wide motto that embodies his customer-first approach.
Tom's passion for serving others resonated in his personal life and friendships. Former Oklahoma Governor Frank Keating noted that Tom was often underestimated, which had its benefits in business.
"Tom was a dear friend who I often turned to for advice. He was a visionary, innovator, inspirational leader and compassionate person. Tom was a quintessential entrepreneur long before entrepreneurialism was ever in vogue. He loved his country, having served in the Marine Corps. He loved his hometown of Oklahoma City, where he headquartered his business. Tom loved his state and responded with alacrity and superb skill when he accepted my appointment as chairman of the Oklahoma Transportation Commission. He was devoted to his dear wife, Judy, their four wonderful children, and many grand and great-grandchildren. He was committed to his faith, and he gave generously, but often quietly, to support education, medical and other significant initiatives. Cathy and I are heartbroken at his loss, but we are encouraged to know Tom's legacy will live on through his family, company and countless kind deeds."
Jane Jayroe-Gamble, a well-known broadcaster, author, public official and family friend, said she was deeply saddened when she learned Tom Love passed. She called his influence substantial, remarking how the company and community flourished under his and Judy's leadership.
"Tom Love is my Oklahoma hero. Together with his loving wife and business partner, Judy, Tom has lived a life of humility, generosity and enormous impact. His deep love for his church, community and country has been abundant and long-lasting. As our grieving hearts accept Tom's passing, the brokenness is quickly filled with gratitude for his life. Tom was a man of amazing vision, deep faith and complete devotion to others. He loved God. And he loved people – all kinds of people. None more than his family. May the comfort of our compassionate God be present with his beloved wife, Judy, their children and grandchildren. And all of us. 'A mighty oak has fallen in the forest and left a gaping hole against the sky.' But Tom Love's roots grew so deep that greatness will continue to grow from the many seeds of faith and integrity he planted in others."
Friend and former Attorney General for the State of Oklahoma Mike Turpin recalled what made Tom a great Oklahoman, leader and friend.
"We mourn the passing of our great friend and fellow Oklahoman, Tom Love. Tom represented the finest of our Oklahoma values of humility, honesty, compassion and service. He exhibited these exceptional core values in every aspect of his remarkable life – faith, family, friends, business and community. As a husband, father, grandfather, great-grandfather and friend, Tom always showed an abundance of goodness and kindness. We salute Tom for a well-lived life and for his invaluable contributions to the betterment of our city, state and nation. My family sends heartfelt condolences to Judy and the entire family and pray for their comfort in the coming days and weeks. Those who had the pleasure of knowing and working with Tom are better because of it."
Chickasaw Nation Governor Bill Anoatubby also recalled the attributes that led to Tom being inducted into the Chickasaw Hall of Fame.
"With deep sadness, we acknowledge the passing of a distinguished Chickasaw Nation citizen, Tom Love. In 2019, it was my great privilege on behalf of the Nation to induct Tom into our Hall of Fame, the highest honor we can bestow upon one of our citizens. The induction recognized Tom's immeasurable contributions to the advancement and betterment of the Chickasaw Nation. Tom embodied the values we cherish – honesty, trust, respect and service. He was generous with his time and resources. We enjoyed and cherished his friendship. We will surely miss him. As a Nation, we extend our condolences to Judy and the family. You will be in our hearts and prayers."
Tom's enthusiasm for sports led the company to enter a partnership with his hometown NBA team, the Oklahoma City Thunder. Love's well-recognized logo is displayed prominently on the front left shoulder of Oklahoma City Thunder jerseys. The logo was also front and center with NASCAR Cup Series team Front Row Motorsports when Michael McDowell drove the Love's-sponsored car into Victory Lane at the Daytona 500 in 2021.
Tom's passion for service was also felt in his commitment to helping those in his community. The Love family has generously donated to local and national organizations such as Children's Miracle Network Hospitals, United Way, Catholic Charities, the Archdiocese of Oklahoma City, Oklahoma State University and the University of Oklahoma. In 2018, OU opened the Tom Love Innovation Hub to provide a space for future entrepreneurs and other workforce development programs. The university recently broke ground on Love's Field – the future home of the six-time national champion Sooner softball team. In addition, his legacy will carry on at the Love Family Women's Center on the campus of Mercy Hospital in Oklahoma City and Science Museum Oklahoma's new state-of-the-art planetarium that will be named Love's Planetarium.
Tom received many honors, including Corporation of the Year in 1991 and the 1996 President's Award for Service to God and Country. He was chosen as Oklahoma's Most Admired CEO in 2010 and Trust Guardian Transportation Award in 2014. A Chickasaw citizen, Tom was inducted into the Chickasaw Hall of Fame in 2019 and the Oklahoma Hall of Fame in 2000.
About Love's Travel Stops
Love's Travel Stops is the nation's leading travel stop network with 600 locations in 42 states. Founded in 1964 and headquartered in Oklahoma City, the company remains family-owned and operated and employs more than 39,000 people. Love's provides professional truck drivers and motorists with 24-hour access to clean and safe places to purchase gasoline, diesel fuel, fresh coffee, restaurant offerings and more. Love's has over 430 truck service centers, which include Speedco and Love's Truck Care locations. Love's and Speedco combined is the largest oil change, preventive maintenance and total truck care nationwide network with over 1,500 maintenance bays and 1,200 emergency roadside vehicles available for customers. Love's is committed to providing customers with "Clean Places, Friendly Faces" at every stop. To learn more, visit loves.com or follow the company on Facebook, Instagram, LinkedIn or Twitter.