By Jacob Seelman, Featured Contributor
DAYTONA BEACH, Fla. – Texas native Kaden Honeycutt comes into this weekend's NASCAR Craftsman Truck Series opener at Daytona Int'l Speedway facing multiple unknowns.
For starters, the 19-year-old "can't even focus on the race" for the first time in his young career because there's no guarantee that he'll be in the starting lineup for the NextEra Energy Resources 250.
And, drawing the picture out a bit further, Honeycutt comes into the World Center of Racing with a new team in Roper Racing, hoping to find some quick magic to build out a full-season schedule while time and circumstances allow.
Honeycutt will wheel the No. 04 FlyAlliance/CarQuest Ford F-150 Friday at the 2.5-mile Daytona tri-oval, making his long-awaited debut at NASCAR's hallmark facility but having to qualify in on speed for the kickoff to the Truck Series season.
The Willow Park, Texas, driver made nine Truck Series starts last year between G2G Racing and On Point Motorsports, earning a top-10 finish in the season finale at Arizona's Phoenix Raceway and working full time in the On Point shop when he wasn't behind the wheel.
However, Honeycutt transitioned to Cory Roper's family-owned operation in the weeks leading up to the Daytona opener, after the On Point squad went in a different direction for this year with drivers Ryan Vargas and Chris Hacker, the latter of whom will wheel the No. 30 Friday in Daytona.
It's not the position he envisioned himself being in when the offseason began, but Honeycutt is grateful to Roper for giving him a chance to stay in the Truck Series garage and continue doing what he's most passionate about – driving.
"If you'd asked me a few weeks ago, I wasn't sure where my career was going to be right now," Honeycutt admitted in the garage area just before Thursday's lone Truck Series practice session.
"Cory gave me an opportunity that I'm so appreciative of, and now it's up to me to make the most of it."
Making the most of being in Daytona starts with qualifying for Friday's 250-mile Truck Series race.
Honeycutt knows that, in order to guarantee himself a place among the 36-truck starting field, he'll have to be among the top 31 on speed at the end of time trials on Friday afternoon.
Because the Roper Racing team wasn't full time last year, the No. 04's owner point standing likely won't be high enough to garner one of the five provisional starting spots at the back of the grid.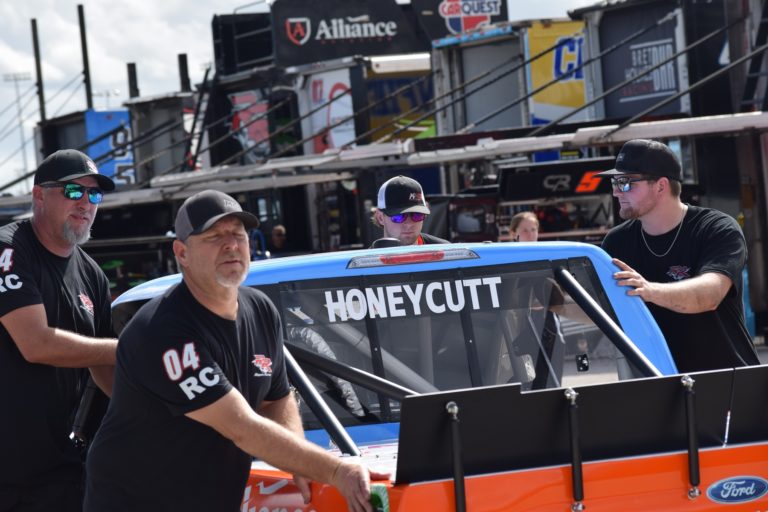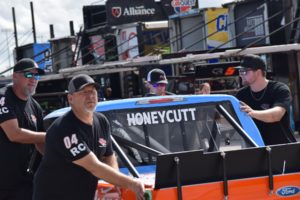 "There definitely is a stress level for me, just making sure we qualify," Honeycutt admitted. "You just don't know what to expect, being in this position, so our focus all throughout practice has to be working on single car runs all afternoon and just making sure we can be as trimmed out as possible and as fast as we can by ourselves.
"It's tough. It's a lot to balance. But man, I'm just really happy to be here because there was a moment when I wasn't sure that I would be," he added. "I'm going to try to have fun with this [opportunity], but at the same time, take this very seriously because it's the first race we have to try and build with these guys."
Honeycutt was quick to admit that it's more than he bargained for, being in a position where he might miss the show altogether, but that the stress hasn't hit him – at least to this point, anyway.
"I guarantee you that it'll probably hit me when the time comes to roll out for qualifying," he tipped. "Honestly, I'm just trying to focus on not thinking about it and treating it like 'just another race,' even though it is Daytona and we know that comes with more prestige and attention than other places we go to.
"I worked really hard on the simulator, as much as I could, on the takeoff from pit road and doing that both as fast and as leisurely as possible. I know that sounds counterintuitive, but there's a balance that we want to hit that should, hopefully, give us what we need on that get-up-to-speed lap to be where we want to be when it counts," Honeycutt continued. "No matter what, I think that we do have a fast truck and we'll see if we can make it into the show.
"That's all we can do right now."
Honeycutt was candid when talking about what he's been through over the offseason, noting that he feels like he's "aged a good bit" through the process of changing teams and trying to find stability in the garage.
However, the young driver pointed to his religious faith and trust in the patience and process that got him to this point in his racing career as rungs on the ladder that have kept him moving forward.
"It was stressful; I know I've said that a lot, but this whole process really was," Honeycutt said. "Not knowing what you're doing, what the next step is or the path that you're going to take … no matter what you're doing in life, that's tough and I would never wish that on anybody. It has made me open my eyes and taught me that I need to get my situation as established as I can by the end of fall or beginning of winter, because once you get past Christmastime the new season just comes up faster than you expect.
"We didn't have that piece of mind this time around because we just didn't know where things were going to end up, with On Point or anything else in that moment," he continued. "It's been a learning experience for me about working on things further ahead of time and trying to minimize the stress level on myself, but we're doing the best we can and we're here now and that's what's important to focus on.
"But there's been a lot of praying, a lot of faith and a few sleepless nights involved, yeah."
Regardless of the outcome of qualifying for Honeycutt and company Friday, the Texan will drive in the next five Truck Series races for owner Cory Roper, through Bristol (Tenn.) Motor Speedway in April.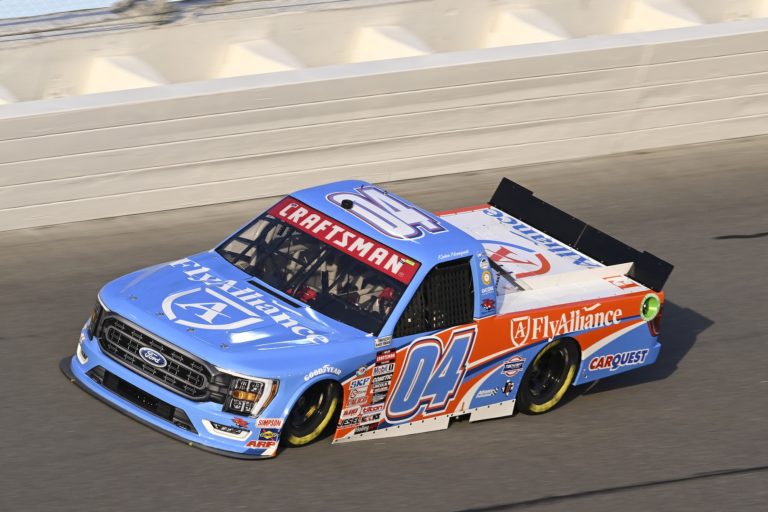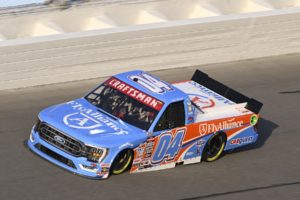 The goal is simple: perform well enough to turn these first six outings into a full Truck Series campaign.
"We're aiming to go out, do the absolute best we can, and try to win. That's nothing short of anything that I ever try to do when I come to the race track," affirmed Honeycutt. "We know we need some additional partner support and things like that to be able to go after a championship, but we want to perform and get up there in a potential playoff position.
"It all comes down to execution and making the best finishes we can out of the situations we're presented with. Heck, if we find a way to win a race that would really guarantee a lot for us, but if that opportunity presents itself we won't hesitate to see if we can take advantage of it."
As he walked away to prepare for practice, Honeycutt was asked if he could put any focus on the race at this point.
He chuckled before shaking his head.
"It's all about qualifying," he replied. "After we're in, [crew chief] Bruce Cook and our guys can focus on making the tweaks we need to make to give us a good shot in the race.
"Once you're in the race, you have a shot because it's Daytona."
Coverage of qualifying for the NextEra Energy Resources 250 kicks off at 3 p.m. ET, live on FS1.