By Jacob Seelman, Featured Contributor
DAYTONA BEACH, Fla. – One might call Friday night's NASCAR Craftsman Truck Series opener at Daytona Int'l Speedway a "culmination of effort" for 21-year-old Nick Sanchez.
Sanchez, the reigning ARCA Menards Series national champion and one of the more recent Drive for Diversity success stories, will make his Truck Series debut in the NextEra Energy Resources 250 for Rev Racing – the same team that launched him into the mainstream spotlight last year.
It's a moment that has been a long time coming for the Miami, Fla., young gun, who first joined NASCAR's Drive for Diversity in 2017 and has gone through a six-year "labor of love" in his pursuit of racing at the national level.
"If you go back even further, from the time that I first strapped into a go-kart at Homestead [Miami Speedway] at 12 years old, this was the goal," Sanchez noted in an exclusive interview Thursday with Kickin' the Tires.
"We didn't know what the timeline was at that point … of course, but we knew the goal."
The goal will become a reality at the World Center of Racing, a place Sanchez grew up in the shadows of and longed to compete at from the time he was young.
Now that he's finally here – in a national series, Sanchez pointed out – he hasn't stopped smiling from the time that he set foot on the property.
"Honestly, for me, it's not even really [about] taking everything in; I'm just genuinely excited to drive, you know?" a grinning Sanchez said. "I've seen the amount of work that has gone into our truck, from my Rev Racing team and our technical alliance with KBM [Kyle Busch Motorsports], and it's impressive.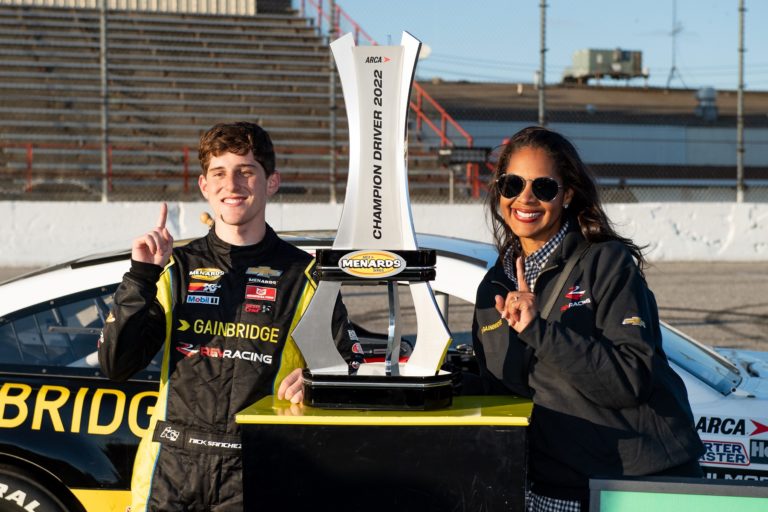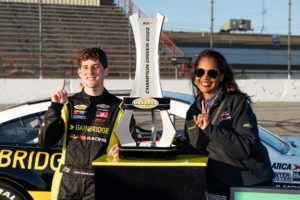 "It just makes me excited to get to the race, genuinely excited. I'm ready. I've been ready all week."
Sanchez parlayed a three-win season, with nine top-five and 16 top-10 finishes in 20 races, into last year's ARCA title with Rev Racing. At that point, it was unclear where Sanchez would be headed next, though he did get an eight-race audition with Big Machine Racing in the Xfinity Series throughout 2022.
However, Rev Racing had big ideas, and with support from Chevrolet and Kyle Busch Motorsports – who switched manufacturers back to the Bowtie brand after its namesake moved from Joe Gibbs Racing to Richard Childress Racing for the '23 NASCAR Cup Series campaign – a jump into Trucks came into being.
It was a microcosm, in a way, of Sanchez's own NASCAR journey. All the right pieces just fit into place.
"I always knew that if everything worked out, getting to this level could potentially happen," Sanchez noted. "To see it all come together is the amazing part. My goal was always to get to Trucks or higher, but I always want to be in the best position to win races … and that's what excites me about this opportunity with Rev Racing, is that I feel I'm in that kind of a position to be able to go out and perform.
"With that being said, though, it's mind boggling to actually be here now," he added. "It's really wild."
Sanchez is well aware of the extra layers to his season that come with being a Drive for Diversity alumni and driving for Rev Racing, the very organization that brought him into the program in the first place.
There's no pressure, however. Sanchez is relishing the opportunity to share the moment with the team that he views "as family" and that first took a chance on him six years ago in a Legends car.
"Max [Siegel, team owner] believed in me back then and he still does today, or else I wouldn't be here at all. For that, I'm forever grateful to him and this entire team," Sanchez said. "I couldn't be happier to make this move to the national series full time with anyone else.
"It's an exciting time for me and for him, and I believe that it's going to be a very good year for us."
Despite the pressure that some would view as "being piled on" to Sanchez's shoulders, due to the fact that his team has a technical partnership with the most successful organization in Truck Series history, he insists that he hasn't felt any of those stressors from the outside.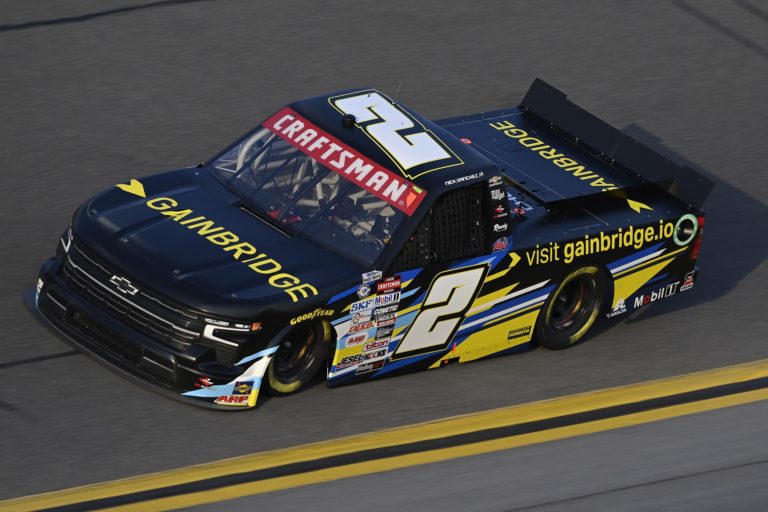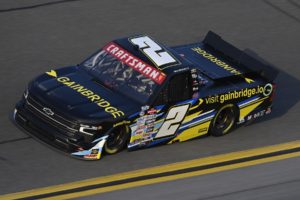 The only pressure, he noted, is from within as he seeks to find his way quickly in the Truck Series field.
"I think it's more soothing for me, really, knowing what our equipment and the KBM support that we have is capable of. I'm in the most capable cars – trucks, I guess now – that I've ever been in. To me, that makes it simple just to go out and drive," Sanchez explained.
As he embarks on the first of 23 Truck Series races this week, Sanchez took a moment to reflect on how much he's gone through since his first race as a Drive for Diversity development driver in 2017 – in a Legends car at Charlotte Motor Speedway – to get to this moment at the World Center of Racing.
What would his current self tell that 15-year-old teenager about where he'd be in six short years' time?
"Just keep working hard," Sanchez said. "Treat it like you're fighting for your life every day in this sport, because at times, I have been. Even through this is the most secure I've been in my racing career, I still treat it like I need to go out and prove myself every single week.
"I'm not going to stop until I have a chance to get all the way to the top," he added, looking toward the NASCAR Cup Series garage roughly 100 yards across the infield from his hauler.
As for the biggest challenge he believes he'll face this year, Sanchez already has that bullet point circled on his to-do list.
"Don't beat myself up," he laughed. "I'm bad about that. I just want to be myself and enjoy all this."
Sanchez and the rest of the NASCAR Craftsman Truck Series field will qualify at 3 p.m. ET before the NextEra Energy Resources 250 takes the green flag at 7:30 p.m. live on FS1, the Motor Racing Network and SiriusXM NASCAR Radio, channel 90.