By Seth Eggert, Staff Writer
JD Motorsports (JDM) driver Ryan Vargas has landed another major sponsorship in the NASCAR Xfinity Series.
Partnering with the Community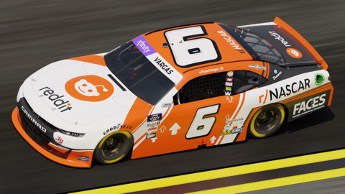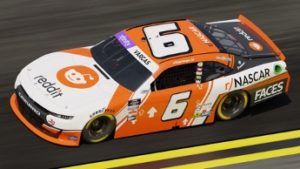 The La Mirada, Calif., native will have the colors of NASCAR Reddit (r/NASCAR) on his JDM No. 6 Chevrolet Camaro SS in the Sparks 300 at Talladega (Ala.) Superspeedway.
Vargas has been active on the social media platform, participating in AMAs (ask me anything) over the past several months.
r/NASCAR, founded roughly 13 years ago, brings over 850,000 fans together, allowing them to celebrate, create content, and share NASCAR-related news.
"I got in touch with the mod team at r/NASCAR and we've been able to connect," Vargas explained. "I've been able to interact with the community a lot, doing AMAs and other various hosts just trying to interact, be organic and have fun. It's been a really fun time and through that I've been able to just connect very well with all these different people.
"Having talked to the Mod team, they really believe in me. They really wanted to work with me and try and help me out. That led to us working together. We've been working on this for several months now and we were able to put rNASCAR and the Reddit brand, on track at Talladega."
Social Media Presence
The partnership between Vargas and r/NASCAR is his second with a social media company. The 21-year-old landed his first major sponsorship in 2020 with TikTok for seven races. It was with the social media brand that he scored his first career top-10 in Xfinity at Texas Motor Speedway.
Though he doesn't consider himself a social media person or an influencer, Vargas has used the platforms to interact with the fans. He is likely the first driver to have been sponsored by two different social media platforms and is the third to partner with r/NASCAR in some form.
"It's unique to represent different social media platforms, having the backing of rNASCAR and having the Reddit colors on the car," Vargas admitted. "I had TikTok a few years ago. I don't know if that makes me the only driver, (to have multiple social media companies as a sponsor) but to be one of the only drivers to me that shows that active representation from different social media platforms it's a huge honor.
"I don't see myself as a social media person or an influencer, but I try and just be honest, to be real on social media. I don't hold back my feelings. Sometimes I may talk a lot, but I think that also is what has helped me gain the fan bases that I have is because I do wear my emotions and opinions on my sleeve."
Adding Partners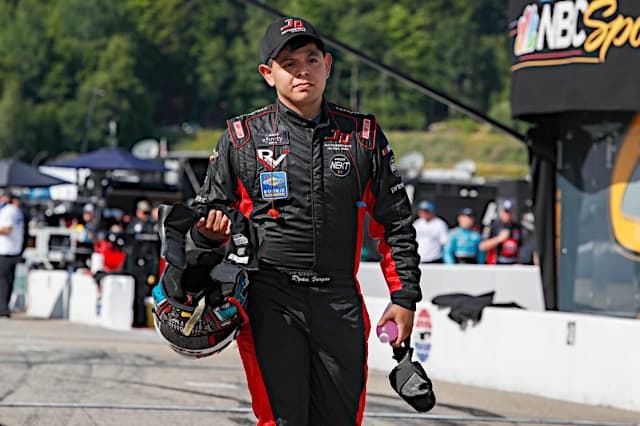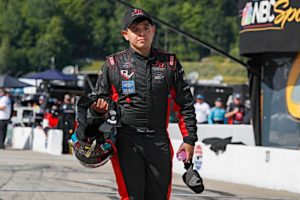 The significance of the partnership is not lost on Vargas. A result of the sponsorships from r/NASCAR and TikTok is that smaller companies are more willing to trust the NASCAR Drive for Diversity alumnus with their brand.
Among those companies this year are Advanced Masonry & Concrete, Monarch Roofing, National Metering Services, Native Sons, RecruitMilitary.com, Swann Security, and Twin Liquors.
"It means a lot because if you look at how the TikTok sponsorship went down and where I'm at now in my career, that was my first real sponsorship," Vargas reflected.
"Now it's easier for these brands, these other big names or these other big groups of people to get behind me because they see this giant company in TikTok is a giant corporation that got behind Ryan Vargas. We could trust him with our brand, with our name, that he's going to represent us well because these guys, these big names did it. That's what has led to companies like Monarch Roofing, Native Sons, all these smaller regional companies jumping on board and there's more coming too."
r/NASCAR marks the 13th different sponsor for Vargas this year. Like other drivers in the Xfinity Series and NASCAR Camping World Truck Series, he has welcomed many companies onto his car this season.
With the cheaper cost of entry in the Xfinity Series and Truck Series, more companies can grace the hood or quarter panels of NASCAR vehicles.
"I think it's definitely more common," Vargas noted. "It's more common in these series just because of the fact that it's a good sell and it's still somewhat attainable business wise. The Cup Series is a hard level to get into, it's a hard level to fund. Getting into the Xfinity Series there are opportunities for companies to jump in at multiple different levels whether they want to do a whole racecar or hop on as an associate.
"It's not something that's completely unattainable."
Statistics
Vargas has four previous starts at Talladega. His best finish at the 2.66-mile superspeedway, 20th, came in the Xfinity Series' spring visit to the track.
At Talladega's sister track, Daytona (Fla.) Int'l Speedway, Vargas has one top-10 finish, a sixth place, which came in a race in which he had a broken carburetor.
All four of his career laps led came at the two superspeedways, three at Talladega in 2021, one at Daytona, with a broken carburetor.
Coverage of the NASCAR Xfinity Series Sparks 300 at Talladega is scheduled for Saturday, Oct. 1 at 4 p.m. ET on USA Network, following the completion of the NASCAR Camping World Truck Series race.
The race will also be broadcast on the Motor Racing Network and SiriusXM NASCAR Radio channel 90.