By Seth Eggert, Staff Writer
By virtue of the right strategy call, Ryan Luza earned his fourth victory at the virtual Las Vegas Motor Speedway.
Battle for the Lead
Luza and eNASCAR Coca-Cola iRacing Series rookie Steven Wilson dominated the virtual trip to 'Sin City.' The duo traded the lead back and forth several times throughout the 201-mile distance. With fuel mileage in question, Luza ducked onto pit road on lap 100 in his No. 4 XSET Gaming Ford Mustang. Roush Fenway Racing's Wilson followed suit three laps later.
Fuel Mileage
While Luza, Wilson, and the majority of the field pitted, Spacestation Racing's Malik Ray and a handful of others gambled. Despite the tire wear, Ray's No. 11 Ford Mustang had a sizable lead over Luza. However, Ray was told shortly after taking the lead that he would be one lap short on making it to the finish. He slowed the pace down, shutting the car off, pulling every trick in the book to try and stretch the fuel to the end.
The slowed pace allowed both Luza and Wilson to rocket back up to the front. Ray finally relinquished the lead with eight laps to go to Jake Matheson. Blade Whitt then led a lap before Luza recaptured the top spot with five to go.
Cruising to Victory
When Luza and Wilson had pitted, only a car length separated the pair. By the time the XSET driver had taken the lead, he had a 1.3 second gap to the No. 17 Fastenal Ford Mustang. As the final run went caution-free, Luza cruised to his fourth victory at the virtual Las Vegas Motor Speedway, and XSET Gaming's first victory in eNASCAR competition. It was his 16th career victory in the Coca-Cola iRacing Series.
"I was terrified of a yellow, was just sitting there praying for no caution," explained Luza. "We were pretty confident no one could make it. I was hoping Steven would stall out once our tires evened out, and he did. That was terrible, waiting for the finish. I was waiting for the caution flag to wave on the top left of my screen. Luckily it didn't come out.
"It's such a huge relief to get a win and be in the playoffs now," admitted Luza. "I've been stressing about if every week because we've been missing speed. We were pretty quick here tonight, found a little bit that we needed. It's really big to not have so much stress on the line every single week now. We're probably going to have 10 different winners and we're at least locked in. Now it's (just) about coming out and trying to win more races."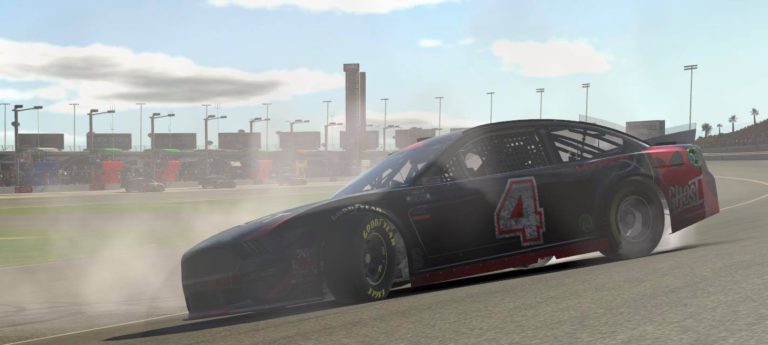 Notables
Wilson was the Rookie of the Race, finishing second. Luza's XSET teammate Casey Kirwan took the checkered flag in third with Caine Cook and Nathan Lyon completing the top-five. Femi Olat, Jake Nichols, Logan Clampitt, Brian Schoenburg, and Taylor Hurst rounded out the top-10.
Just three races into the season, Luza, Michael Conti, and Keegan Leahy are the only drivers locked into the eNASCAR Playoffs by virtue of wins. As long as all three drivers stay inside the top-20 in points, they will be on the 2021 eNASCAR Playoff grid.
In-Race Incidents
While the second half of the 134-lap race went caution-free, the first half was marred by six cautions. Polesitter Jimmy Mullis, Daytona International Speedway race winner Conti, and four-time eNASCAR champion Ray Alfalla were among those caught up in the various incidents. By the end of the race, only three drivers on track were incident-free. Only four drivers completed the race without any car contact.
During the final 64 lap green flag run, there was one moment that almost warranted a caution. Ryan Doucette spun into the inside wall on the backstretch after contact from Whitt. However, the caution flag was held back, and racing continued unabated. Doucette was eventually black flagged for failure to meet minimum speed due to the damage.
Next up for the eNASCAR Coca-Cola iRacing Series drivers is a trip to the virtual Atlanta Motor Speedway on March 16.
The Finish
1. 4-Ryan Luza [9], 2. 17-Steven Wilson [10], 3. 38-Casey Kirwan [6], 4. 15-Caine Cook [19], 5. 6-Nathan Lyon [5], 6. 18-Femi Olat [17], 7. 24-Jake Nichols [25], 8. 97-Logan Clampitt [20], 9. 47-Brian Schoenburg [28], 10, 33-Taylor Hurst [15], 11. 66-Blake Reynolds [8], 12. 83-Bobby Zalenski [18], 13. 37-Derek Justis [38], 14. 1-Ashton Crowder [34], 15. 88-Brad Davies [22], 16. 9-Michael Guest [21], 17. 32-Keegan Leahy [12], 18. 29-Zack Nichols [35], 19. 10-Graham Bowlin [7], 20. 75-Matt Bussa [29], 21. 55-Vicente Salas [23], 22. 16-John Gorlinsky [33], 23. 36-Chris Shearburn [16], 24. 25-Nick Ottinger [40]. 25. 3-Corey Vincent [3], 26. 52-Jake Matheson [39], 27. 14-Blade Whitt [32], 28. 67-Allen Boes [13], 29. 90-Zack Novak [14], 30. 77-Bob Bryant [24], 31. 11-Malik Ray [31], 32. 46-Jimmy Mullis [1], 33. 8-Michael Conti [27], 34. 44-Isaac Gann [26], 35. 51-Ray Alfalla [11], 36. 2-Garrett Manes [30], 37. 79-Ryan Doucette [36], 38. 23-Mitchell deJong [2], 39. 41-Dylan Duval [4], 40. 21-Garrett Lowe [37].
Lead Changes: 15 among nine drivers.
Lap Leader(s): Jimmy Mullis 1-3, Corey Vincent 4-8, Jimmy Mullis 9-12, Ryan Luza 13-33, Logan Clampitt 34-38, Steven Wilson 39-67, Matt Bussa 68-70, Steven Wilson 71-72, Ryan Luza 73, Steven Wilson 74-80, Ryan Luza 81-99, Steven Wilson 100-101, Malik Ray 102-127, Jake Matheson 128, Blade Whitt 129, Ryan Luza 130-134.
Laps Led: Ryan Luza 46, Steven Wilson 40, Malik Ray 26, Jimmy Mullis 7, Logan Clampitt 5, Corey Vincent 5, Matt Bussa 3, Jake Matheson 1, Blade Whitt 1.
Hard Charger: 37-Derek Justis (+25).
Tough Break: 23-Mitchell deJong (-36).
Rookie of the Race: 17-Steven Wilson (Roush Fenway Racing).
Cautions: Six for 23 laps.
Margin of Victory: 1.644 seconds.
Time of Race: One hour, 29 minutes, 34.943 seconds.
Average Speed: 134.625 MPH.
Pole Winner: 46-Jimmy Mullis, 29.090 seconds (185.631 MPH).
Fastest Lap: 17-Steven Wilson, Lap 105, 29.590 seconds (182.494 MPH).
Feature Photo Credit: Seth Eggert / Kickin' the Tires