By Seth Eggert, Staff Writer
JR Motorsports' Michael Conti positioned himself ahead of the action to win the 2021 eNASCAR Coca-Cola iRacing Series season opener at the virtual Daytona International Speedway.
Moving Through the Field
After starting in the back, Conti maneuvered his way through the draft in his virtual No. 8 WR1 Sim Chassis Chevrolet Camaro ZL1 1LE. During both rounds of green flag pit stops in the caution-free race, he gained track position, along with his teammate, Brad Davies, and William Byron eSports drivers Logan Clampitt and Nick Ottinger.
After the final round of green flag pit stops, Conti, Clampitt, and defending eNASCAR champion Ottinger led the three lanes. By controlling the tempo of the field, the three aligned drivers positioned themselves for a chance for victory.
Run to the Finish
While Conti had Michael Guest pushing him, Clampitt had the damaged car of eNASCAR rookie Garrett Manes pushing him. Each time Manes was clear of Ottinger, he elected to stay in line instead of jumping to lead the outside train. Pushing the 2020 eNASCAR champion was Jimmy Mullis.
Over the final laps, the intensity ratcheted up. Entering turns three and four for the final time, the field reached a boiling point. Contact sent Clampitt out of shape and into Guest. The virtual No. 97 Logitech Chevrolet Camaro ZL1 1LE then spun back up the track in front of the entire field.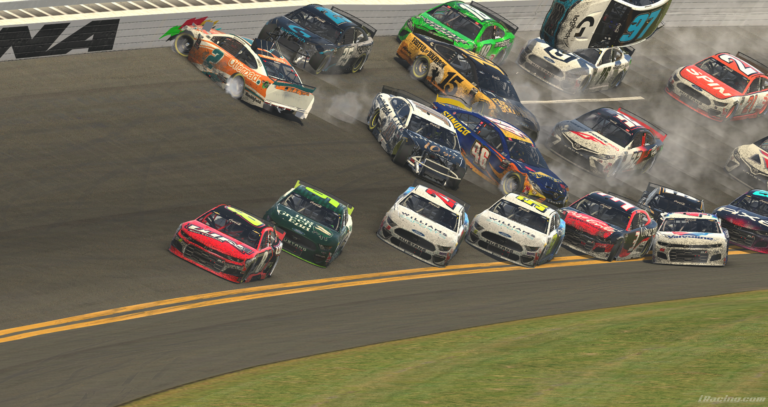 Avoiding the Mayhem
As Guest, Jake Matheson, Corey Vincent, and Isaac Gann drifted and fought for control, Conti cruised away. While the 2014 eNASCAR champion took the checkered flag 0.419 seconds ahead of Guest, the field was still wrecking off turn four. Matheson, Vincent, and Gann regained control of their machines to complete the top-five.
"I'm sure everyone saw it after the race, but I am over the moon with that one," an almost speechless Conti explained. "Plate tracks are not my specialty. I admittedly don't know what I'm doing. Going into the race tonight with Dale (Earnhardt Jr.), Chad Wheeler behind me with equipment and support, I knew I had to step up my game.
"In years past, I played it safe, stayed in the back, waited until the end. About 15 laps in I told my crew chief that I was going for it and if we wreck, we wreck. There was too much of an upside potential. We had some luck breaks; pit cycles went our way. Hell of a push by Michael Guest there at the end. I can't thank him enough, without him, I don't know if I would've been able to pull that off.
"Super excited to get the victory, about not having to worry about winning and pointing my way in, not worrying about setups. I can go out on a limb a little bit more."
By virtue of his win, Conti is locked into the eNASCAR Coca-Cola iRacing Series playoffs if he can stay in the top-20 in points.
Notables
With a move that looked as if he was taking the chicane for the Daytona Road Course, Bobby Zalenski drove around the wreck to finish sixth. Podium 500 winner Casey Kirwan followed Zalenski through. Vicente Salas, Chris Shearburn, and Davies limped to the line to round out the top-10. Polesitter Mitchell deJong finished 11th in his virtual 23XI Racing DoorDash Toyota Camry.
Returning eNASCAR Coca-Cola iRacing Series driver Ashton Crowder had the tough break of the race. After losing the draft, the Elliott Sadler eSports driver finished 33rd, one lap down, and 28 spots behind where he started.
Clint Bowyer Racing driver Blade Whitt ran the fastest lap of the race. Shortly after an incident split the pack on lap 31, he followed a train back to the lead pack. Whitt's fastest lap, on the 33rd circuit, was a blistering 43.329 seconds (207.713 MPH).
On-Track Incidents
Although the 100-lap race went caution free, several incidents shook up the complexion of the race. On lap 31, contact sent Ryan Luza and Zack Novak into the wall on the backstretch. Spacestation Racing's Malik Ray had nowhere to go and slammed into the two eNASCAR champions. The field, including race winner Conti, successfully took evasive action.
After the melee, both Ray and Novak were flagged for failure to maintain minimum speed. The Richmond Raceway eSports driver was later disqualified after returning to the track.
During the first round of green flag pit stops, the JTG-Daugherty Racing teammates collided. Derek Justis rear-ended Brian Schoenburg, who made a late decision to pit. Schoenburg slid across the skid pad and into Elliott Sadler eSports driver Manes.
On the second round of green flag pit stops, race leader Zack Nichols was busted for speeding on pit road. Allen Boes spun off the access road leaving pit road. Meanwhile deJong and Dylan Duval also had a run-in on the access road leaving the pits.
The Finish
1. 8-Michael Conti [38], 2. 9-Michael Guest [34], 3. 52-Jake Matheson [36], 4. 3-Corey Vincent [16], 5. 44-Isaac Gann [15], 6. 83-Bobby Zalenski [4], 7. 38-Casey Kirwan [10], 8. 55-Vicente Salas [25], 9. 36-Chris Shearburn [2], 10. 88-Brad Davies [11], 11. 23-Mitchell deJong [1], 12. 18-Femi Olat [22], 13. 2-Garrett Manes [24], 14. 10-Graham Bowlin [27], 15. 24-Jake Nichols [7], 16. 75-Matt Bussa [31], 17. 32-Keegan Leahy [3], 18. 15-Caine Cook [35], 19. 21-Garrett Lowe [6], 20. 97-Logan Clampitt [9], 21. 25-Nick Ottinger [21], 22. 51-Ray Alfalla [12], 23. 16-John Gorlinsky [30], 24. 77-Bob Bryant [40], 25. 17-Steven Wilson [32], 26. 6-Nathan Lyon [29], 27. 46-Jimmy Mullis [26], 28. 14-Blade Whitt [37], 29. 79-Ryan Doucette [39], 30. 66-Blake Reynolds [28], 31. 41-Dylan Duval [13], 32. 29-Zack Nichols [8], 33. 1-Ashton Crowder [5], 34. 33-Taylor Hurst [33], 35. 67-Allen Boes [14], 36. 37-Derek Justis [17], 37. 47-Brian Schoenburg [18], 38. 4-Ryan Luza [20], 39. 11-Malik Ray [23], 40. 90-Zack Novak [19].
Lead Changes: 50 among 14 drivers.
Lap Leader(s): Mitchell deJong 1, Chris Shearburn 2-3, Mitchell deJong 4, Chris Shearburn 5, Mitchell deJong 6, Chris Shearburn 7, Mitchell deJong 8-18, Garrett Lowe 19-20, Chris Shearburn 21-23, Zack Nichols 24, Chris Shearburn 25-27, Zack Novak 28, Bobby Zalenski 29, Chris Shearburn 30-31, Bobby Zalenski 32-33, Keegan Leahy 34-35, Casey Kirwan 36, Michael Conti 37, Keegan Leahy 38, Bobby Zalenski 39-40, Casey Kirwan 41-43, Michael Conti 44-45, Casey Kirwan 46, Bobby Zalenski 47, Casey Kirwan 48-50, Garrett Lowe 51, Casey Kirwan 52, Graham Bowlin 53, Femi Olat 54-56, Graham Bowlin 57, Femi Olat 58-67, Zack Nichols 68, Femi Olat 69, Zack Nichols 70, Femi Olat 71, Zack Nichols 72-74, Isaac Gann 75, Keegan Leahy 76-77, Michael Guest 78, Logan Clampitt 79, Michael Conti 80-83, Logan Clampitt 84-85, Michael Conti 86, Logan Clampitt 87-88, Michael Conti 89-90, Logan Clampitt 91-92, Michael Conti 93, Logan Clampitt 94-95, Michael Conti 96, Logan Clampitt 97-98, Michael Conti 99-100.
Laps Led: Femi Olat 15, Michael Conti 41, Mitchell deJong 14, Chris Shearburn 12, Logan Clampitt 11, Casey Kirwan 9, Zack Nichols 6, Bobby Zalenski 6, Keegan Leahy 5, Garrett Lowe 3, Graham Bowlin 2, Isaac Gann 1, Michael Guest 1, Zack Novak 1.
Hard Charger: 8-Michael Conti (+37).
Tough Break: 1-Ashton Crowder (-28).
Cautions: None.
Margin of Victory: 0.419 seconds.
Time of Race: One hour, 15 minutes, 40.259 seconds.
Average Speed: 198.227 MPH.
Pole Winner: 23-Mitchell deJong, 46.108 seconds (195.194 MPH).
Fastest Lap: 14-Blade Whitt, Lap 33, 43.329 seconds (207.713 MPH).
Feature Photo Credit: Seth Eggert / Kickin' the Tires