By Seth Eggert, Staff Writer
After a late-race caution, Joey Brown made the most of his opportunity and captured the eNASCAR Contender iRacing Series victory at the virtual Homestead-Miami Speedway.
Race Changing Caution
With 16 laps to go, Brenden Koehler broke loose and spun in Turns 3 and 4. To that point, the second round of the Contender Series season had been caution-free. Derek Justis held a reasonable lead over Brown, Timmy Holmes and Vicente Salas.
The No. 31 Baskin Robbins machine led the field onto and off of pit road under the only caution of the race. On the restart, Justis jumped out to a five-car length lead. However, he quickly burned up the right rear tire.
Taking The Win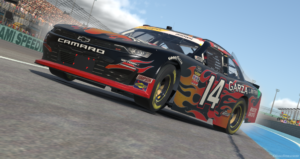 Brown made quick work of both Holmes and Salas on the restart. As Justis faltered, he pounced. The virtual No. 14 Garza Law Firm Chevrolet Camaro SS took the lead with nine laps to go and never looked back. The Victory1 (Ryco Performance) driver was unchallenged in the closing laps.
"That was awesome, just incredible to be able to come back and compete at this level, it's unreal," Brown said. "I'm at a point in my life now where its more enjoyable.
"I was really into (sim racing) back in the day, was pretty wound up. I made a lot of mistakes. I think I've matured a lot since then. I don't have quite the raw speed that I used to, but I have the experience and maturity.
"I was content just running for third (before the caution). The old Joey Brown would have drove the wheels off of it trying to get to the lead. I just led the race come to me. Brad (Wright) made some awesome adjustments during the pit stop and it just took off, it was unreal."
The win for Brown was his first at this level of eNASCAR competition since he was in the eNASCAR Coca-Cola iRacing Series in 2014. Between 2013 and 2014 he won three races.
Notables
Holmes, meanwhile, snuck by Salas on the restart and took the checkered flag 0.712 seconds behind Brown. Salas finished third.
Kaden Honeycutt, fresh off of his career-best NASCAR Camping World Truck Series finish took the checkered flag in fourth. The Toyota Racing driver made a last-minute change to his virtual No. 30 Rangeline Toyota Supra. Honeycutt ran a green and black car to honor the late Coy Gibbs.
Switched up the colors for Rd 2 at Homestead tonight in honor of @JoeGibbsRacing and @TyGibbs father Mr. Coy Gibbs. Truly a heartbreak for them and couldn't imagine what they have been going through over the last 3 days. I hope we represent them well tonight and get a good finish pic.twitter.com/ZsBjNJDYgW

— Kaden Honeycutt (@KadenWHoneycutt) November 8, 2022
The 2021 winner of this race, Kollin Keister, completed the top-five. Justis, Darik Bourdeau, Parker White, Andrew Navarro, and Wyatt Tinsley rounded out the top-10. Malik Ray and Briar LaPradd were the hard chargers, gaining 16 spots, finishing 18th and 21st respectively.
Race Prior To The Caution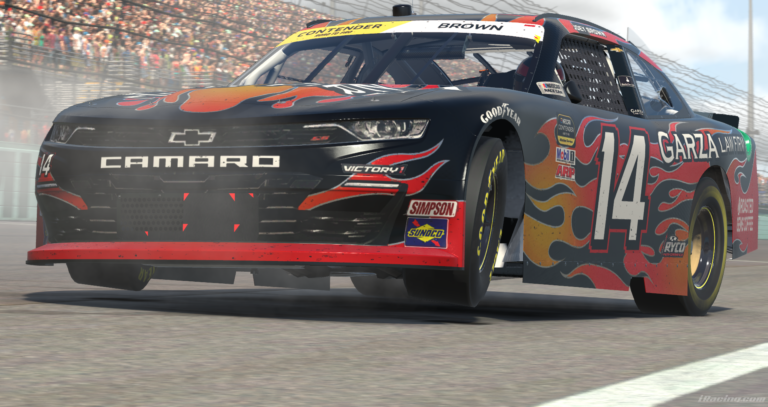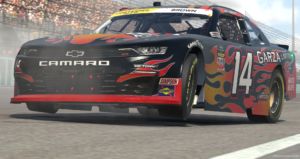 As previously mentioned, the 100-lap race had been caution-free until Koehler's spin. Salas picked up where he left off at Phoenix Raceway, winning the pole and leading the opening 50 laps. He only relinquished the lead when he pitted.
Opting to short pit by about five laps, Justis cycled to the lead. In the closing laps before the caution, Salas had closed the gap down to 0.612 seconds. However, he wasn't closing in fast enough. Koehler's spin ultimately changed the entire complexion of the race.
Next for the eNASCAR Contender iRacing Series is a trip to the virtual Auto-Club Speedway on Tuesday, November 15. The race will be streamed live at enascar.com/live.
The results:
1. 14-Joey Brown [14], 2. 67-Timmy Holmes [3], 3. 55-Vicente Salas [1], 4. 30-Kaden Honeycutt [13], 5. 8-Kollin Keister [8], 6. 31-Derek Justis [2], 7. 04-Darik Bourdeau [5], 8. 95-Parker White [20], 9. 6-Andrew Navarro [19], 10. 20-Wyatt Tinsley [16], 11. 26-Tyler Garey [4], 12. 21-Allen Boes [15], 13. 42-Dylan Ault [11], 14. 69-Collin Bowden [21], 15. 7-Blade Whitt [27], 16. 29-Kevin King [17], 17. 27-Cody Byus [18], 18. 1-Malik Ray [34], 19. 77-Ryan Doucette [12], 20. 36-Brenden Koehler [33], 21. 88-Briar LaPradd [37], 22. 53-Brandon McKissic [25], 23. 41-Brian Mercurio [23], 24. 57-Seth DeMerchant [6], 25. 76-Blaze Crawford [24], 26. 51-Ray Alfalla [30], 27. 99-Michael Cosey Jr [26], 28. 10-Tucker Minter [10], 29. 96-Boyd Hoggan [36], 30. 13-Daniel Buttafuoco, 31. 12-Johnathon Dulaney [32], 32. 32-Daniel Smallwood [29], 33. 39-Daniel Faulkingham [9], 34. 28-Casey Tucker [35], 35. 66-Christopher Pfeffer [28], 36. 43-James Wenzel [38], 37. 11-Christopher Hill [31], 38. 33-Taylor Hurst [14], 39. 4-Jordy Lopez Jr [22], 40. 81-Kyle Meyers [39].
Lead Changes: Six among seven drivers.
Lap Leader(s): Vicente Salas 1-50, Seth DeMerchant 51, Dylan Ault 52, Anthony Navarro 53-54, Allen Boes 55-56, Derek Justis 57-91, Joey Brown 92-100.
Laps Led: Vicente Salas 50, Derek Justis 35, Joey Brown 9, Allen Boes 2, Anthony Navarro 2, Dylan Ault 1, Seth DeMerchant 1.
Hard Charger(s): 1-Malik Ray and 88-Briar LaPradd (+16).
Caution Flags: One for Four Laps.
Margin of Victory: 0.712 seconds.
Time of Race: 60 minutes, 57.261 seconds.
Average Speed: 147.652 MPH.
Pole Winner: 55-Vicente Salas, 32.607 seconds, 165.609 MPH.
Fastest Lap: 14-Joey Brown, Lap 91, 33.079 seconds, 163.246 MPH.
Strength of Field: 7,099 Average iRating.