By Seth Eggert, Staff Writer
The 'Magic Mile' at the virtual New Hampshire Motor Speedway (NHMS) lived up to its' name for Jimmy Mullis in the eNASCAR Coca-Cola iRacing Series.
Creating Magic
For the third consecutive visit at the New England track, Mullis went to victory lane. The Richmond Raceway eSports driver survived multiple late-race cautions and an overtime finish to capture his three-peat. Mullis first won at the virtual NHMS in 2018, then again in 2020.
The slew of late-race cautions started when Femi Olat misjudged and clipped Caine Cook. The virtual No. 15 Fistful of Bourbon Ford Mustang spun to the inside of the backstretch at the virtual 1.058-mile track.
Mayhem
On the restart, Mullis took the lead in his virtual No. 46 Sunoco Toyota Camry from Allen Boes. JR Motorsports driver Michael Conti attempted to challenge Mullis for the lead in the virtual No. 8 WR1 Sim Chassis Chevrolet Camaro ZL1 1LE. However, the caution waved for a massive pile-up at the tail end of the top-10 before Conti could pull alongside Mullis.
Ryan Luza's virtual No. 4 XSET Gaming Ford Mustang was pitched sideways in turn four. As Luza spun, a cascade of drivers piled in on the narrow frontstretch. In all, 11 cars were swept up in the melee.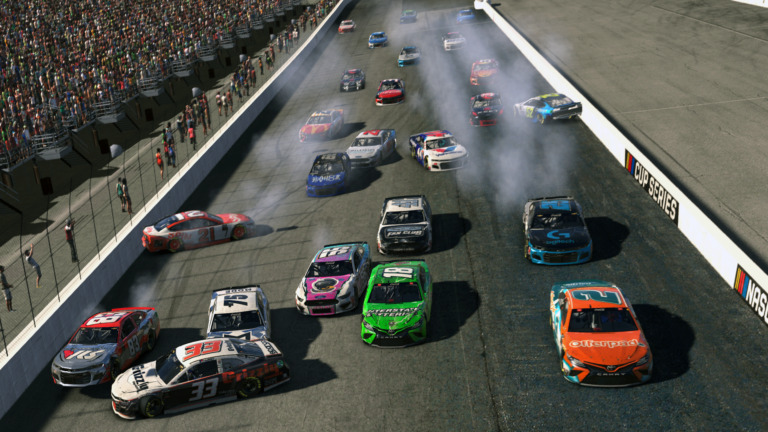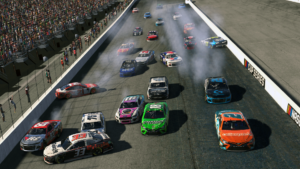 Taking the Win
Several more cautions ultimately forced the race into eNASCAR Overtime. As he had throughout the race, Mullis got the jump on his competitors on the restart. His Richmond Raceway eSports teammate Zack Novak, as well as Conti, were left to fight off Jake Nichols.
With the distraction, Mullis cruised across 'The Granite Stripe' with 0.453 seconds to spare over Nichols. The driver of the No. 24 Mode Media House earned his career best eNASCAR finish, second. Conti, Novak, and Graham Bowlin completed the top-five.
"I was shaking, to be honest," admitted Mullis. "It's unreal. There's a lot of emotions right now. We've had a pretty rough year, on and off the track, and this last week or so has been really tough. To pull this off is huge. It's huge for our team, Richmond Raceway Esports. I couldn't be happier to be back in victory lane here at New Hampshire. I love this place, I said before the race that this place has been good to me."
Mullis' win was also the first for Sunoco in the eNASCAR Coca-Cola iRacing Series. The NASCAR fuel supplier has sponsored Malik Ray, Mullis, Novak, and Bubba Wallace through the Coca-Cola Series and the eNASCAR iRacing Pro Invitational Series.
It was a BIG night for @JMullisRacing and Sunoco at the virtual @NHMS! His first win of 2021 is our first win as a sponsor in the @eNASCARCocaCola Series.🏁🏆 #FueledBySunoco #FuelingVictories pic.twitter.com/PQkZjCHMlC

— Sunoco (@SunocoRacing) July 14, 2021
"Just the short-track style of (the racing), I grew up on iRacing, so to speak," explained Mullis. "Started on here running nothing but short tracks. Having that experience is what, I guess, helps me so much. I just love this style of racing. I know every time we come here, we've got a piece to race with. Just so thankful. This is incredible."
Notables
Brad Davies, Ray Alfalla, Michael Guest, Corey Vincent, and Mitchell deJong rounded out the top-10. Polesitter Chris Shearburn finished 23rd after being swept up in a final lap crash coming to the checkered flag.
The win for Mullis changed the playoff picture for the eNASCAR Coca-Cola iRacing Series. In 12 races this season, there's been 11 different winners. Now 10 of those winners are inside the top-20 in points.
The Ever-Changing Playoff Picture
Joe Gibbs Racing's Alfalla is 25th in points, 23-points behind 20th in points, held by Garrett Lowe. He is also 25-points behind Shearburn, who is 19th in points. If the Letarte eSports driver falls out of the top-20 in points, before the regular season finale, that could put a driver into the playoffs on points.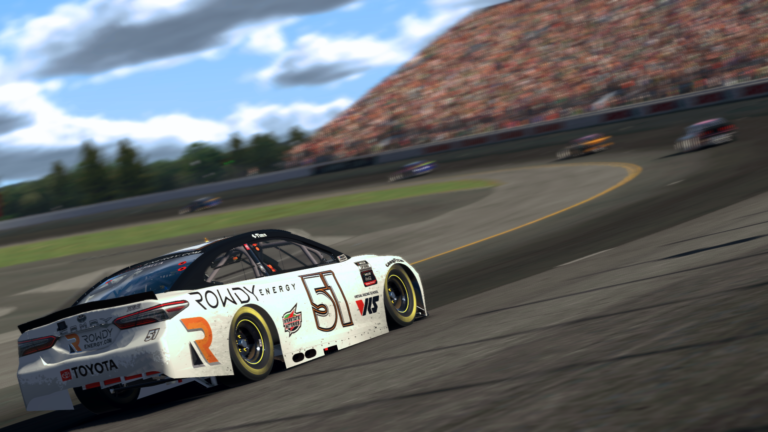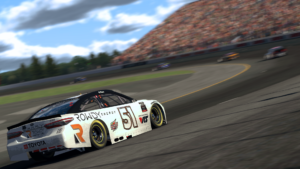 Currently, the driver highest in points without a win is Bowlin. The Stewart-Haas eSports driver sits second in points, 13 behind leader Keegan Leahy. Bowlin took the spot from Steven Wilson after the Roush Fenway Racing driver was collected in multiple accidents at the virtual NHMS.
Only two points races remain in the regular season. The next points race for the eNASCAR Coca-Cola iRacing Series is at the virtual Watkins Glen International on Tuesday, August 3. Before then, the eNASCAR Coca-Cola iRacing Series All-Star Race will take place on Tuesday, July 27 at the virtual Nashville Superspeedway.
The results:
1 46-Jimmy Mullis [12], 2. 24-Jake Nichols [15], 3. 8-Michael Conti [3], 4. 90-Zack Novak [6], 5. 10-Graham Bowlin [8], 6. 88-Brad Davies [19], 7. 51-Ray Alfalla [16], 8. 9-Michael Guest [24], 9. 3-Corey Vincent [18], 10. 23-Mitchell deJong [21], 11. 32-Keegan Leahy [2], 12. 25-Nick Ottinger [39], 13. 14-Blade Whitt [23], 14. 38-Casey Kirwan [33], 15. 44-Anthony Burroughs [38], 16. 15-Caine Cook [32], 17. 29-Zack Nichols [35], 18. 33-Taylor Hurst [4], 19. 77-Bob Bryant [36], 20. 21-Garrett Lowe [14], 21. 37-Derek Justis [27], 22. 41-Dylan Duval [13], 23. Chris Shearburn [1], 24. 67-Allen Boes [30], 25. 18-Femi Olat [37], 26. 83-Bobby Zalenski [11], 27. 2-Garrett Manes [10], 28. 17-Steven Wilson [22], 29. 47-Brian Schoenburg [40], 30. 66-Blake Reynolds [31], 31. 97-Logan Clampitt [9], 32. 55-Vicente Salas [7], 33. 4-Ryan Luza [5], 34. 75-Matt Bussa [25], 35. 52-Jake Matheson [28], 36. 6-Nathan Lyon [29], 37. 16-John Gorlinsky [34], 38. 11-Malik Ray [26], 39. 79-Ryan Doucette [17], 40. 1-Ashton Crowder [20].
Lead Changes: 12 among six drivers.
Lap Leader(s): Chris Shearburn 1-51, Michael Conti 52-53, Vicente Salas 54-66, Michael Conti 67, Vicente Salas 68, Michael Conti 69, Vicente Salas 70, Michael Conti 71-90, Brian Schoenburg 91-93, Vicente Salas 94-95, Jimmy Mullis 96-122, Allen Boes 123-125, Jimmy Mullis 126-152.
Laps Led: Jimmy Mullis 54, Chris Shearburn 51, Michael Conti 24, Vicente Salas 17, Allen Boes 3, Brian Schoenburg 3.
Hard Charger(s): 25-Nick Ottinger (+27).
Rookie of the Race: 23-Mitchell deJong, 23XI Racing, 10th.
Caution Flags: Eight for 32 Laps.
Margin of Victory: 0.453 seconds.
Time of Race: One hour, 34 minutes, 18.245 seconds.
Average Speed: 102.318 MPH.
Pole Winner: 36-Chris Shearburn, 28.906 seconds (131.765 MPH).
Fastest Lap: 46-Jimmy Mullis, Lap 132, 29.312 seconds (129.940 MPH).
Featured Photo Credit: Photo by Justin Melillo