By Seth Eggert, Associate Editor
iRacing and Trading Paints provide NASCAR fans the freedom to design, create, and share paint schemes to use on the Motorsports Simulation. While real-life paint schemes are often recreated, Paul Newton has gone one step further, reimagining all 74 NASCAR Cup Series championship paint schemes and other iconic moments.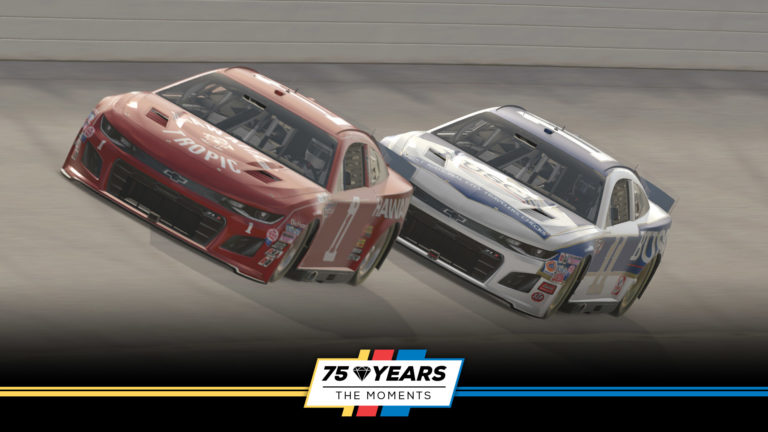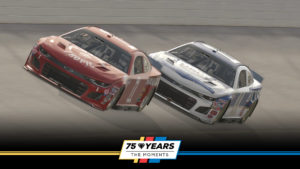 Newton started designing and painting historic and iconic NASCAR stock cars on the legendary NASCAR Racing 2003 Season, the precursor to iRacing. That ranged from liveries from the 1970s, '80s, and '90s. He also recreated the NASCAR Busch Grand National Series grid, now known as the Xfinity Series, on the modern Xfinity cars.
While Newton has dedicated some time to sim painting, he does work full-time. Balancing life and painting for the motorsports simulation he searched for a new project after completing the reimagined Xfinity Series grid. This came after Newton had taken a break from designing paint schemes prior to the pandemic.
"I've always been very fascinated by the history of NASCAR, and I've always wanted to capture and recreate that history in my sim painting," Newton explained. "As far back as NASCAR Racing 2003 Season, I was painting historic cars, particularly from the 1970s through the 1990s.
"I got away from sim painting for a long time but during the pandemic I got back into iRacing and started painting again big time. I painted two sets of 1990s Busch Grand National cars on the Xfinity car bodies. Once I started to run out of cars to paint within that theme, I looked for what else I could do."
During the 2022 season, Newton realized that the 2023 season marked NASCAR's 75th Anniversary season. One of the ways that he opted to commemorate and honor the Diamond Anniversary was to reimagine the first 74 NASCAR champions on the NASCAR Gen 7 (Next Gen) car.
Each of those 74 championship cars were uploaded to Trading Paints, allowing NASCAR fans from around the world to 'drive the paint' on iRacing. With iRacers constantly changing from paint scheme to paint scheme, it's difficult to track just how many have driven one of the '75 Years: The Moments' paint schemes.
While it's hard to gauge how many drivers on iRacing are using his paint schemes, the re-created Jeff Gordon and Dale Earnhardt are certainly the most popular.
"Last summer I realized that 2023 would be NASCAR's 75th anniversary and I started brainstorming what I could do to commemorate," Newton recalled. "I had some smaller ideas, but the idea to paint every Cup champion seemed like the only fitting way to do that. I had a lot of fun digging into the history to research for "The Champions" but adhering strictly to the championship winners doesn't tell the whole story.
"Since I had all the reference material anyway, and I was building a big library of historic graphics, I decided near the end of the project that I had to keep going, and that's where "The Moments" series started."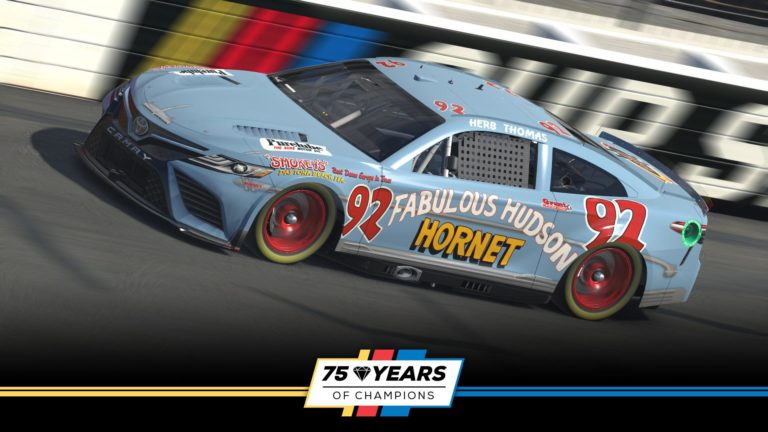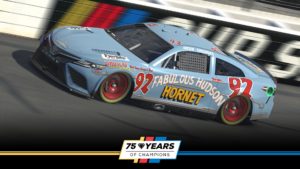 By recreating NASCAR history, Newton is also preserving it, at least until the NASCAR Next Gen cars receive a major update on iRacing. A new generation of fans can look at and compete with paint schemes that Herb Thomas, Lee Petty, and other pioneers of the sport drove.
Of course, some of those paint schemes are not on the same manufacturer. Thomas' 'Fabulous' Hudson Hornet for example was reimagined on a Toyota Camry. The other difficulty Newton faced was a lack of accurate reference materials. The original real-life car had hand painted graphics that diecast replicas don't represent the car exactly as it was on the racetrack 70 years ago.
"Most of the 1950s cars were very difficult to recreate just from a lack of reference materials," Newton stated. "I tried to create each car representative of how it raced at least once. Many of these cars were recreated as replicas with fairly inauthentic graphics, which really muddies the waters when trying to get an accurate picture.
"Herb Thomas 1951 might have been the single most difficult from a combination of the wild hand-painted "Fabulous Hudson Hornet" graphics, the lack of accurate photo reference, and the number of "replicas" out there that don't exactly represent the car as it actually appeared."
Thomas' Hudson was not the only one that Newton struggled to find reference photos of. Very few photos exist of Jim Roper's Lincoln, which finished first before it was disqualified in the inaugural NASCAR Strictly Stock race (now the NASCAR Cup Series). Newton also found that some photos were mislabeled or that the design changed from race to race.
"The most difficult part of the process was probably just trying to find good reference materials from pre-modern era races, especially the early 1950s," Newton admitted. "These early seasons are not well-documented and color photography is almost non-existent.
"Apparently only one photo exists of Jim Roper's winning Lincoln from the inaugural Strictly Stock race, and it's not a good one. What does exist tends to be mislabeled and not easily searchable.
"The paint designs tended to change quite a bit from race to race at the time too. You might get a photo of the front of the car from Daytona Beach, and a photo of the rear of the car from Darlington and trying to assemble that into one coherent and accurate look is difficult. I tried to the best of my ability to make each paint look as it did in one specific race for the cars from the early days."
Of the champions paint schemes that he's recreated, Brad Keselowski's 2012 Miller Lite and Kyle Busch's 2015 M&M's Crispy Toyota Camry were the most time consuming to recreate. The beer 'splash' on Keselowski's car and the M&M's mascots and broken candy pieces on Busch's car made recreating those cars more difficult.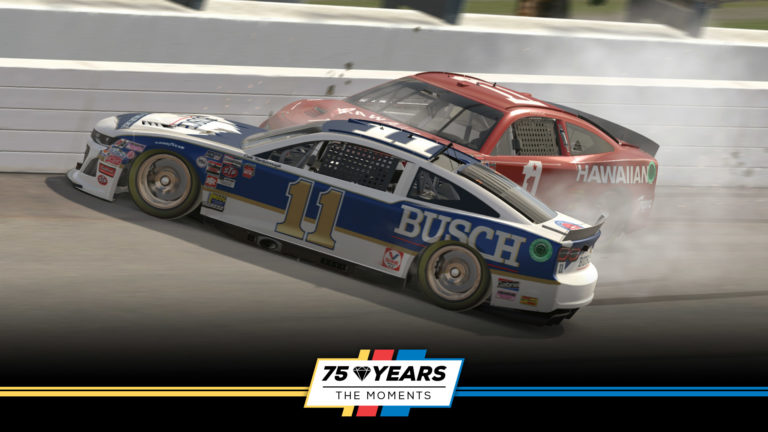 Of the 74 championship paint schemes, Terry Labonte's 1995 Kellogg's Chevrolet was among one of his favorites. That iconic Hendrick Motorsports paint scheme ties in with Newton's first year as a NASCAR fan. It was in one of the first projects he took one, recreating the 1996 Cup Series field for NASCAR Racing 2003 Season 20 years ago.
In Newton's '75 Years: The Moments' series, the Donnie Allison and Cale Yarborough cars were some of his personal favorites. The iconic crash and Ken Squier's call from the 1979 Daytona 500 is still used in promotions today.
"I don't know if I can pick just one but there were several that are especially iconic to me," Newton said. "From the "Champions" series, Terry Labonte's 1996 Kellogg's car is up there. 1996 was my first year watching NASCAR, it's the year represented in my first NASCAR sim, NASCAR Racing 2, and the 1996 carset for NASCAR Racing 2003 Season is the first big project I tackled in sim painting 20 years ago.
"The Cale Yarborough and Donnie Allison cars from the 1979 Daytona 500 were also a couple of favorites just from what that moment means. I can't look at those cars without hearing Ken Squire's voice: 'Donnie Allison throws the block! Cale hits him!'"
In addition to the 1979 Daytona 500, Newton has recreated Alan Kulwicki's iconic 'Polish Victory Lap' and Kevin Harvick's emotional win at Atlanta Motor Speedway in 2001. While he has a handful of moments coming soon, he also has a spreadsheet with a wish list of moments he'd like to recreate as part of this project.
Newton plans to primarily stick to moments between the 1950s and '90s. Many of the paint schemes from the 2000s to the present have already been recreated time and time again.
To date, Newton has created around 80 different paint schemes. The dedication to the '75 Years: The Moments' and 'Champions' project requires a large amount of time. Luckily, Newton's job allows him a lot of free time later in the day.
"This project has certainly been very time consuming," Newton said. "I'm lucky that I get to work from home for a company in another time zone, so my workday ends in the late afternoon and frees up some time. A lot of the time is spent combing through old photos and reading histories so as much effort as required, it's been nothing but fun."
Overall, Newton's project has received a lot of support from the iRacing community. A part of Trading Paints that painters get to see is who is running their scheme. Every now and then Newton gets surprised about who is running the various paint schemes that he has recreated or reimagined.
"It is heartwarming to see the support," Newton stated. "A lot of work went into it and it's nice to know that people recognize that and can enjoy what I've made. It's also kind of fascinating to see what kind of reach the project has had and who is interacting with it. Sometimes it's like 'wow! that person sort of knows who I am!'"
As to what NASCAR moment Newton will recreate, only time will tell. Until then, those on iRacing can browse Trading Paints for the schemes that he has already recreated until the Paul Newton Design banner.