By Seth Eggert, Staff Writer
An ingenious strategy by Nick Ottinger and his teammates earned the William Byron eSports driver his first win of the season at the virtual Talladega Superspeedway.
Race Strategy
Ottinger first ducked onto pit road in his virtual No. 25 Logitech G Chevrolet Camaro ZL1 1LE on lap 22. He was joined by his teammate Logan Clampitt, as well as drivers from the backend Team Conti alliance, Matt Bussa and Michael Conti. The four drivers were also joined on pit road by Bob Bryant, Brad Davies, and John Gorlinsky from the backend-Drill Aisle aligned team.
By being the first to pit road, the Ottinger-led group assumed the lead. The seven-car train ran laps comparable, if not faster, than the main pack. However, by pitting early, Ottinger's group exited pit road nearly five seconds ahead of the rest of the pack. The seven drivers repeated this strategy with 36 laps to go. However, they lost Gorlinsky to a pit road speeding penalty.
After the second round of pit stops, Ottinger was once again leading Clampitt, Conti, and the train of others. With his nose taped off, the 2020 eNASCAR Coca-Cola iRacing Series champion kept his teammate and alliance drivers at bay, pulling them around the track.
Conti, in a must win position to make the eNASCAR Championship Four, pulled out of line when the white flag waved. However, with Bryant, Bussa, and Clampitt, also in the eNASCAR Playoffs, no one went with him. Conti slipped from third to fifth as the virtual No. 97 Logitech G / Sim Seats Chevrolet Camaro ZL1 1LE was glued to Ottinger's bumper.
Taking the Checkered
When the checkered flag waved, Ottinger was 0.058 seconds ahead of Clampitt. The past champion barely made it to the line on fuel. Meanwhile, Clampitt just barely made the eNASCAR Championship Four, nabbing the final spot. Bryant, Bussa, and Conti rounded out the top-five, but failed to transfer to the Championship Four.
"All those [possibilities of others making a move] crossed my mind for sure," admitted Ottinger. "At the end of the day I wanted the 8, 77, 75 also to get a win and lock themselves in. But I also didn't want to screw over my teammate, the 97, because we were in a box at that point. We were in a box because the 97 needed to make it on points on Mitchell, and he was three or four cars behind us in that pack.
"We ultimately couldn't afford to let someone new win. The best thing I could have done is to protect either lane that had momentum. I don't want to say it was an easy win because by no means it was. At the end you're backing up to make sure you don't get too far ahead and hurt the whole line. End of the day we've done our job. There were so many emotions going through that last lap, making sure the 97 was going to get in, just making sure we were going to get to the white flag."
Notables
Davies, Bobby Zalenski, Mitchell deJong, Keegan Leahy, and Garrett Manes completed the top-10. Zalenski and Leahy already clinched spots in the Championship Four with wins at Darlington Raceway and Bristol Motor Speedway. Leahy's 23XI Racing teammate deJong was the first driver to transfer to the Championship Four on points with his eighth-place finish.
Polesitter Vicente Salas finished 34th, one lap down, after a black flag.
Corey Vincent ran the fastest lap of the race, 47.501 seconds, 201.596 MPH. He ran that time on lap 88, before finishing in 20th.
Zalenski
Zalenski explained how he worked together with his Letarte eSports teammate Chris Shearburn and their backend Coanda Simsport aligned drivers.
"I know Chris really needs points for top-20, and I just want to go out there and win," stated Zalenski. "The Keegan was just trying to help his teammate at 23XI. We were all talking because we knew we had to work together like the guys up front did. We had the second-best strategy. Unfortunately, Chris got (caught) speeding so he wasn't with us for the end.
"It was pretty much 'let's all help each other.' Obviously it'd be nice just to have Mitchell in there with Keegan and I just 'cause we work together with Letarte and 23XI."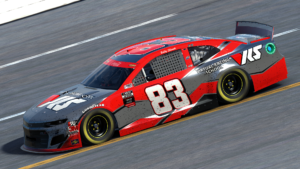 Leahy
Leahy echoed Zalenski's thoughts on working with their teammates and aligned drivers. The 23XI driver also explained that with the draft package, one is at the mercy of the size of the pack.
"Of course, I was hoping Mitchell would get in, he's my 23XI teammate," explained Leahy. "I'm working with them, not much I could have done because you just sit in line in this draft package unless it's a really big pack. There is nothing we would've done differently. Mitchell was aware of the points situation and where he needed to be. It's hard to make passes unless there's a lot of energy in the pack."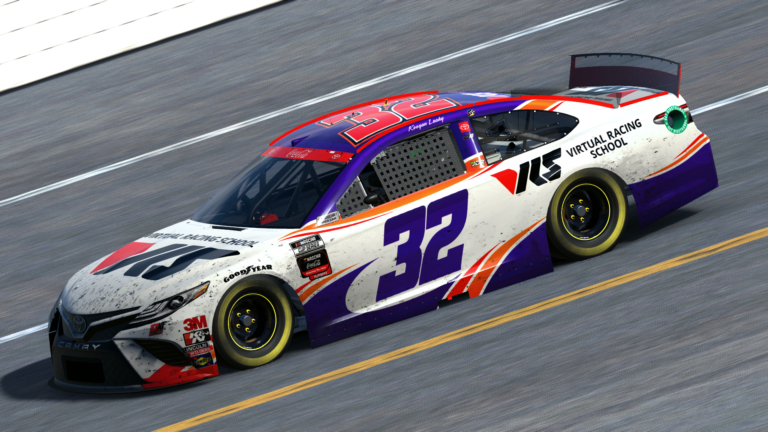 deJong
deJong was tuned into the points battle throughout the race. Having spotters keeping an eye on where he needed to be and studying the worst-case scenarios, the driver of the virtual No. 23 Logitech G Toyota Camry opted for a rewarding strategy.
"We had a close eye on it the whole time," admitted deJong. "One of my spotters was pretty much keeping me updated the entire time. We had a nice spreadsheet developed before the race to be aware of every scenario. Even before the last pit stop it was already looking quite good. We knew where we needed to be worst case (scenario). We tried to catch up but just tried to maintain position and not do anything too risky there."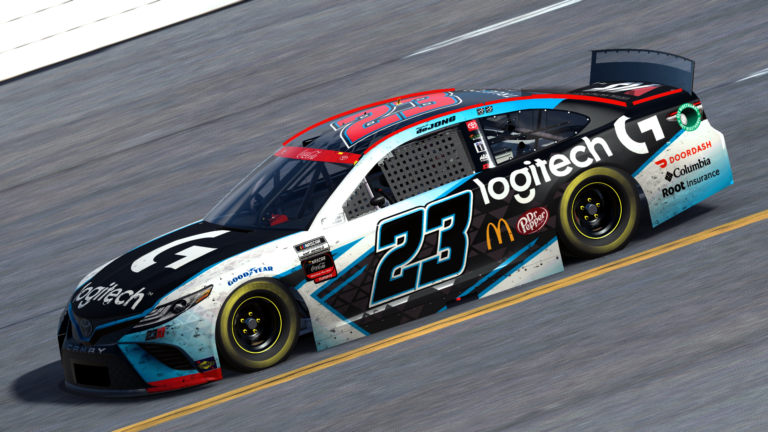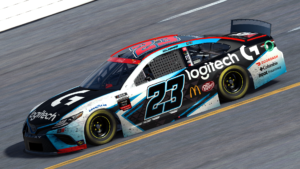 Clampitt
Meanwhile, Clampitt, who was runner-up behind Ottinger, knew that his competitors would make moves. They were in must-win situations. With Clampitt only two points behind deJong and 10 ahead of Bussa, his only chance to make the eNASCAR Championship Four was to stay on Ottinger's bumper.
"I knew they were going to make moves," explained Clampitt. "My focus was stay on Ottinger and just try to keep the inside line rolling. Bob did tell me after the race actually that, 'if you had made a move on Nick through the tri-oval, I would have gone low on the apron to pass both of you guys.' That is exactly why I stayed locked onto Nick, big picture, make the final four.
"If one of those guys behind me is winning, I'm out. It's definitely a very awkward position to be in. We created this great strategy. Then we all said over our team chat 'whatever happens from here on out, great strategy, great teamwork, good luck everyone.' That was it."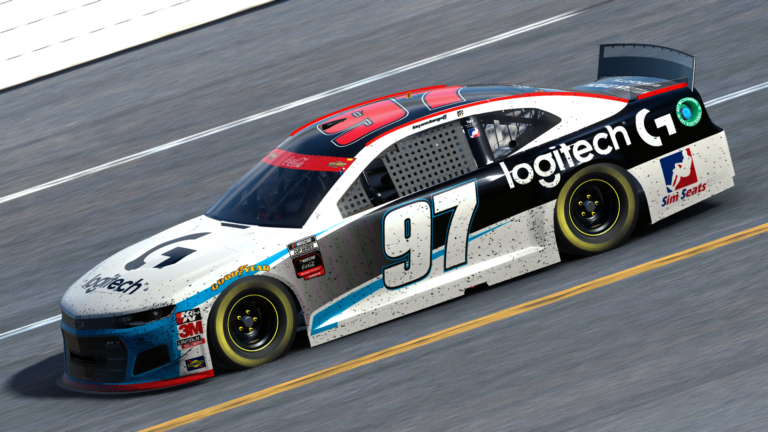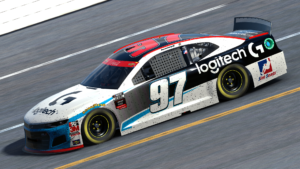 The championship race at the virtual Texas Motor Speedway is on Tuesday, October 12, at 9:00 p.m. ET on enascar.com/live.
The results:
1. 25-Nick Ottinger [40], 2. 97-Logan Clampitt [28], 3. 77-Bob Bryant [31], 4. 75-Matt Bussa [23], 5. 8-Michael Conti [26], 6. 88-Brad Davies [34], 7. 83-Bobby Zalenski [18], 8. 23-Mitchell deJong [11], 9. 32-Keegan Leahy [14], 10. 2-Garrett Manes [5], 11. 17-Steven Wilson [15], 12. 18-Femi Olat [10], 13. 10-Graham Bowlin [13], 14. 24-Jake Nichols [2], 15. 41-Dylan Duval [4], 16. 51-Ray Alfalla [3], 17. 90-Zack Novak [30], 18. 46-Jimmy Mullis [27], 19. 9-Michael Guest [8], 20. 3-Corey Vincent [19], 21. 21-Garrett Lowe [6], 22. 14-Blade Whitt [22], 23. 67-Allen Boes [24], 24. 4-Ryan Luza [39], 25. 15-Caine Cook [21], 26. 66-Blake Reynolds [33], 27. 44-Anthony Burroughs [35], 28. 52-Jake Matheson [37], 29. 33-Taylor Hurst [25], 30. 36-Chris Shearburn [16], 31. 79-Ryan Doucette [12], 32. 37-Derek Justis [29], 33. 29-Zack Nichols [38], 34. 55-Vicente Salas [1], 35. 11-Malik Ray [9], 36. 38-Casey Kirwan [7], 37. 6-Nathan Lyon [17], 38. 47-Brian Schoenburg [36], 39. 16-John Gorlinsky [32], 40. 1-Ashton Crowder [20].
Lead Changes: Five among six drivers.
Lap Leader(s): Vicente Salas (Pole) 0, Jake Nichols 1-26, Casey Kirwan 27, Femi Olat 28-37, Nick Ottinger 38-57, Mitchell deJong 58-66, Nick Ottinger 67-94.
Laps Led: Nick Ottinger 48, Jake Nichols 26, Femi Olat 10, Mitchell deJong 9, Casey Kirwan 1.
Hard Charger(s): 25-Nick Ottinger (+39).
Rookie of the Race: 23-Mitchell deJong, 23XI Racing, Eighth.
Caution Flags: One for three laps.
Margin of Victory: 0.058 seconds.
Time of Race: One hour, 21 minutes, 19.890 seconds.
Average Speed: 184.438 MPH.
Pole Winner: 55-Vicente Salas, 50.013 seconds (191.470 MPH).
Fastest Lap: 3-Corey Vincent, Lap 88, 47.501 seconds (201.596 MPH).
Featured Photo Credit: Photo by Justin Melillo.