By Vincent Delforge, Special to kickinthetires.net
Today, October 2, Kristi Schmitt would have celebrated her 41st birthday. The sport misses her smile, her kindness, and her passion.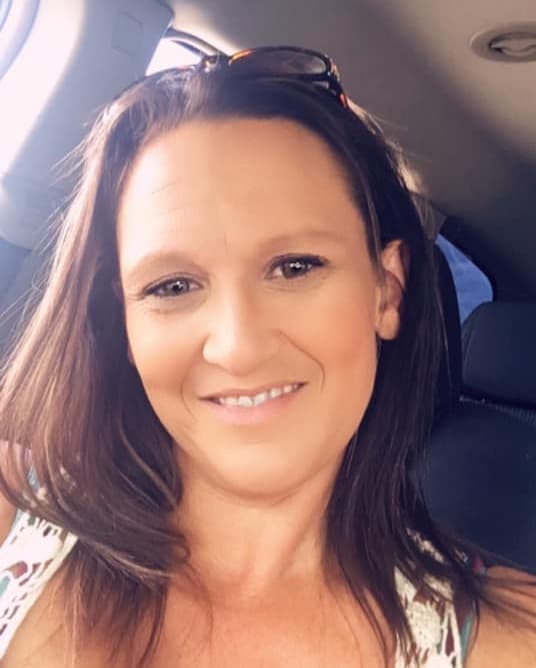 Kristi Bee Schmitt was not the best known of the many women that drove in the NASCAR Winston West Series, what is now known as ARCA Menards Series West. Her grandfather, four-time champion Bill Schmitt (1977, 79, 89 & 90) being much more.
Schmitt, aged 23 at the time, had done two West Series races in 2004 at Douglas County Speedway in Roseburg, OR and Mesa Marin Raceway in Bakersfield, CA with the family team led by her father Steve. She had driven her blue and white No. 10 Chevrolet in 19th and 14th position respectively. Really good, considering the context for rookie drivers. She also made sporadic starts in the now-defunct NASCAR Southwest Series and NASCAR Northwest Tour.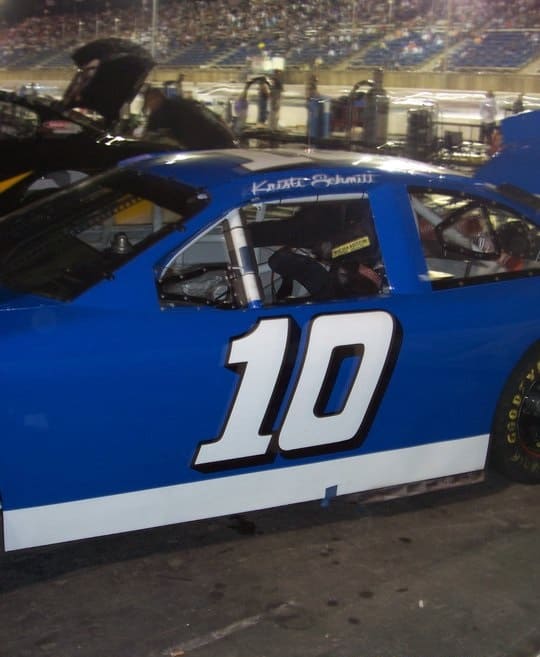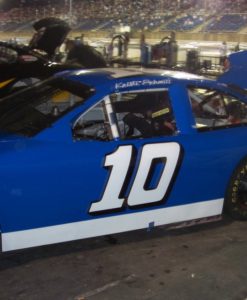 She attempted two more races in 2005 but was unsuccessful. Subsequently she will put her racing career aside to start a family and raise her two boys.
I had the good fortune to speak to him many times back then. Last year I got back in touch with Kristi via Facebook to check in and offered to take part in a new series of interviews that I was going to do with former West Series drivers. She had said yes right away. And honor to the ladies, she would be the first to participate. A series called "Back to the past with .."
Then she had to be hospitalized … Myself shortly after. With the difference that I am still here today. I never took up this "Back to the past with …" series because I did not have the heart for it.
Today, in memory of Kristi, I transcribed what we discussed for this interview.
October 2, 1980 – April 26, 2020
Back to the past with Kristi Schmitt
Vincent Delforge: How did the passion for car racing come to you and at what age?
Kristi Schmitt: "I've been around racing my entire life because my grandpa Bill Schmitt raced in the Winston West Series. My mom was one of his lap/score keepers and my dad (Steve) was on the pit crew as one of the tire changers. So I have been around racing since I was born.
"Then my dad raced go-karts for a minute in Red Bluff and then ended up helping Tom Hubert with his go-kart at the Mini World of Outlaws in Red Bluff. So my mom, sister and I would also go to the go-kart races and one night my dad asked me if I wanted to try out driving a box stock, of course I did. I was 11 years old at the time and kept racing from then on."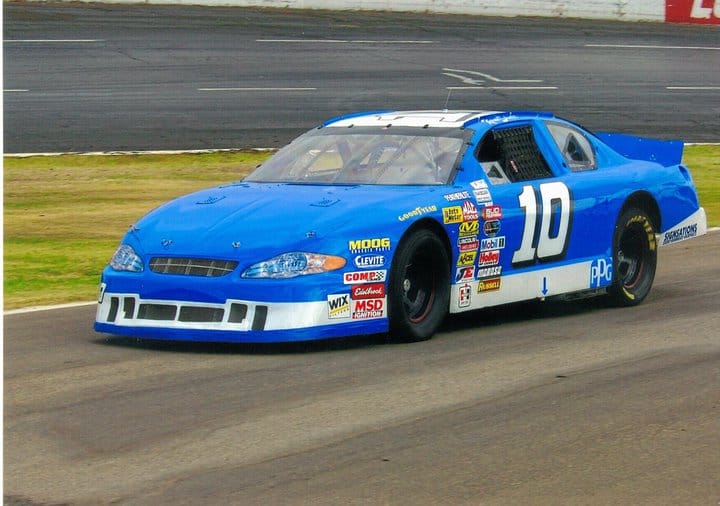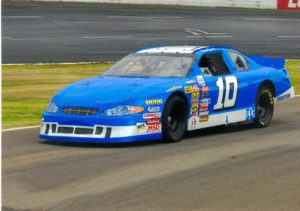 VD: Is there a driver who inspired you when you were young?
KS: "Yes, my grandfather Bill Schmitt, he is a Four-Time Winston West champion. He inspired me a lot."
VD: What is your best memory (as a driver) of racing?
KS: "My best memory of racing. I have two tied for my favorite. First is being 1997 Late Model Rookie of the Year at Shasta Speedway.
"The second was in my second year of racing Late Models at Shasta Speedway. I believe I qualified third or fourth that night, I won my heat race and won the trophy dash. It was a 50-lap main event and I lead the entire race up until the second place car spun me around coming out of Turn 2 on the last lap. Wasn't happy about how the race finished but I had the most fun that night racing."
VD: NASCAR Southwest or Northwest, SRL, NSCS, .. you have raced in many series with a few top-10s. The NASCAR West Series is the most important series in which you have participated. When you started, what was your ultimate goal? The NASCAR Cup Series?
KS: "My ultimate goal was always race in the NASCAR Cup Series no matter which series I race racing in. I always had that in the back of my mind. You have to know how to dream."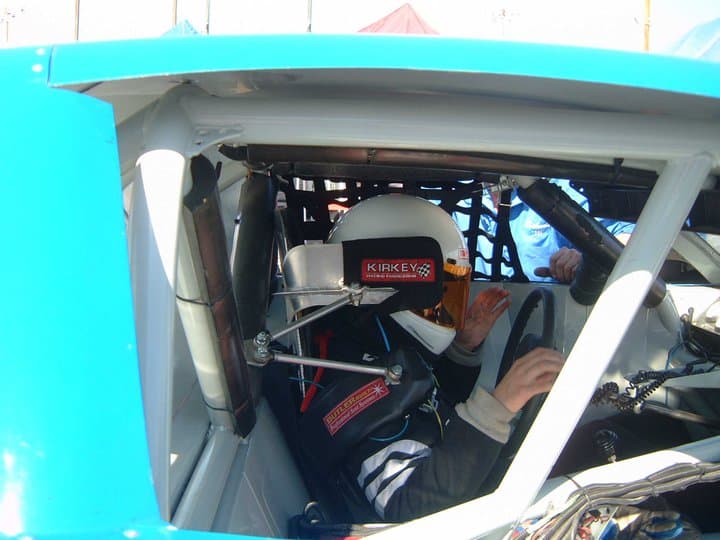 VD: In 2004-2005 in NASCAR West Series, driving for your small family team, was the mission not too difficult against teams like BMR, SMS or KHI?
KS: "The difficult part racing against teams like BMR, SMS, or KHI is honestly the funds. We had to sit down and choose a certain number of races we were going to compete in. Those would be at tracks that I had previous experience on and then we would choose one or two tracks that I had never run on. Those teams also did not lack people, equipment, etc. Most nights it would be just me and my dad working on the racecar."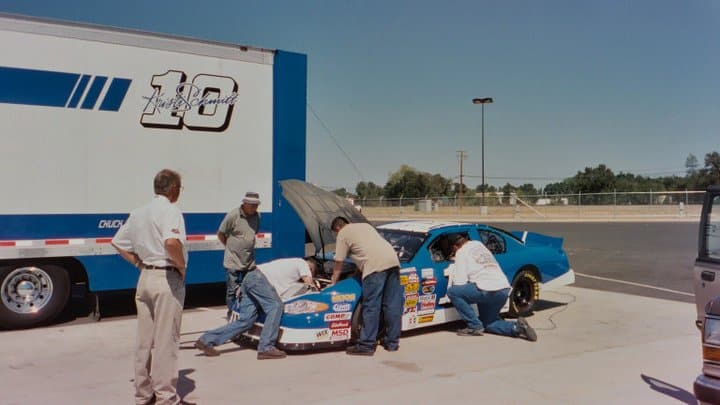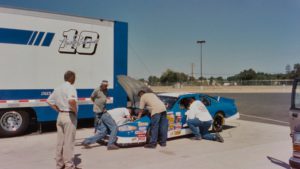 …Then she told said…
KS: "I will finish shortly my son just woke up. It's okay for you?"
The date was April 22, 2020, she was never able to complete the interview. Four days later Kristi left us. Rest in peace, we will never forget you.
Featured Photo Credit: Photo by Vincent Delforge / Racing-Reference.info