By Vincent Delforge, special to KickinTheTires.net
Sean who? If, like me, you didn't really know Sean Hingorani before his debut in the ARCA Menards West Series at Evergreen during the 1000th race of the series, you will be able to learn more about this young and talented Californian driver.
I had recently seen his name come up at an SRL Spears Pro Late Models race in Stockton on July 16 when he won the race ahead of Tanner Reif, the current top rookie and winner of the Irwindale race in ARCA West Series.
Then time passed and to everyone's surprise Hingorani appeared on the entry list for the West Series race at Evergreen on August 20th. So I did my research to find out more about this young 15-year-old pilot.
Originally from Newport Beach, California, Sean has been driving successfully in several series in the SouthWest area since last year. From California to Tennessee on tracks like Kern County, Stockton, Madera or the Nashville Fairgrounds. Whether in Legends car for Donny St. Ours' team or in SRL Spears Junior, Pro and Super Late Models for Nascimento Motorsports.
Currently in 50 career races, he has already won 11 times in Legends car, five in Pro Late Models and nearly 40 top-10s in all races.
It is precisely with the Nascimento family that he made his debut in the West Series this year. Hingorani is well surrounded since he benefits from the expertise of Mike and Eric Nascimento but also from a driver coach in the person of the double champion of the West Series (2013, 2018) Derek Thorn. And with P.J. Pedroncelli out for the rest of the season, he even benefits from the experience of crew chief Ty Joiner who joined Nascimento Motorsports at Evergreen.
This is what I wrote after Evergreen, a race won by Tanner Reif:
Impressive for its debut at Evergreen Speedway. Fast in qualifying with the seventh fastest time, he was quickly heading for the top-five. Overtaking Landen Lewis for fifth position shortly after lap 60. Unfortunately the two drivers collided on the exit of turn 2 on the 72th lap. Hingorani hit the outside wall of the backstretch, puncturing his right front tire. As a result, entering turn 3 he pulled straight and hit the wall violently, ending his good performance.
Hingaroni who despite the result (14th – crash) took a lot of pleasure: " What an amazing experience to be able run at this level with some of the fastest drivers in the country. After more than 50 laps of practice/qualifying, the team nailed the setup and we were ready to go racing. After starting 7th, we settled in and started heading to the front.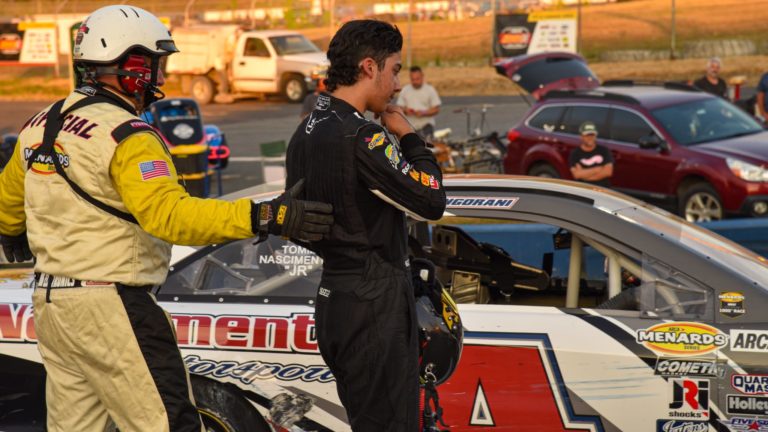 "Unfortunately while running in the top 5 on lap 72, an on-track incident put us into the wall and ended our night early. What a bummer. We had a strong car with a lot more to go and we know this team can compete and win. This season so far has been a great learning experience. Every time out we're getting better and faster. A special thanks to all the guys at Nascimento Motorsports and Derek Thorn for all the hard work in the shop and at the track"
Then it was on the road track at Portland on September 3 that he was again hired by Nascimento Motorsports and again he was impressive with his adaptability and speed. Unfortunately, when he was again in the top-five, he suffered mechanical problem. To learn more, read the following articles:
www. kickinthetires.net/nascar/arca-series/arca-menards-west-series-portland-ii-race-review/
www.kickinthetires.net/nascar/arca-series/arca-west-at-portland-ii-team-reactions-and-analysis/
Despite everything, he showed that he had his place in the West Series.
This is confirmed by Becky McBride, race official for over 30 years: "What I see in Sean that is different? He isn't one dimensional. He adapts quickly to a track and to a team. Which as an owner looking for a flexible but successful driver that would be a plus. I know that for Ty Joiner (crew chief) to work with this young lion is exciting. I have watched Ty grow up from a teenager to a veteran winning crew chief. Great combo there."
"Watching Derek Thorn wheel his way up countless wins over the years makes him a eye in the sky with wisdom beyond. Some drivers find much success being teachers and can mold a young drivers to success through their ability to be the Eye in the sky."
"I see great things for Sean in the future in racing and with his parents guidance and support he has a winning combination. They believe in him and it's nice to see that bond."
We were able to ask Sean a few questions to get to know him better.
Vincent Delforge: Can you introduce yourself, who are you? Where do you live? At 15 you are still in school, what are your hobbies away from the track?
Sean Hingorani: "I'm Sean Hingorani, from Newport Beach, Ca. In most respects, I'm a pretty normal 15 year old except I'm racing cars almost every weekend! With the support of my parents, I'm lucky to be able to balance racing and school with a program that lets me study hard and learn a lot while we're on the go. So far it's all been working out pretty well. When I'm not at the track, I really enjoy spending time with my friends and family and I try to sneak some rounds of golf in when I can. I'm especially looking forward to getting my driver license in a few weeks!"
VD: How did your passion for car racing come to you? Family influence? Sim Racing? Races on TV?… I saw that you put a quote from Dale Earnhardt on your Facebook page "I want to be up front racing.". Is it a pilot who inspires you? Yet you were born a few years after his death at Daytona.
SH: "I have always enjoyed racing whether it was two or four wheels and pretty much any competitive sport. We just kinda stumbled in to racing last year when my friend, Jake Bollman introduced us to it and I was able to spin a few laps in a Legend car. I was instantly hooked and it wasn't long before we were out racing competitively."
"As far as drivers, I'm a Noah Gragson fan. I was lucky to be able to hang out with him earlier this year at his NASCAR Xfinity Series race in Las Vegas. What two big wins in a row at Darlington and Kansas for him last two weekends and its cool seeing him go to NASCAR Cup Series next year."
VD: I saw that you put a quote from Dale Earnhardt on your Facebook page, "I want to be up front racing." Is he a driver who inspires you?
SH: "Dale Earnhardt may have been before my time but his legacy and influence in this sport will always be present. That quote just kinda sticks with me because I always just want to be up front racing."
VD: At what age did you start racing? And can you summarize your career path until 2022?
SH: "I started racing last August when I was 14, so we're about a year into my racing career. We started in the Legends division mostly in the Southwest and I was able to get some wins pretty early on and a Silver State Road Course Championship in Las Vegas last December."
VD: Your 2022 program includes Legend Cars and SRL Spears Pro Late Model races. Can you tell us how your season is going so far? Satisfied with your results?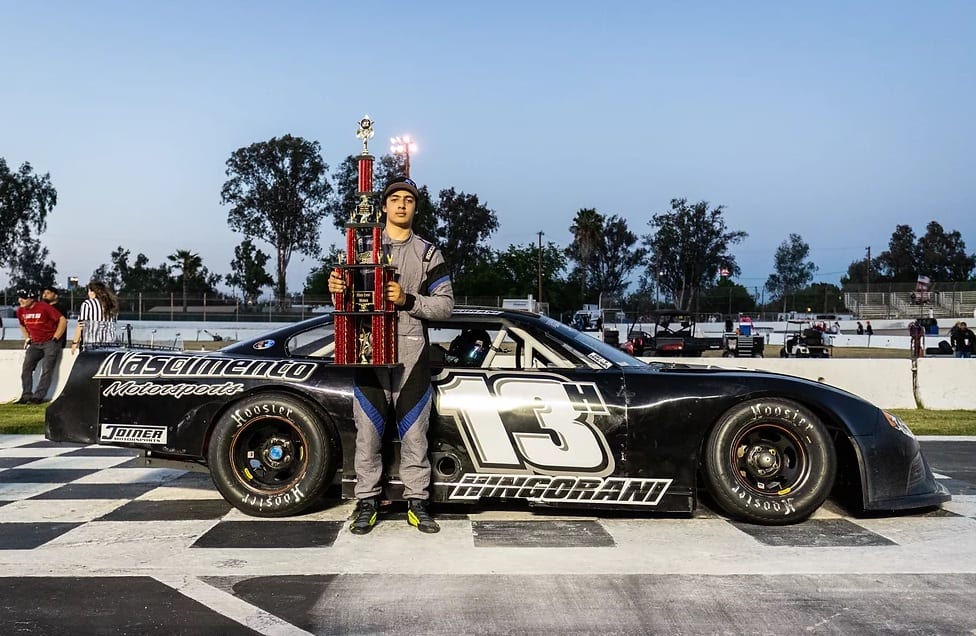 SH: "We started 2022 with a Legends car win at the Chilly Willy in Tucson. Then a few weeks later I got my first Pro Late start and win at The Bullring in Las Vegas. Since then I raced and had a Top three in a modified at the Bullring, another Pro Late win, a pair of Jr Pro Late wins at Madera, a bunch of Legends wins all over and then on to the SRL. That series has been a big step up in competition but I like that."
"A Pro Late top-five at Kern County Raceway my first time out and then a win the next race at Stockton felt really good. We tested a Super Late at Kern and I loved it! I felt comfortable right away and my practice times were competitive so we decided to race. It was pretty awesome to qualify third my first time in a SLM against such a stacked field. Unfortunately, we lost a motor while running up front with the leaders so we weren't able to see what we could really do but I can't wait to hop back in one of those rockets again soon."
"We've made so much forward progress this year. We've had our share of bad luck too but that's racing. Overall we're really happy with where we're at and where we're heading."
VD: You drive in SRL Pro Late for Nascimento Racing. How did you get in contact?
SH: "Luckily the race community is pretty tight knit and it seems like everybody knows everybody….and I run in Legends car with Ethan Nascimento….. So when we were looking for a program that could grow with us, Nascimento Motorsports was an obvious choice. They have the cars, the knowledge and experience with the right people in place that have the desire to win. It's been a great fit and we couldn't be happier to be racing out of their shop."
VD: How did the opportunity to start in the ARCA West Series at Evergreen come about?
SH: "ARCA has been my big goal all year. After I was able to adapt to the Super Late Models so fast at Kern County, the guys at Nascimento Motorsports gave me a shot in their No°4 car for Evergreen that I sure wasn't going to pass up."
VD: The Nascimento family has been recognized in the sport for years. And you also have Ty Joiner as your crew chief. What advantage do you derive from evolving in this environment with these very experienced people?
SH: "Being at Nascimento is awesome. Everyone there works so hard at the shop and at the track and I think that's why they are such a force in short track racing. Having people like Ty in your corner is like having an ace up your sleeve. I'm thankful they know how to work with me and figure out how to give me the best possible car and put the race in my hands to win.
We're also very fortunate to pair up with Derek Thorn as a driver coach for select events this year. His experience and ability to communicate and explain his race craft has really accelerated my learning curve."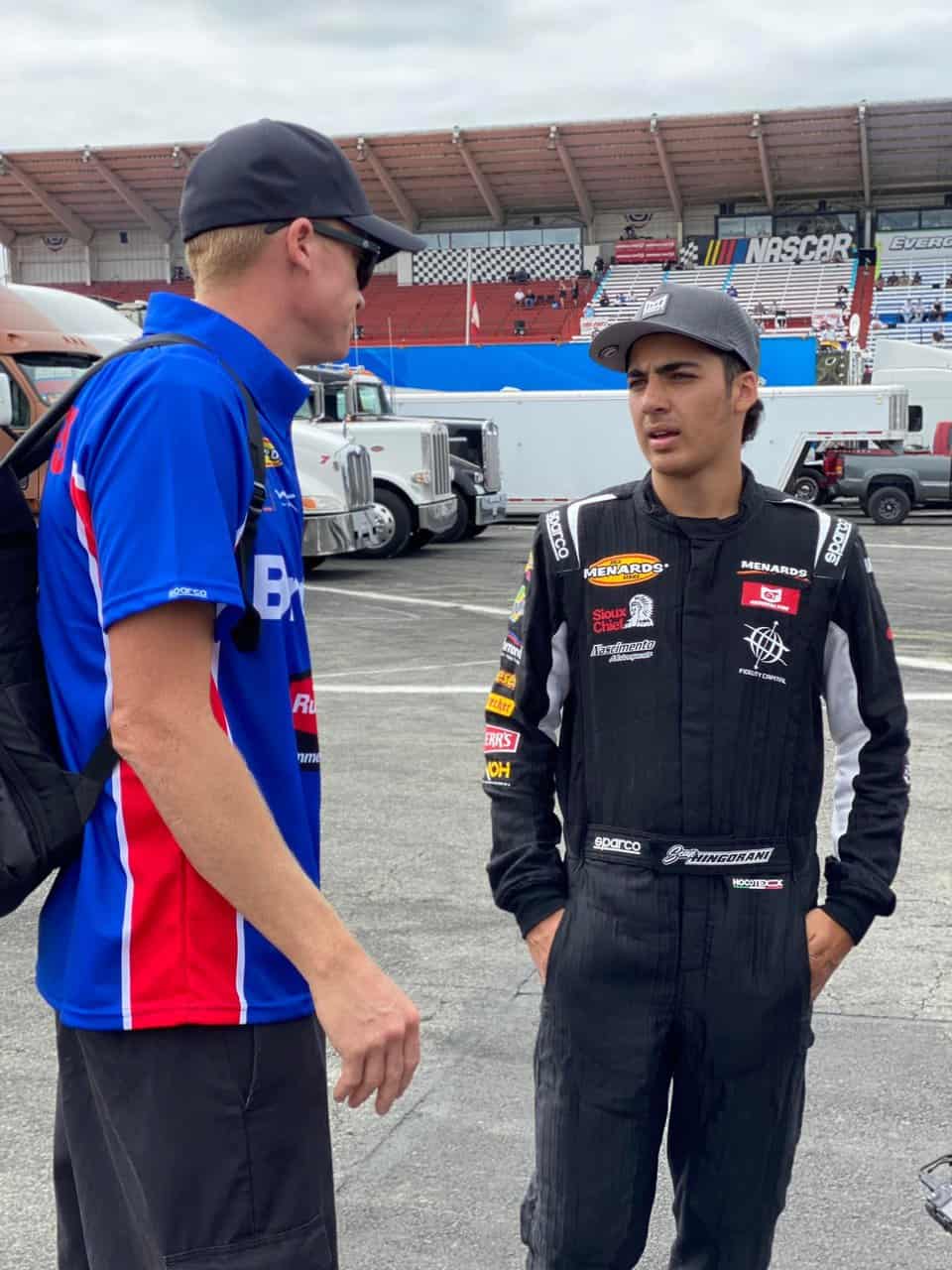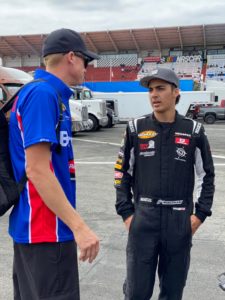 And what does West Series double champion Derek Thorn think of this young driver?
"Madera Speedway is where I first heard of Sean, he had a fast time in both Junior Late Models and Pro Late Models. I was like "who is this kid?"
"Since then I have met Sean and his family and had the good fortune to work with him in both ARCA races at Evergreen and Portland and the SRL Southwest tour. He had the speed but no luck to go with it. The hardest part is going to new tracks with cars you have little to no experience in and getting speed, which Sean has had everywhere he goes."
"I was more than impressed with Sean's ability to adapt so quickly to new disciplines and trails. He has the ability, a great team and his parents are amazing people. It's a recipe for success and it will be fun to watch him grow as a rider."
Note: For the little anecdote, the world of the West Series is a small world. Did you know, for example, that in 2008, for his first West Series race in Portland, Derek Thorn's crew chief was none other than… Ty Joiner!
VD: How was your debut at Evergreen? Learn a new car, powerful and heavy, a new oval,.. What were your objectives for this first race?
SH: "Evergreen Speedway is such a cool place. That track is fast….really fast! One of the great things about this team is that with all of their experience we unload fast. And with so much insight from so many talented people, we can get the car dialed in pretty fast. Obviously we didn't get the result we were hoping for, but at this point we need the seat time and put in as many laps as possible to get the experience. I'd be lying if I didn't say that my objective is to win every single time we hit the track."
VD: You just did the Portland road race. Very fast, you were the victim of bad luck. Was it your first time on a road circuit? And how was this experience ?
SH: "Portland International Raceway was great. I had raced the Legends car on a road course but this was quite a bit different hustling around that big car on a fast track. Sometimes no matter how much work you put in, what you really could use is just a little luck. I think we could have ran up front with the leaders. We had the speed and I was starting to settle in to the pace. Bummer the way it worked out because I think we had something good going but that's racing."
"Every time out I'm learning so much and having a lot of fun doing it. I'm just really trying to absorb it all in and make sure I can put it to use the next time i get into the seat."
VD: There are three races left this season in the ARCA West Series, all on ovals. Will we be able to see you in one of them?
SH: "I'm pretty sure you'll see us at The Bullring in Las Vegas for the ARCA West race. I've got quite a few laps under my belt there and I think with a little bit of that luck, we could see a pretty solid result. As far as the others go, Wouldn't it be cool to run at Phoenix? We'll see how the next few races go, but I'd sure like to race there if everything falls into place."
VD: We are already talking about 2023. Can we say that you are coming this year to test the waters in the West Series with a view to a full program next year? If so with Nascimento Racing?
SH: "We don't have anything in place yet for 2023. We're still really focused on Pro Late's and running some Super Late's this year but yeah, I think it's fair to say we're testing the ARCA waters. As far as Nascimento Motorsports goes, partnering with those guys and Ty Joiner and now Derek Thorn too, I don't think I could put together a better dream team for the next steps in my career."
VD: Where do you see yourself in a few years? In the NASCAR Cup Series? Is that your ultimate goal?
SH: "I bet I'm still racing! I'm lucky that my friends and family love coming to the track and if they can't they always watch on TV. That support makes it easy for me to stay motivated and dream big. So yeah, Cup Series is the ultimate goal and I'd like to think that with the help of my sponsor, Fidelity Capital, we're putting all the building blocks in place now to make that happen."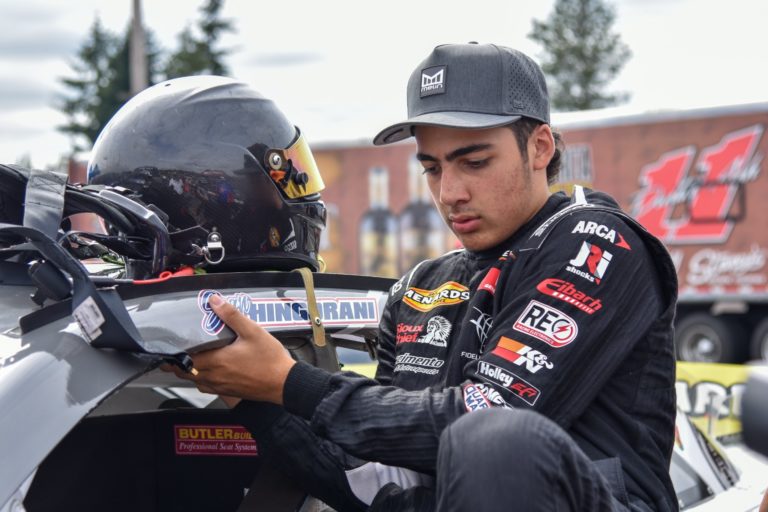 That's all we wish for Sean. This young driver with his head on his shoulders. A well-made head, an intelligent mind and is so motivated and enthusiastic that it would be sad not to see him achieve his dream. Especially since he is well surrounded by quality people who believe in him.
And icing on the cake, he impressed me. Which is not easy. I've been following NASCAR racing for more than 50 years! We shouldn't just look at the raw result of his two races at Evergreen and Portland. An accident at Evergreen and another disappointing result due to mechanical problems at Portland. We need to look in more detail.
Hingorani arrives on tracks he doesn't know, in a car he's never driven before and directly sets very fast and consistent times lap after lap. Moreover, he learns quickly. Because starting the race at 14 is relatively "old" these days. So to see him a year and a half later battling for the top-five in a series as competitive as ARCA West without being behind the wheel of a Bill McAnally Racing or Bruncati Racing car is another sign that Sean is a driver who will continue to be talked about.
His next race will be at Irwindale on September 17 in SRL Pro Late Models.
To follow Sean, I invite you to visit his social networks and his website.
Facebook: www.facebook.com/seanhingorani13
Twitter: twitter.com/seanhingorani13
Website: www.seanhingorani.com/
Featured Photo Credit: Photo Courtesy of the Hingorani family via Vincent Delforge.