By Seth Eggert, Staff Writer
DAYTONA BEACH, Fla. – The swan song for Kevin Harvick in the NASCAR Cup Series sees the 2014 champion being himself, a leader both on and off the track.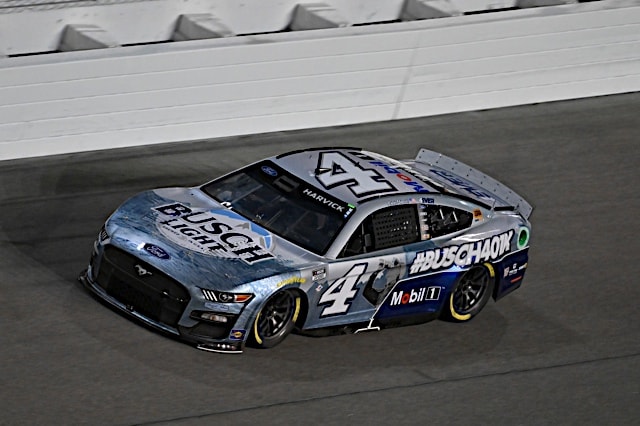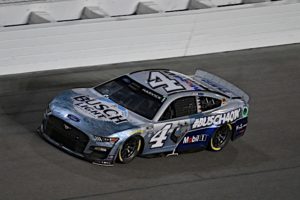 Over the years, Harvick found himself in rivalries with Kyle Busch, Joey Logano, and Chase Elliott among others. Some have resulted in some form of on-track retaliation weeks down the road. With the Bakersfield, Calif. native in his final full-time season, he plans to settle scores immediately instead of allowing them to simmer.
"Dale Jr. summed it up for me by saying it was my 'NFG' tour," Harvick joked. "If we have to settle scores, we will settle them immediately. We aren't waiting until next week. If it rolls, we are settling them."
Those scores that Harvick may settle at one time or another throughout the season could range widely from contact and blocking to even jabs aimed at the sanctioning body itself. The 47-year-old was vocal about the issues that NASCAR's Next Gen car has 'crappy ass parts.'
That leadership on safety and the respect that comes with is has not gone unnoticed by Harvick's competitors. The Stewart-Haas Racing driver rose to prominence after stepping into the Richard Childress Racing Chevrolet following the death of Dale Earnhardt. The memories that linger from that tragic event spurned Harvick's vocal criticism of the Next Gen car.
"That is probably my fault that I didn't try to, instead of just stepping back out of that over the four or five years (before 2022) because it was just frustrating and felt like it was a waste of time," Harvick explained.
"It probably wouldn't have been a waste of time, but I think when you start seeing your colleagues get hurt, then it really lit a fire to me to make sure that you didn't leave them hanging before you left and you tried to establish something that was better for them before we left."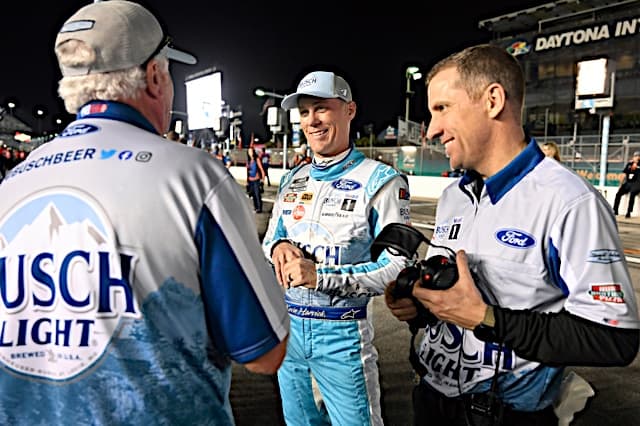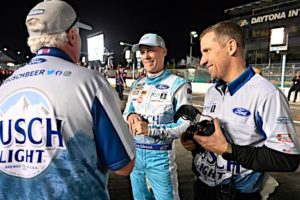 In addition to that vocal criticism, driver of the No. 4 Busch Beer Ford Mustang has also been a leader in the garage. Driver friendships and off-track relationships are once again on the rise. Instead of the closed off nature that some drivers had in recent years, a return to the respect and recognition that was prominent in the era of Earnhardt is growing.
Though establishing industry relationships is something that has been difficult for some drivers, a return of that system could mark a turning point. As a possible legacy of Harvick's leadership, a return of driver friendships off track could mean an increased level of respect on track.
"For all of us it has been eye opening to have to establish relationships and talk to each other in the same room because it just hasn't been that way in 15 years," Harvick recalled. "When Dale and all those guys were coming up through the years, those guys all traveled together and were really good friends and it has kind of evolved away from all of that with the way that today's industry works.
"For us to have to sit in rooms and talk to each other and learn more about each and get to know each other, I feel like I have gotten to know more of the guys over the last year-and-a-half than I have in the last 10 years.
"Fortunately for me it is a really good thing and good timing to try to help, but it is also great timing in transitioning to the TV booth to know every single one of them when I get up in the booth. Other than the new guys that are coming in one or two at a time, I will know them all and be able to talk about them because I know them."
Though Harvick's 2023 season might be one of 'NFG,' his leadership and respect still hold weight throughout the garage of NASCAR's premier series.