By Seth Eggert, Staff Writer
The long, storied career as a full-time NASCAR Cup Series driver will come to an end for Kevin Harvick after the completion of the 2023 Cup Series season.
Storied Career
The 2014 NASCAR Cup Series champion's career has spanned a generation, multiple generations of cars, and various points systems. Harvick is the last active full-time Cup driver that competed in the final Cup race at Rockingham Speedway to date.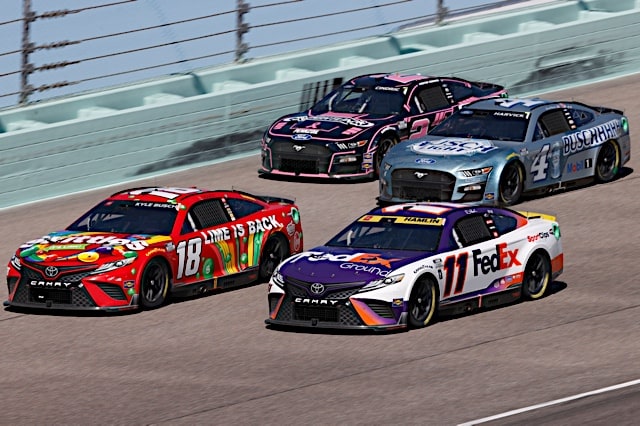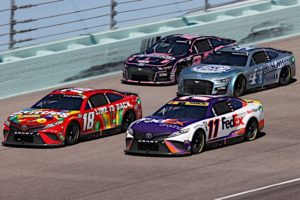 The Stewart-Haas Racing driver is also the final active driver that competed under the pre-NASCAR Playoffs points system in the Cup Series in 2003. Others do have experience with that points system, which was used in both the NASCAR Xfinity Series and Craftsman Truck Series until 2015.
The 47-year-old is one of four drivers that have found victory lane in four generations of NASCAR Cup Series cars, Gen 4, 5, 6, and the newest generation, Gen 7 or 'Next Gen.' Kurt Busch, Kyle Busch, and Denny Hamlin are the only other three drivers that so far have achieved the same success.
The Latest To Hang Up The Helmet
The Bakersfield, Calif. driver is the latest in a string a NASCAR veterans that have opted to step away. Jimmie Johnson (who will run part-time for LEGACY M.C.), Ryan Newman, and Dale Earnhardt Jr. have each stepped away from full-time competition over the past five years.
"There is absolutely nothing else in the world that I enjoy doing more than going to the racetrack, and I'm genuinely looking forward to this season," said Harvick. "But as I've gone through the years, I knew there would come a day where I had to make a decision. When would it be time to step away from the car?
"I've sought out people and picked their brains. When I asked them when they knew it was the right time, they said it'll just happen, and you'll realize that's the right moment. You'll make a plan and decide when it's your last year.
"It's definitely been hard to understand when that right moment is because we've been so fortunate to run well. But sometimes there are just other things going on that become more important and, for me, that time has come."
Helping The Sport Heal
22 years ago, Harvick was thrust into the NASCAR spotlight, assuming the reigns of the seat occupied by Dale Earnhardt. Appropriately, he won in his third career start in the No. 29 Goodwrench Chevrolet, honoring the driver that drove the No. 3.
"Dale's passing changed our sport forever, and it changed my life forever and the direction it took," Harvick said. "It took me a long time to really get comfortable to really even think about things that happened that day."
"Looking back on it now, you realize the importance of getting in the Cup car, and then we wound up winning my first race at Atlanta in the 29 car after Dale's death. The significance and the importance of keeping that car on the racetrack and winning that race early at Atlanta – knowing now what it meant to the sport, and just that moment in general of being able to carry on, was so important."
Championship Success
Though Harvick found success with Richard Childress Racing, he didn't win the Cup Series championship until joining Stewart-Haas Racing. Together, with crew chief Rodney Childers, they won the inaugural NASCAR Playoffs in 2014. Since then, only the addition of stage racing and stage points have changed in the points system.
"Rodney and I are pretty much the same age with very similar backgrounds, as far as racing goes," Harvick said. "But we're kind of opposites in that he's very calm, cool and quiet, and I'm kind of rambunctious and full of excitement. That pairing has brought a lot of respect just because I know his demeanor, he knows my demeanor, and it's a good balance in the middle."
"We know each of us can do the job, and we believe in that and each other, and a lot of that comes down to conversations, being able to communicate. We communicate well, and that's what makes a good pairing – being able to talk and communicate and put those conversations into action. And when you're wrong, understanding when you're wrong, and working through that and not have anybody's feelings get hurt and start pointing fingers That's what's made it work."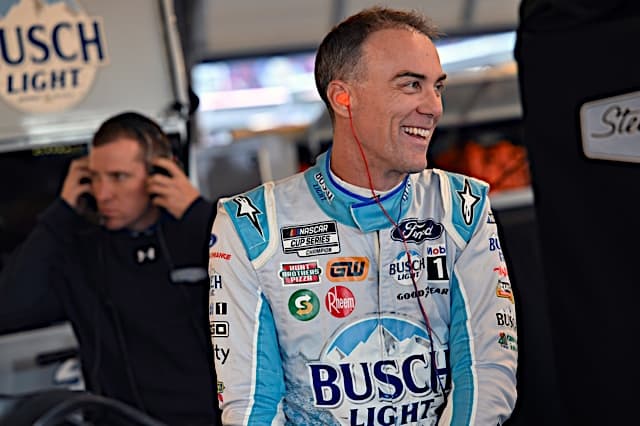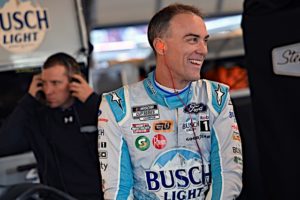 To date, Harvick's 2014 championship is the most recent that Stewart-Haas has earned. Driving for three-time NASCAR champion and NASCAR Hall of Famer Tony Stewart and Gene Haas, Harvick finished runner-up in the championship in 2015. He followed that up with three consecutive third-place points finishes from 2017 through 2019.
That stretch marked one of the most consistent runs for Stewart-Haas Racing in recent years. Harvick also has the most wins in the organization's history with 37 of his 60 career victories coming with the team.
"I competed against Kevin for a long time, and I was so happy to finally have him a part of our race team," said Stewart. "He's incredibly reliable – consistent and calculated on the track with a drive to always be better. That's what you want in a teammate. He knows what he needs to be successful, and his will to win helped elevate our entire company."
Family
Though Kevin Harvick is stepping from full-time competition, he has been able to watch his son, Keelan Harvick, start his racing career. The younger Harvick has competed in Europe in karting as well as various races in the United States in both go-karts and Legends Cars.
"In the last year, I think I've seen Keelan race three times while he's been in Europe," said Harvick. I go to the go-kart track with Piper, and she makes twice as many strides in a day while I'm there than she would in a day when I'm not there. It takes a lot of time to organize the level of racing they're doing, and to be around that is important to me."
Though the 2023 NASCAR Cup Series season will be his last, Harvick aims to once again be a threat in the No. 4 Busch Beer Ford Mustang.
The 2023 season begins with the Busch Light Clash at the Coliseum at the Los Angeles Memorial Coliseum on Sunday, February 5 at 8:00 p.m. ET on FOX. The race will also be broadcast on the Motor Racing Network and SiriusXM NASCAR Radio, channel 90.