By Seth Eggert, Staff Writer
A revival of the concept of road course ringers begins at Watkins Glen International as Kimi Räikkönen makes his NASCAR Cup Series debut in Trackhouse Racing's PROJECT91.
With the advent of the NASCAR Cup Series playoffs, an emphasis of being a well-rounded driver on all types of tracks, including road courses, increased. With fewer drivers stepping out of the car to allow a road course ringer to step in, fewer ringers were able to get competitive opportunities. The last time a road course ringer was in a competitive Cup car was likely Max Papis when he filled in for Tony Stewart at 'The Glen' in 2013.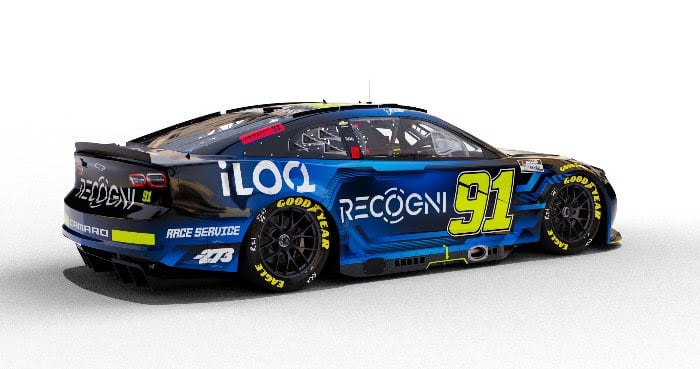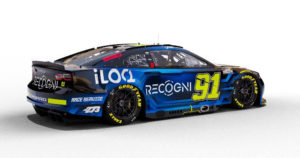 Shifting to this weekend's Go Bowling at the Glen, and Räikkönen has an opportunity that most road course ringers have not seen since the early-mid 2000s. The 2007 Formula One World Champion will drive the No. 91 Recogni/iLOQ Chevrolet Camaro ZL1 for Trackhouse Racing's PROJECT91. Though Räikkönen will be in an open car, it is the same equipment as the Trackhouse Racing chartered cars of Ross Chastain and Daniel Suarez.
Räikkönen is also entering the race at Watkins Glen as possibly one of the most prepared road course ringers in recent time. The Finnish driver spent time on the Chevrolet simulator last week before participating in a driver orientation test at Virginia International Raceway (VIR). Räikkönen spent two hours making laps in the Action Express-built Gen 7 car. NASCAR permits orientation tests for what Cup Series officials classify as elite drivers, like Räikkönen and IMSA's Mike Rockenfeller.
"As a company we have worked hard to get Kimi ready," said Trackhouse Racing co-owner Justin Marks. "He has adapted very quickly so far. I know he will be quick. Our job is to help Kimi learn the rules specific to NASCAR to make sure that doesn't bite us. But everyone knows how much talent he has, and it's shown on the simulator and at the test."
Though Räikkönen is helping to usher in a potential new era for road course ringers, his first NASCAR experiences were on an oval. In 2011 he competed in both the NASCAR Camping World Truck Series and Xfinity Series races at Charlotte Motor Speedway. In the Truck race, Räikkönen had an impressive run, starting 31st and finishing 15th for Kyle Busch Motorsports. In the Xfinity race, a pit road penalty left him four laps down in 27th.
"Without the experience there (in 2011) doing the truck and (now Xfinity) Series, I probably wouldn't have been that interested in doing this," said Räikkönen. "But, knowing what to expect in NASCAR and this being a road course, I'm looking forward to this. There should be a lot of good close racing. Maybe on the road course we will have a good chance to try to do something."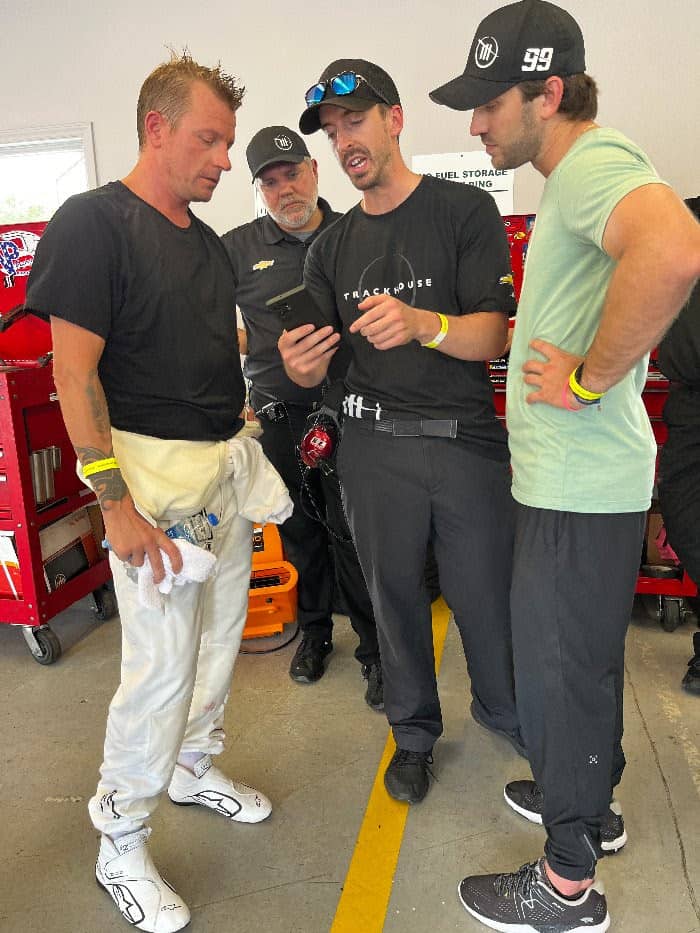 In addition to the NASCAR Camping World Truck Series and Xfinity Series races that Räikkönen competed in back in 2011, he also tested a then NASCAR Sprint Cup Series Gen 5 (Car of Tomorrow). The test with Robby Gordon Motorsports, also taking place at VIR, lasted about a half dozen of laps. The splitter was ripped off after Räikkönen clipped the grass.
Räikkönen retired from Formula One competition following the completion of the 2021 season. Though he had briefly talked about competing in various racing series, including NASCAR, following his retirement, he wasn't specifically looking for an opportunity. That was until Trackhouse Racing's co-owner, Justin Marks, flew to Räikkönen's Swiss home to convince him to compete.
Today is the second time Kimi Raikkonen has tested a Cup car at Virginia International Raceway. He tested for Robby Gordon in May 2011 and ripped the splitter off in the grass pic.twitter.com/EfhnRg9I0s

— nascarman (@nascarman_rr) August 11, 2022
"At first I wasn't really looking into this in a serious way," admitted Räikkönen. "Obviously, we had more talks about how it would work, where the race would be and all sorts of things. It was just one race, so it made sense for all of us as a family. I enjoyed it when I had my few races there (2011). Hopefully I'll have a good race and good fun. There are new cars there and I have never been at the track and things like that, but I am sure we can figure it out quickly."
When the green flag waves on Sunday, Räikkönen will become the most recent former F1 driver to compete in the NASCAR Cup Series. His former competitor, Daniil Kvyat joined the list at the Indianapolis Motor Speedway Road Course several weeks ago. Räikkönen will be one of about 25 Formula 1 drivers to have competed at the highest level of stock car racing.
"I don't think so," explained Räikkönen about whether his Formula 1 or road course experience would be beneficial on Sunday. "It's a new track for me and the cars are completely new. F1 cars are completely different. Looking at how these new cars are in NASCAR it compares more to Australian V8s. We will go and see how it is. I'm sure we will do fine."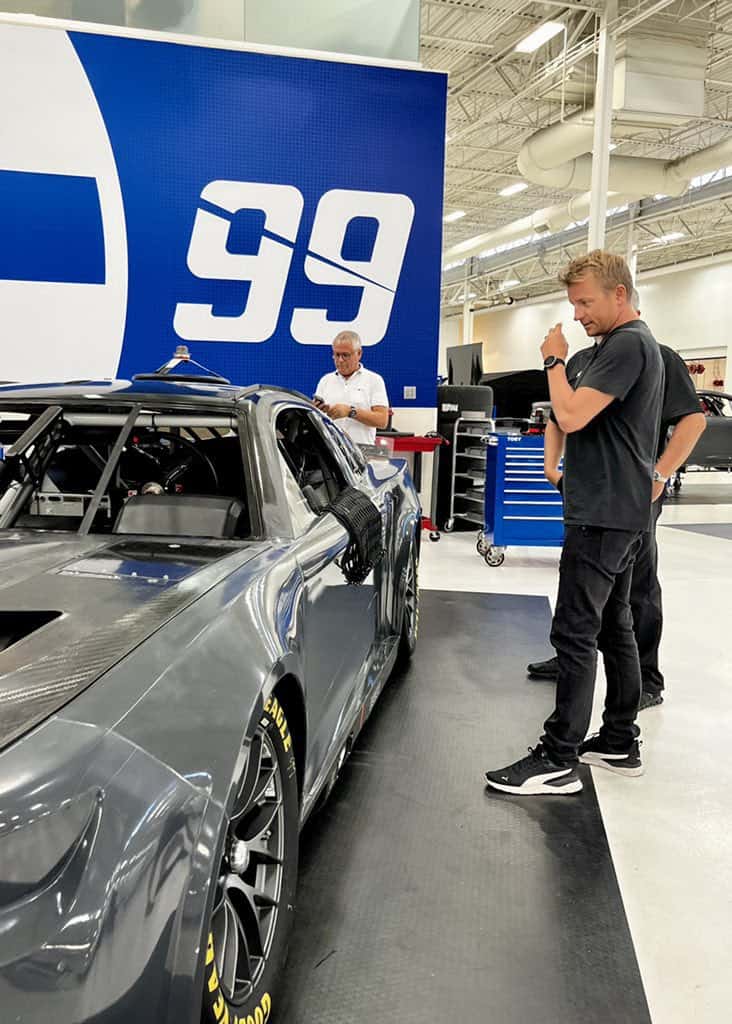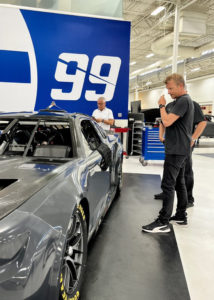 Another layer to Räikkönen competing in NASCAR is that he is one of six international drivers set to compete in the Cup race at Watkins Glen International. His teammate, Suarez is from Mexico. The aforementioned Rockenfeller from Germany, Kvyat is from Russia, EuroNASCAR driver Loris Hezemans of The Netherlands, and Kyle Tilley from the United Kingdom add to the international flare that Watkins Glen will have. The race will surpass the 2013 running for most nationalities represented in a single race with seven.
Trackhouse Racing may also be the most diverse team, in terms of driver nationalities since Chip Ganassi Racing in 2008. Three different nations were represented by Ganassi in 2008 with Dario Franchitti of Scotland, Juan Pablo Montoya of Colombia, and American drivers David Stremme and Reed Sorenson. Trackhouse has Florida native Chastain, Monterrey, Mexico's Suarez, and Finland's Räikkönen.
Currently, Räikkönen's race with PROJECT91 at Watkins Glen is the only planned race for the program. Though there are expectations for more races in 2023 with additional drivers.
To watch Räikkönen compete in the Go Bowling at the Glen, the race will be broadcasted on USA Network at 3:00 p.m. ET on Sunday, August 14. The race will also on the Motor Racing Network and SiriusXM NASCAR Radio. The listing for international broadcasting options can be found here.
More coverage of Räikkönen's debut can be found here.
Featured Photo Credit: Photo Courtesy of Trackhouse Racing.