By Cole Cusumano, Staff Writer
CONCORD, N.C. – Multiple NASCAR Cup Series drivers reaped the benefits of a tame race at Talladega (Ala.) Superspeedway on Sunday, but maybe none more so than the tandem at Trackhouse Racing.
Both Ross Chastain and Daniel Suarez walked away from the YellaWood 500 with top-10 finishes and a solid points haul heading into the Round of 12 finale this weekend at the Charlotte Motor Speedway ROVAL.
Chastain carried the flag for Trackhouse at Talladega, crossing the finish line in fourth with a race-high 36 laps led. Although he couldn't quite replicate the victory he attained at the 2.66-mile track in April, Chastain ended up as the second-best Chevrolet driver when it was all said and done, behind only race winner Chase Elliott among the Bowtie Brigade
"It's really good to come out of Talladega with a top-five," Chastain said after the race. "We raced up front most of the day. I could push people so well and take pushes better than we have in the past.
"It didn't quite work out; I made a few too many mistakes. I just needed to stay in the middle lane throughout the entire race. We really didn't need to go back to the bottom. We gave up two or three spots, but we were there at the end."
Not too far behind Chastain was his teammate Suarez, who salvaged an eighth-place finish after sputtering toward what he felt was imminent disaster on the final restart of the race.
With the laps winding down in the YellaWood 500, the Mexico-born driver began to feel an issue under the hood of his No. 99 Camaro.
Coming to two laps to go, Suarez was lined up fourth on the inside lane and was able to nurse his car around an additional five miles with help from William Byron. He felt that without assistance from his Chevrolet-aligned teammate, he would have been the only playoff driver who failed to finish.
"We got very lucky today man," Suarez said. "The engine [pretty much] blew up with 15 laps to go and I was barely hanging in there. The vibration was so loud and the engine was just holding on. I think the engine [physically] was fine, but we didn't have any power."
While Trackhouse didn't walk away with the checkered flag, they did capture the next best prize: a big points day.
Chastain and Suarez ran efficiently throughout both races to date in the Round of 12, earning 77 and 74 points, respectively.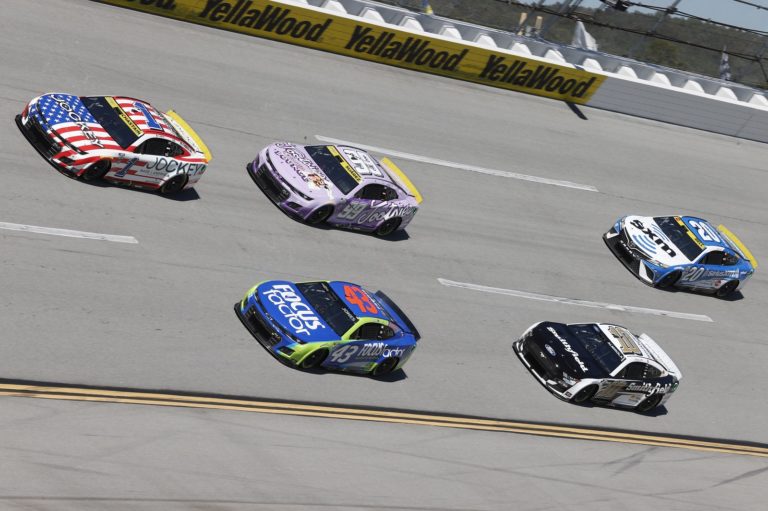 Although both drivers ranked among the top-three in points amassed among playoff drivers, it was only enough for the 29-year-old Florida watermelon farmer to feel semi-comfortable heading into the wild card of the Charlotte Motor Speedway road-course layout.
Thanks to four stage wins and one more victory than his teammate, Chastain has a 28-point cushion heading into the elimination race. Suarez, on the other hand, is still above the cutoff, albeit by just 12 points.
Even with lesser breathing room for Suarez, there's no reason to believe both Trackhouse drivers shouldn't advance into the Round of 8.
Consistency has been key for the teammates in an otherwise chaotic Round of 12. An 8.5 average finish for Chastain and 10th-place average for Suarez are third- and fourth-best among playoff drivers, and the teammates are heading to a track style that has been good to them this season.
Chastain (Circuit of the Americas) and Suarez (Sonoma Raceway) both scored their first Cup Series wins on road courses this season and have been able to assert themselves as contenders for almost all five road course races completed to this point.
Both earned three top 10s on road courses this season, but Suarez's came in the form of top-five finishes. Similar to their average finishes in the Round of 12, Chastain's 12th-place average and Suarez's 12.6 also rank them third and fourth, respectively, among playoff drivers on road courses this season.
Luckily for Suarez, he may have an upper hand entering the ROVAL, after scoring his career-best finish there of 13th last year, whereas Chastain's best ROVAL effort is 22nd.
Regardless, if there's anything we've learned from this year, it's that all past statistics for both Trackhouse drivers aren't indicative of current – or future – success.
Two more things going for Trackhouse are that Chevrolet is undefeated at road courses this season and the manufacturer has also won the last three races at the ROVAL.
Whether both Trackhouse drivers advance into the Round of 8 remains to be seen, but one thing is certain: the first-time playoff contenders have handled their postseason debuts like veterans for the second-year team.
"My goal [at Talladega] was to at least break even," Suarez said. "I haven't seen the points to know, but I think we did that. Heading to the ROVAL, I feel very confident that we can contend for it."
The Bank of America ROVAL 400 is slated for a 2 p.m. ET start Sunday, with live coverage on NBC, the Performance Racing Network and SiriusXM NASCAR Radio, channel 90.