By Cole Cusumano, Staff Writer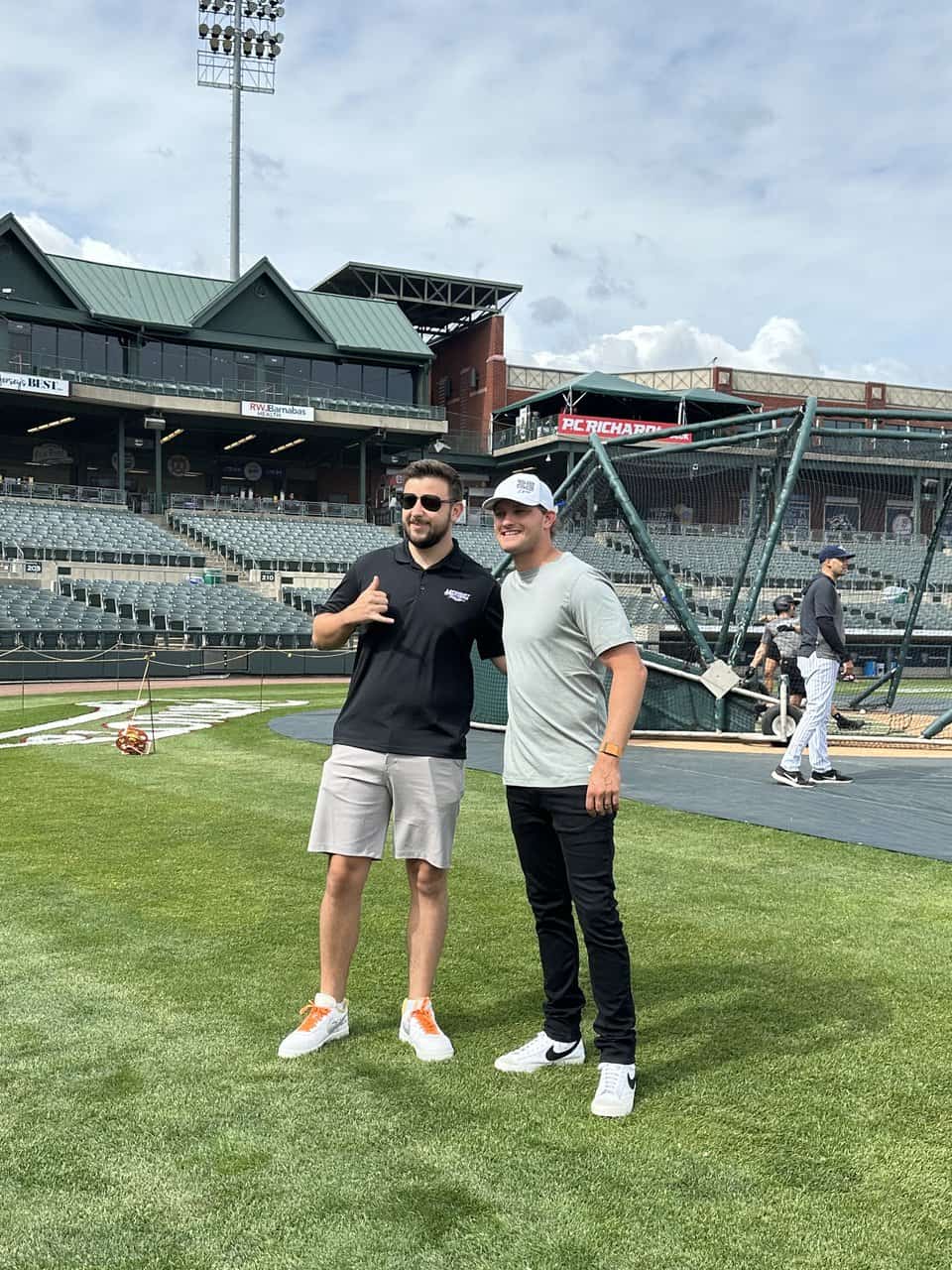 BRIDGEWATER, N.J. – Out at TD Bank Ballpark in Central New Jersey, a long-standing tradition was revived by the Somerset Patriots. June 21 not only marked the first day of summer, but a fitting intersection between baseball and motorsports with the celebration of 'Racing Night.'
As thousands of fans sporting everything from Ryan Blaney to Stewart Friesen gear filed into the state-of-the-art facility known as the home of the New York Yankees Double-A affiliate, there was an inherent sense of excitement in the air as the reigning Eastern League Champions prepared for a race of their own to lock themselves into the postseason.
In years past, the Patriots were able to bring in drivers like Brian Vickers and New Jersey native Jimmy Blewett for separate events. But given the organization's status and winning pedigree as a Yankees farm team, they were able to secure a pair of recognizable NASCAR talents, who both grew up within an hour from TD Bank Ballpark.
Headlining 'Racing Night' were two up-and-coming drivers representing the NASCAR Xfinity Series – what many consider the sanctioned stock car racing equivalent of Triple-A ball – Joe Graf Jr. and Sage Karam.
"I think it's a really cool tie-in, because some of the players that have been here are NASCAR fans," Vice President of Operations Bryan Iwicki said. "Baseball and NASCAR are kind of synonymous with summer, and it's a good thing for both sports to show there's some synergy in terms of fans.
"I think it also shows we're a pretty big venue to be able to get a couple local kids that are a mainstay in the Xfinity Series that want to come back and hang out here to show their love of baseball where they grew up."
While many likely flocked to the Double-A facility to witness the NASCAR drivers throw out ceremonial first pitches and obtain autographs on the concourse throughout the game, the presence of motorsports was embraced before entering the gates.
Nearly a dozen local racers lined the freshly cut grass alongside their competitive vehicles ranging from Three-Quarter Midgets to Modifieds and greeted eager patrons as they observed.
Perhaps the most intriguing of those athletes, 2022 American Three-Quarter Midget Racing Association Champion Kyle Taraska, who has significant ties of his own to 'Racing Night' and the Somerset Patriots.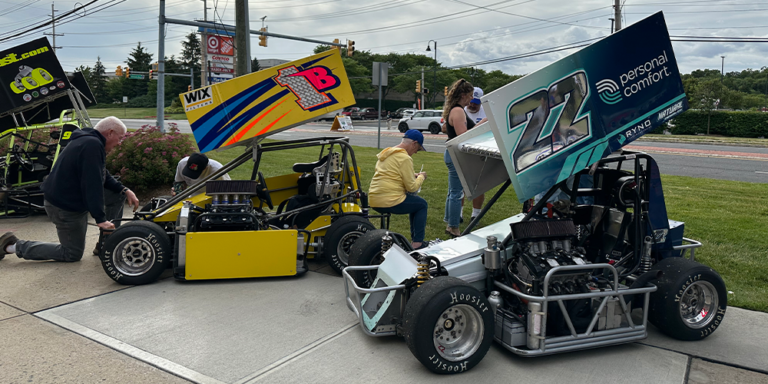 Taraska got his first job at 16-years-old working for the Patriots and worked his way up to Game Day Operations Associate before leaving the team in 2016. He was responsible for instilling a racing culture throughout the organization in his time with Somerset and was an integral part of bringing the beloved event back for the first time in nearly a decade.
"It's very special to be part of this event," Taraska said. "In a very unique way, my racing career started with the Somerset Patriots at the baseball stadium. Thinking back before I worked for the Patriots – this was always a highlight of my summers as a child. It's cool to be able to give back to the racing community and hopefully we can gain a few more fans and build a few new racers here."
Prior to the game, Graf and Karam took the field to observe batting practice. Both drivers grew up Yankees fans and appeared awe-stricken after seeing top prospects like Jasson Domínguez and Austin Wells take cuts just feet away.
Karam's visit to TD Bank Ballpark hit close to home. Sitting in the Patriots dugout, the 2013 Indy Light Series Champion couldn't help but recount fond memories of traveling by bus from his home in Easton, Pennsylvania to old Yankees Stadium with his grandfather Joseph.
"It's great to represent NASCAR and racing, kind of bringing the two sports worlds together in one night," Karam said. "Growing up in Pennsylvania, I feel like you're either a Phillies fan or a New York fan. My grandfather is a die-hard Yankees fan, so I've been a fan my whole life.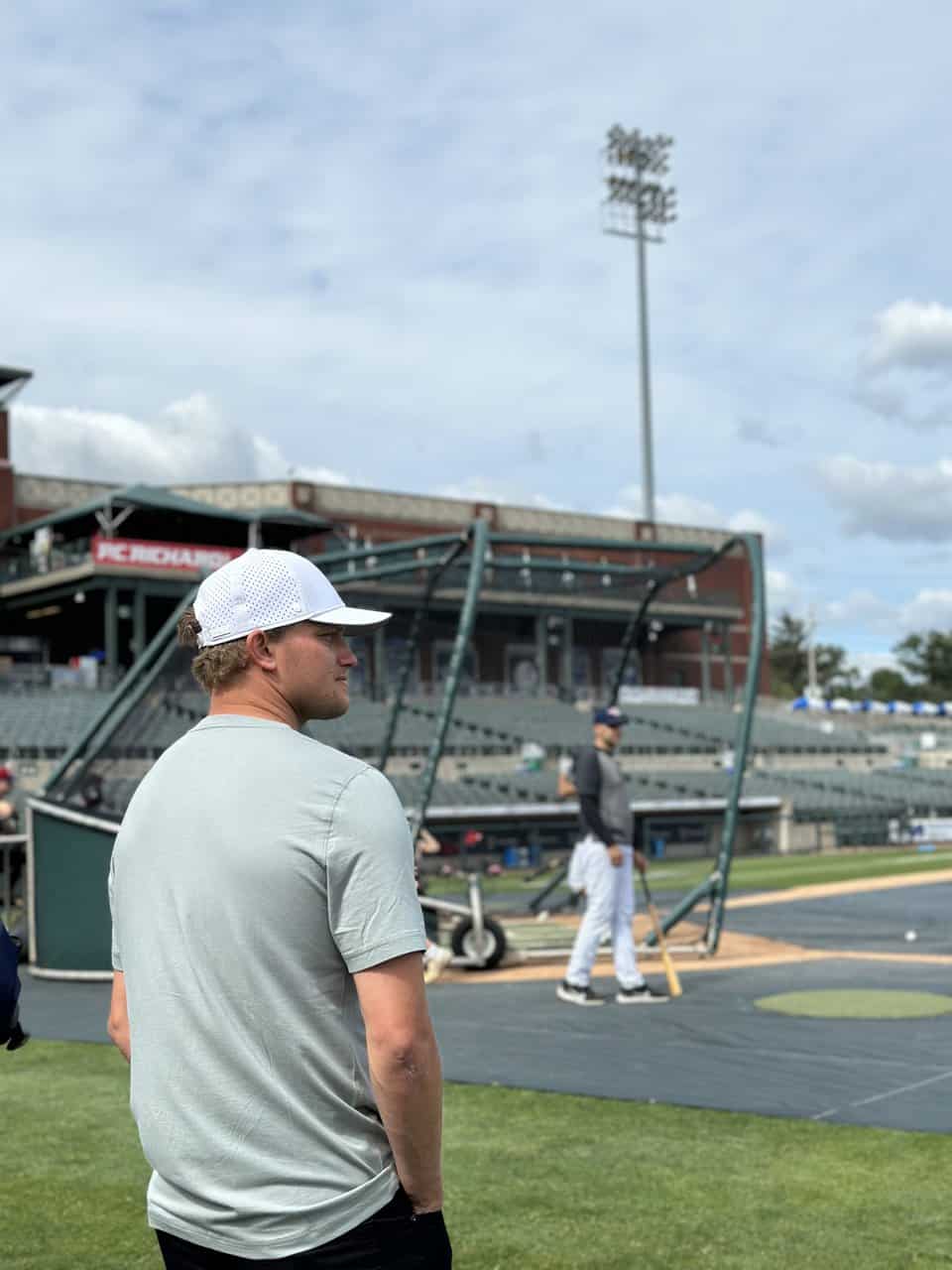 "My grandfather still watches every single game from home, and if he could be at them, he would be. I still get up there every now and then and try to watch games with him, and a lot of our conversations are about the Yankees. They're a big part of our relationship."
In the middle of what's tracking towards Graf's career-best season, the 24-year-old was visibly elated to return to the Garden State and grateful for the opportunity to reconnect with a sport that held significance to his childhood during the NASCAR off-week.
Growing up, Graf attempted to follow in the footsteps of his father – who pitched all throughout high school – by taking on the same position in Little League. Eventually, the New Jersey-born driver transitioned to motorsports, where he cut his teeth at local tracks such as Wall Stadium Speedway.
"I was excited to watch a live baseball game," Graf said. "It's been a little while since I've had the opportunity to do that with the NASCAR schedule. This is really like a home game to me. I was able to get my grandfather out and have some family here tonight.
"But baseball is a big part of my childhood. I remember going to Yankees games with my dad. I was really fortunate to be able to go to one of Derek Jeter's last games with my dad and my family."
With the hometown crowd looking on, Graf kicked off the ceremonial first pitch honors with a ball that sailed high and into the glove of the catcher – a respectable attempt after his first time throwing a baseball in over a decade.
Practice made perfect for Karam, who took it upon himself to pitch to his wife Abigail in the days prior. He hurled an impressive strike down the middle of home plate that even led Sparkee the schnauzer mascot to throw his paws up in amazement.
Interestingly enough, Racing Night also took on a deeper meaning for a couple Yankees prospects as well.
Utility player Matt Pita was born just outside of Richmond, Virginia, and would often attend races at Richmond Raceway with his father, who raised him to be a die-hard Kevin Harvick fan.
Harvick clearly left a major influence on Pita's life, as he began his baseball career sporting No. 29 on his uniforms before switching to No. 4 when the future Hall of Famer transitioned to Stewart-Haas Racing.
For pitcher Justin Wilson, 'Racing Night' held a familial connection. His father Craig used to compete at the Nashville Fairgrounds, and even raced in the ARCA Menards Series and NASCAR Craftsman Truck Series, among other forms of motorsports.
Wilson's older brother Austin currently races Pro Late Models, where he assists whenever he can. In fact, in 2021 when rehabbing from home with a shoulder injury, the pitcher would spot for his brother on occasion.
Wilson believes he could've gone the racing route, but baseball came naturally for him. While his ambition is to make it to the majors, the 26-year-old would love to turn to motorsports whenever his baseball career comes to an end.
Seeing Graf and Karam in attendance, in addition to having a storied family history in racing, Wilson couldn't help but share his admiration for motorsports.
"I think a lot of those guys don't get enough credit for what they do," Wilson said. "It's a lot more than just turning left. Seeing what goes into it – the hours spent on the simulator and the physical shape they have to stay in to race – I just have a better appreciation than I think the average person for those guys, so it's really fun to be here and a part of Racing Night."
With a fun night at the ballpark in the books, Graf and Karam now shift focus to Nashville Superspeedway, where they'll compete in the Xfinity Series Tennessee Lottery 250 on June 24 at 3:30 p.m. ET on USA Network. The race will also be broadcast on the Performance Racing Network and SiriusXM NASCAR Radio, channel 90.