By Sarah Handy, Staff Writer
NASCAR Cup Series driver Brennan Poole will head into throwback weekend at Darlington Raceway with a scheme paying homage to two racing legends.
It was in the 1980s that Bud Moore signed a young Ricky Rudd. Rudd known for his hard charging, tough mentality and scrappiness was nicknamed 'The Rooster'. Poole whose nickname is 'The Bull' echoes the same spirit.
"Ricky [Rudd] is someone I looked up to growing up," said Poole. "His toughness and tenacity is something I wanted to emulate as I progressed throughout my career. The racing business isn't easy, and I've had to scratch and claw to keep going. Ricky is a reminder to fight for what I love to do; race."
Rudd's pluckiness was showed cased in the 1984 campaign when he had a horrific crash in NASCAR's Busch Clash. Flipping multiple times down the front stretch, Rudd would come to rest in the infield grass area. He went on to suffer a concussion, torn rib cartilage and his eyes were swollen shut. However, Rudd taped them open to compete in the prestigious DAYTONA 500. Changes happened once NASCAR found out about the injuries Rudd sustained. Driver health policies saw changes to ensure the safety for all competitors.
In addition to paying tribute to both Ricky Rudd and Bud Moore, Poole's No. 15 scheme will also feature sponsor R.E.D. (Remember Everyone Deployed.Today). If you're unfamiliar with RED's mission, it's to help keep our deployed men and women at the forefront of our collective hearts and minds. The organization's mantra "Until They All Come Home," rings throughout the walls of Poole's race team. The deployed and their families are not nameless, faceless, nor forgotten. They are heroes and for them, wearing red on Friday's shows support for them.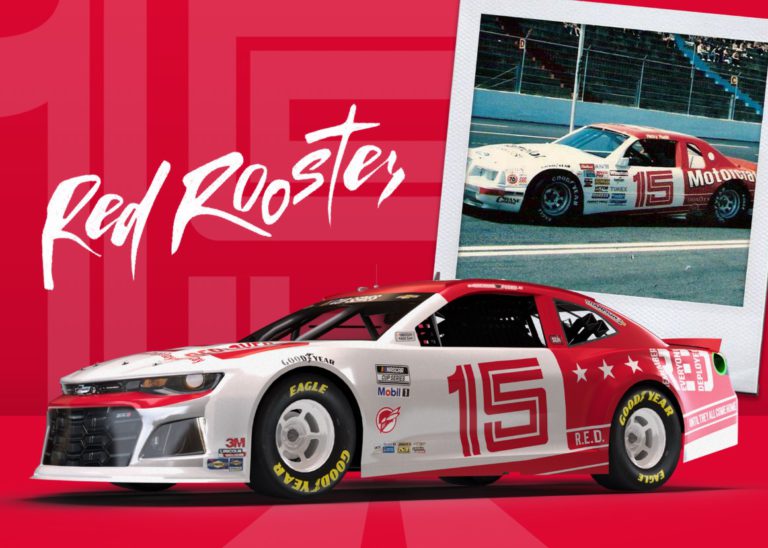 Spartan Mosquito, the sponsor supporting and promoting R.E.D. was drawn to the scheme that Poole will run for Sunday's event after finding out that Bud Moore himself was a decorated D-Day Infantryman.
"I can't wait to pay tribute to Ricky, Bud, and all the men and women serving this country," expressed Poole. "We have the freedoms we do because of their sacrifices. I couldn't be more grateful to represent them. We are coming off our best finish of the year at Daytona (Top 15). Our plan is to build off of that success and have a great showing in the Southern 500."
Poole heads into Sunday's Southern 500 coming off his best NASCAR Cup Series finish to date, 15th at Daytona International Speedway. The finish also marked his second Top-15 finish of the season. This weekend will mark Poole's third Cup Series start at the track 'Too Tough To Tame'. The series raced there back-to-back in May when the series returned to racing amid the COVID-19 pandemic. In those two starts Poole earned finishes of 27th and 37th. He also has two starts at the track in the NASCAR Xfinity Series, those races occurred in 2016 and 2017, and he went on to finish fifth and sixth, respectively.