By Seth Eggert, Staff Writer
An overtime restart and an outside gamble earned Michael Frisch the win in the inaugural Barr Visuals Legends 500 in memorable fashion.
Overtime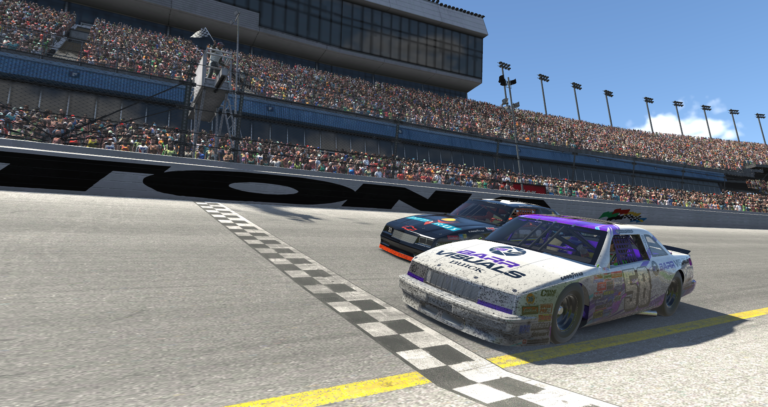 In a highly competitive race where just shy of half the field controlled the top spot, it all came down to the final restart. Roger Graham III led the Shenandoah Shine Legends of the Future Series field on the final restart. However, at Daytona International Speedway, the iRacing driver was a sitting duck.
Graham launched well and continued to lead up to the white flag. By then, the momentum had built behind him. Graham had to choose which of the three lanes, led by Frisch, Kyler Wynn, and iRacing's Jake Poulin. Ultimately, he held the low lane ahead of Wynn.
Final Lap Battle
In the middle was Poulin and Garrett Konrath. However, Frisch and Seth DeMerchant ventured higher up the track than anyone had throughout the race. For the first time all race, they battled on the outside, three-wide, and against the wall for the top spot.
Exiting Turn 2 the moment pushed Poulin's 121 Papyrus Chevrolet Monte Carlo out front. Now it was his turn to embrace his inner Joey Logano and block the oncoming runs. The move ultimately came off Turn 4.
Frisch jumped to the inside of Poulin in the final several hundred feet to the checked. The Frisch's No. 58 Barr Visuals Buick LeSabre side-drafted to slow the Chevrolet. Poulin threw a block, however, the move was in vain. It slowed Frisch, but it didn't slow him enough.
In a photo finish, Frisch narrowly took the checkered flag 0.018 seconds ahead of Poulin. DeMerchant, Graham, and Wynn rounded out the top-five finishers.
"I can't even put this into words right now," Frisch said post-race. "That last lap was just so chaotic. Going three-wide there in no-man's land against the wall with Seth was honestly the move of the race. Nobody even thought about going up there, but I stuck with Seth.
"That whole last lap was honestly a blur. Going through the tri-oval I know that they were wrecking below me, but I just rode the wall, and I got through it. I tried to set it up and I got around Jake right there at the end. He threw an amazing block on me right there at the end and if he had gone a little bit lower, he would have gotten me."
Notables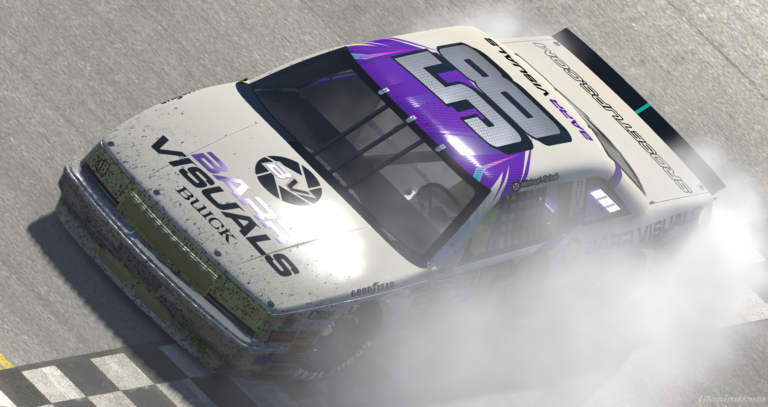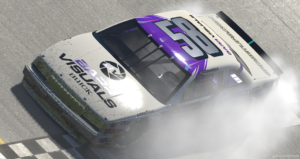 Konrath, hard charger Aaron Smith II, polesitter David Brown, Art Rymer, and Kory Henry completed the top-10.
The 500-mile scheduled race saw 68 lead changes and 21 different leaders amongst the 44-car field. Despite 16 cautions for 49 laps over 30 cars were still running at the finish with 21 still on the lead lap.
The three 2023 eNASCAR Coca-Cola iRacing Series drivers in the field encountered adversity. At the end of a round of green flag pit stops, an ill-timed move sent Tyler Garey spinning out of the tri-oval.
Garey's No. 86 Buick went airborne and after an estimated 20 flips it landed on the nose of fellow eNASCAR driver Michael Cosey Jr's car. Cosey somehow escaped with just 27 seconds of required repairs while Garey's race ended abruptly.
💀💀💀💀💀💀💀 pic.twitter.com/su39hVnSHy

— Dr.iRacing PHD (@TGarey26) January 20, 2023
Daniel Faulkingham was also up front often until like his eNASCAR compatriots he too was swept up in an accident. The three eNASCAR drivers combined to lead 48 of the 204 laps.
Another highlight of the night came during the first round of green flag pit stops just past lap 40. DeMerchant locked up the brakes entering pit road and spun. Instead of turning back around, the Altus eSports driver threw the car into reverse and backed down pit road.
The impromptu homage to Travis Pastrana and the late Ken Block ended with DeMerchant performing a 'J-Turn' approaching his pit box. Despite the spin he didn't lose the draft once the cycle completed, though he was further down the running order.
Next for the Legends of the Future Series is a trip to Richmond Raceway on Thursday, January 26.
The results:
1. 58-Michael Frisch [23] ($300), 2. 121-Jake Poulin [36], 3. 057-Seth DeMerchant [6], 4. 111-Roger Graham III [15], 5. 82-Kyler Wynn [3], 6. 900-Garrett Konrath [35], 7. 700-Aaron Smith II [42], 8. 83-David Brown [1], 9. 49-Art Rymer [28], 10. 025-Kory Henry [13], 11. 97-Jackson van Volkinburg [18], 12. 169-Frank DeAngelis [19], 13. 2-Chris Davis [25], 14. 53-Justin Melillo [41], 15. 32-Shawn Butler [5], 16. 87-Adam Martin [44], 17. 04-Gabriel Mauricio [20], 18. 63-Logan Helton [11], 19. 26-Kevin McAdams [2], 20. 17-Sean Peleg [38], 21. 818-Ethan Courter [26], 22. 80-Brandon Kettelle [9], 23. 71-Blake McCandless [7], 24. 72-Chandler Parsons [16], 25. 99-Michael Cosey Jr [10], 26. 76-Quami Scott [40], 27. 39-Daniel Faulkingham [12], 28. 109-Phillip McCandless [4], 29. 70-Davis Warren [39], 30. 14-Chris Jahnke [30], 31. 90-Michael Sturgill [29], 32. 22-Alex Kolonics [37], 33. 09-Mitchell Riggs [31], 34. 911-Shawn Begley [17], 35. 123-Eric J. Smith [34], 36. 74-Dylan Roberts [22], 37. 4-Nate Stewart [24], 38. 041-Josh Parker [8], 39. 78-Matthew Zwack [17], 40. 015-Michael Guariglia [32], 41. 86-Tyler Garey [21], 42. 15-Cole Fralick [27], 43. 044-J.D. Willis [33], 44. 46-Brandon Zimmerman [43].
Lead Changes: 68 among 21 drivers.
Lap Leader(s): David Brown POLE-0, Kevin McAdams 1, David Brown 2-6, Brandon Kettelle 7-11, Shawn Butler 12, Kevin McAdams 13, David Brown 14, Kevin McAdams 15, David Brown 16, Kevin McAdams 17, David Brown 18-24, Kevin McAdams 25, Shawn Butler 26, Phillip McCandless 27, David Brown 28-29, Kevin McAdams 30-35, Michael Cosey Jr. 36-37, Brandon Kettelle 38-40, Michael Cosey Jr 41, Tyler Garey 42, Logan Helton 43, Brandon Kettelle 44-47, Shawn Butler 48-50, Brandon Kettelle 51-52, Shawn Butler 53-57, Seth DeMerchant 58, Logan Helton 59-61, Michael Cosey Jr 62-65, Alex Kolonics 66-67, Logan Helton 68, Alex Kolonics 69-72, Dylan Roberts 73-76, Jake Poulin 77-79, Tyler Garey 80-82, Kory Henry 83, Chandler Parsons 84, Michael Cosey Jr 85-95, Shawn Butler 96, Michael Cosey Jr 97-98, Shawn Butler 99-100, Kevin McAdams 101-103, Shawn Butler 104-109, Kevin McAdams 110, Michael Cosey Jr 111, Garrett Konrath 112-113, Brandon Kettelle 114, David Brown 115-127, Blake McCandless 128-131, Michael Guariglia 132-133, Blake McCandless 134-135, Seth DeMerchant 136-139, Logan Helton 140-142, Chandler Parsons 143, Logan Helton 144, Seth DeMerchant 145-153, Daniel Faulkingham 154-158, Jake Poulin 159-165, Shawn Butler 166-169, Chris Davis 170-171, Michael Frisch 172, Chris Davis 173, Michael Frisch 174, Daniel Faulkingham 175-182, Kevin McAdams 183, David Brown 184-185, Kevin McAdams 186-192, David Brown 193-195, Sean Peleg 196-198, Roger Graham III 199-203, Michael Frisch 204.
Laps Led: David Brown 34, Shawn Butler 23, Kevin McAdams 23, Michael Cosey Jr 21, Brandon Kettelle 15, Seth DeMerchant 14, Daniel Faulkingham 13, Jake Poulin 10, Logan Helton 9, Blake McCandless 6, Roger Graham III 5, Tyler Garey 4, Dylan Roberts 4, Chris Davis 3, Michael Frisch 3, Sean Peleg 3, Michael Guariglia 2, Garrett Konrath 2, Chandler Parsons 2, Kory Henry 1, Phillip McCandless 1.
Hard Charger(s): 700-Aaron Smith II (+35).
Caution Flags: 16 for 49 Laps.
Margin of Victory: 0.018 seconds.
Time of Race: Three hours, 19 minutes, 58.888 seconds.
Average Speed: 153.014 MPH.
Pole Winner: 83-David Brown, 43.717 seconds, 205.870 MPH.
Fastest Lap: 76-Quami Scott, Lap 171, 42.159 seconds, 213.478 MPH.
*Race Scheduled for 200 Laps, Extended Due to Overtime*