By Seth Eggert, Staff Writer
NASCAR on NBC pit road reporter Parker Kligerman was on the right strategy and kept his nose clean as he earned his fourth Monday Night Racing presented by Tufco Flooring victory.
Duel for the Lead
The part-time NASCAR Camping World Truck Series competitor dueled with Anthony Alfredo, Kyle Busch, and Matthew Stallknecht throughout the final 40 laps of the 150-mile race. Late charges also brought two-time SCCA runoffs winner Preston Pardus and DJ Cummings into the fray.
On a restart with 20 laps to go, Pardus' virtual No 90 Chevrolet Silverado spun off the nose of Cumming's No. 10 machine. Race control held the caution as the part-time NASCAR Xfinity Series driver regained control. Before the lap was over, Speed Sport's Kyle McFadden spun after taking just two tires under the previous caution.
McFadden collected NASCAR drivers Josh Bilicki and CJ McLaughlin, NHRA Funny Car champion Ron Capps, and a host of others. The timely caution allowed Pardus to pit for tires without losing a lap.
Run to the Finish
When the race restart with just over 15 to go, Kligerman and Alfredo gapped the field entering turn one. With tire management being key, the co-owner of Burton Kligerman eSports quickly performed a slide job to take the top spot with 10 laps to go. At the same time, Alfredo clipped the outside wall as he tried to give Kligerman room off the over.
Kligerman worked to hold off Alfredo's tightening truck in his virtual No. 77 Valvoline Toyota Tundra to take the checkered flag for the fourth time in Monday Night Racing competition with 0.177 seconds to spare.
"It's incredibly difficult (to hold off the pack) because the way the draft works there's huge runs," explained Kligerman. "You've got to temper yourself, there's huge tire fall off. We're running the outside lane because it seems to be where the trucks have the most grip and others can dive to the inside of you.
"Awesome race there with Anthony Alfredo, Kyle Busch, and this whole Monday Night Racing league. That was a hell of a battle those last 12 or 13 laps, that was cool. I wish it was that easy in real life to beat Kyle Busch, but it's just not for whatever reason he's got the leg up there. I enjoyed that, I was glad I could hold him off for once and beat him in a straight up fight. But I know that's a very rare experience of mine, but (it was) a lot of fun."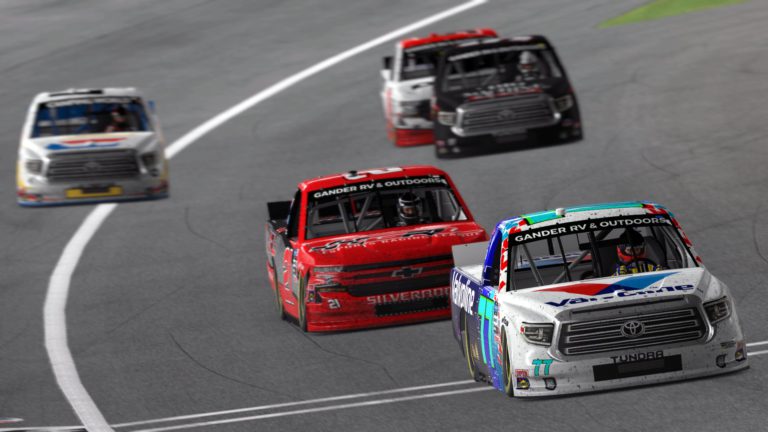 Beating 'KFB'
Kligerman's victory was the first time that a driver had beaten Busch in real life or virtually at Las Vegas Motor Speedway. Since 2018, the Las Vegas, NV native had won every truck race he competed in at his home track, until the Monday Night Racing event. It also marked the first time that Busch did not win in the truck in MNR competition or finish inside the top-three.
"That's quite an honor," Kligerman admitted. "I was actually thinking about texting him before that last restart. We pull down our Henderson Motorsports trucks at his shop all the time. I was going to be like 'Hey, why don't we just slap a 75 on one of those Kyle Busch Motorsports trucks and take one of those for a ride if I beat you.' I don't think it's that easy but (being the first to beat Busch at his home track) is awesome."
Notable Finishers
Stallknecht and Busch finished third and fourth in a photo finish while Pardus climbed from outside the top-25 with 15 laps to go to take the checkered flag in fifth. Gary Sexton, Brendan Madonia, 2000 NASCAR Xfinity Series champion Jeff Green, Cummings, and defending Monday Night Racing champion Nick DeGroot completed the top-10.
NASCAR driver Robby Lyons crossed the line in 18th with McLaughlin in 20th. Other notables included Capps in 27th, Bilicki 34th, Will Rodgers 36th, Greg Stumpff 37th, and Chris Rice in 38th. Each driver was sept up in at least one, if not multiple incidents throughout the night.
League co-founders Ford Martin and Paul Sutton finished 14th and 25th respectively.
Steve Auffant was the biggest mover of the night. Auffant climbed 24 positions from his 36th-place starting spot to finish 12th.
Early Incidents
Busch had his hands full throughout the race. Not once, but twice the virtual Talladega Superspeedway winner had to use a fast repair in the TobyChristie.com 150. When the first caution waved, both Alfredo and Busch missed the opportunity to hit pit road.
During the ensuing green flag run both Alfredo and Busch were swallowed up by the pack. As they fell down the running order, both began running the outside. As Motor Racing Network's Chris Wilner attempted to pass Busch, the duo made contact. The virtual No. 51 Big Machine Hand Sanitizer Toyota Tundra slammed the outside wall before sliding back into traffic. When the dust settled, over 10 trucks were damaged.
When the race went back green, Busch rejoined the field with a head of steam. Attempting to avoid Kickin' the Tires' Jerry Jordan, he swerved up, into Michael Massie. The duo had heavy damage. Luckily, another quick caution allowed Busch to repair his truck once more.
In total the race was slowed eight times for incidents with 31 laps under caution.
Next up for the Monday Night Racing league is a trip across the Pacific to the virtual Twin Ring Motegi with the NTT IndyCar Series Dallara.
The Finish
1. Parker Kligerman [3], 2. Anthony Alfredo [5], 3. Matthew Stallknecht [14], 4. Kyle Busch [6], 5. Preston Pardus [19], 6. Gary Sexton [2], 7. Brendan Madonia [25], 8. Jeff Green [10], 9. DJ Cummings [1], 10. Nick DeGroot [4], 11. Jesse Vaughan [7], 12. Steve Auffant [36], 13. Maxwell Kennon [11], 14. Ford Martin [13], 15. Seth Eggert [20], 16. Roger Diebold [24], 17. Kyle McFadden [38], 18. Robby Lyons [37], 19. Steven Ellis [26], 20. CJ McLaughlin [29], 21. Rob D'Amico [34], 22. Jason Keffer [23], 23. Chris Wilner [31], 24. Drew Welker [30], 25. Paul Sutton [35], 26. Mark Rebilas [32], 27. Ron Capps [17], 28. Noah Lewis [21], 29. Michael Massie [27], 30. Joe Adgie [15], 31. Brett Baldeck [33], 32. Michael Rossi [8], 33. Josh Slate [12], 34. Josh Bilicki [18], 35. Garrett Miller [32], 36. Will Rodgers [9], 37. Greg Stumpff [28], 38. Chris Rice [16], 39. Jerry Jordan [39].
Lead Changes: 14 among five drivers.
Lap Leader(s): Parker Kligerman 1-3, Kyle Busch 4, Anthony Alfredo 5-7, Kyle Busch 8-14, Gary Sexton 15-22, Noah Lewis 23-25, Parker Kligerman 26-36, Gary Sexton 37, Parker Kligerman 38-40, Noah Lewis 41-44, Parker Kligerman 45-61, Anthony Alfredo 62-69, Parker Kligerman 70-83, Anthony Alfredo 84-91, Parker Kligerman 92-100.
Laps Led: Parker Kligerman 57, Anthony Alfredo 19, Gary Sexton 9, Kyle Busch 8, Noah Lewis 7.
Hard Charger: Steve Auffant (+24).
Tough Break: Will Rodgers (-27).
Cautions: Eight for 31 Laps.
Margin of Victory: 0.177 seconds.
Time of Race: One hour, 20 minutes, 15.845 seconds.
Average Speed: 112.130 MPH.
Pole Winner: DJ Cummings, 31.185 seconds (173.160 MPH).
Fastest Lap: Jeff Green, Lap 63, 30.623 seconds (176.338 MPH).
Photo by Justin Melillo / The Racing Experts