Just as Daniel Hemric was eliminated on Saturday from the NASCAR Xfinity Series Playoffs due to race damage, Kyle Larson suffered a similar fate in Sunday's Bank of America Roval 400 for the NASCAR Cup Series Playoff.
In what started as a mellow caution-free race in the first two stages led into a dramatic finish among the Playoff drivers. Larson made hard contact with the outside wall, breaking a toe link in the rear end of the car. Ultimately, that put his No. 5 HendrickCars.com Chevrolet Camaro five laps down, helpless in their fight to advance.
"As soon as I hit the wall," Larson said when he worried about advancing into the Round of 8.
It was down to three others competing for the last two spots to advance. With Christopher Bell winning and Chase Briscoe's late charge through the field left Larson outside of the Playoffs, along with Daniel Suarez, who fought a power steering issue, and Austin Cindric, spinning late in the race. Alex Bowman was already eliminated due to not starting the race after being under concussion protocol.
"I made way too many mistakes this whole year," shared Larson. "You can't win a championship like that. Yeah, no surprise that I made another mistake today and took us out of contention."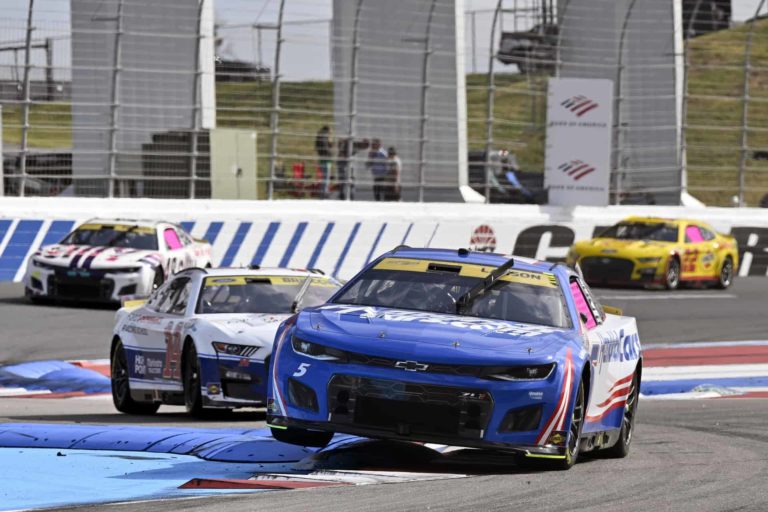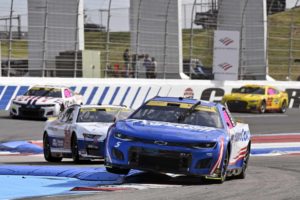 After winning 10 races plus the All-Star race last year, Larson was eyed as one of the favorites to make it all the way to Championship Weekend at Phoenix Raceway. However, after 32 races in the 2022 schedule, only half of those races have resulted in top-10 finishes, including two victories at Auto Club Speedway and Watkins Glen International. With an average finish over five positions lower than his championship year and six DNF's up to this weekend, the numbers made advancing against his favor.
"I just made way too many mistakes all year long," Larson reiterated. "Made another one today. Ultimately cost us an opportunity to go chase another championship. Just extremely mad at myself. I let the team down a number of times this year, and let them down in a big way today."
But despite those statistics on his regular season, he held what appeared to be a comfortable gap above the cutoff line when the green flag first flew. He even gained the second most stage points out of the entire field, making the chance to advance even a better probability. It all changed with Bell's must-win victory and Briscoe's pit strategy gnawed that gap away to put the California native a mere two points below the cut line.
Similarly in 2018 when Jimmie Johnson was in a good position to advance at the Roval before his last-lap spin with Martin Truex Jr, Johnson was also eliminated by one point when, ironically, Larson was the one who managed to make a last-lap pass to advance into the next round.
"There's definitely no other person to blame but myself for today," he continued. "I feel like our team put ourselves in position as well as we could on points. Got as many stage points as we could. I think it was plus 27 or 28 (points) at the time when I screwed up. Just for no reason either. I wasn't even pushing that hard at that moment. Got loose, caught me off guard.
"Just got to keep working on my craft; just be better, make a lot less mistakes."
It's the first time in NASCAR Cup Series history that the defending champion will not advance into the Round of 8 Playoff grid, but Larson continues to focus on one thing.
"Go race hard."